Home Shopping Cart Camera Articles Adapters Repairs
Voigtlander 50/1.5 Nokton M Aspherical
Modern Update of 1950's Nokton's Classic Style!
Black $899 Chrome $1049 ORDER HERE
Estimated to ship to customers late June. FREE USPS Post Office Express Mail Shipping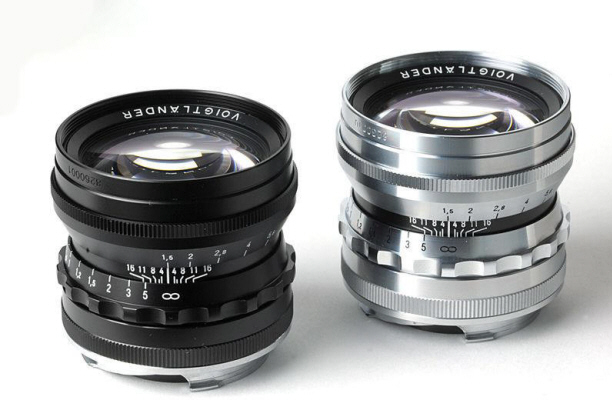 Black: 220 grams (7.76 ounces)
Chrome: 293 grams (10.33 ounces)
Voigtlander 50/1.5 Nokton Leica M mount Aspherical

M Mount

Close Focus .7 Meter

5 Groups, 6 elements

Filter size 49mm

Length 47.7mm

Diameter 53.8mm

f/1.5 to f/16

Black or Chrome (real chrome on brass)

Notice the smaller 49mm filter size compared to the earlier 50/1.5 Screw mount version. Voigtlander has apparently modified the formula slightly

Lens Hood included
Once upon a time in the 1950's
Voigtlander had the reputation of building what some considered the best performing Super Speed lens of its time, the Voigtlander 50/1.5 Nokton. The large majority were produced in Voigtlander Prominent Mount, but a few were also made in Leica Screw and Zeiss Contax Mount. Below you will find my 1998 write up on the classic Leica mount version. Mr. Kobayashi used the classic 1950's Leica mount version as his inspiration for the new 2013 Nokton!
Rare Voigtlander 50/1.5 Nokton in Leica Mount

This is one of the rarest Voigtlander lenses, and one of the rarest Leica Screw mount lenses. For its time in the early to mid 1950's, the 50/1.5 Nokton had the reputation of being as good, or probably better, than any other super speed normal.
I was surprised by its large size and very heavy duty construction. At infinity, it measures 49mm from the filter tip to the back of the lens flange. Diameter is 51mm at the rear of the lens. Filter size seems to be an odd 45mm. Weight is a robust 12 1/2 oz. The chrome barrel has an unusual heavy chrome plating, almost giving the impression it was machined out of solid steel instead of chrome plated. It has 15 blades for that mythical perfect circular diaphragm and maximum "Bokeh."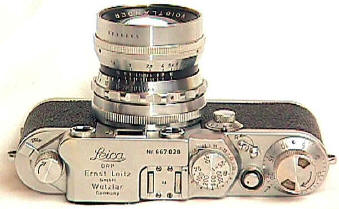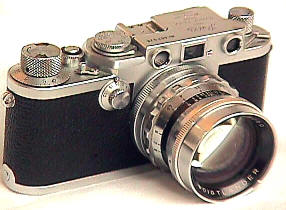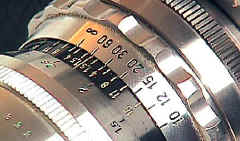 Despite Leica's justifiably great reputation for lens construction, the chrome M lenses of the 1950's are a notch below the Nokton's heavy duty quality, IMHO.
---
Home Camera Articles FOR SALE Orders I Buy / Wants Repairs Adapters
Revised: May 23, 2013 . Copyright ©2013 Stephen Gandy. All rights reserved. This means you may NOT copy and re-use the text or the pictures in ANY other internet or printed publication of ANY kind. Information in this document is subject to change without notice. Other products and companies referred to herein are trademarks or registered trademarks of their respective companies or mark holders.