Home Camera Articles FOR SALE Orders I Buy / Wants Repairs Books Adapters

1000/6.3 Nikkor Mirror

Introduced in 1959, the 1000/6.3 was Nikon's first mirror lens, and the first mirror telephoto made in Japan. Originally made for the Nikon Rangefinder, it was soon available in Nikon F mount as well. For years it was also the fastest standard production 1000mm lens. Decades later, it was exceeded by the Zeiss 1000/5.6 mirror lens.

With and without the rather ample lens hood.
The 1000/6.3 came complete with:
The lens itself
A huge reversible lens shade
A huge leather front lens cap
A huge protective rear cap large enough to be a salad bowl
Built in filters at the rear of the lens
A huge custom steel case proudly proclaiming "Reflex - Nikkor f=1000mm 1:6.3"
A small site built into the barrel to help point the lens
It is a HUGE lens. The lens and the case weighs 40 pounds!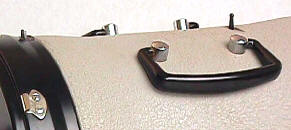 The topside includes carrying handles, and a peep site to help aim the lens.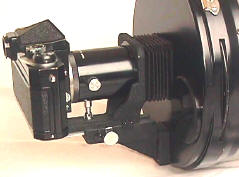 Focusing was accomplished with a bellows. Notice the round dial on the right, which rotated the built in filters.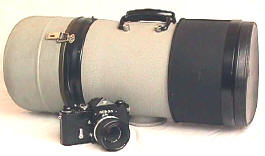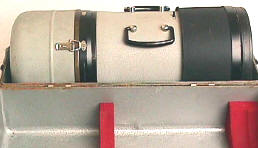 The left pic shows the lens assembled for storage inside it's metal case. A "salad bowl" cap is clipped onto the rear of the lens, the lens hood is reversed, and the leather lens cap fits over the hood.

---
Total 1000/6.3 production in Nikon Rangefinder mount was about 45 units. The first lens was number 100630 or 100631. The last reported lens is # 100680. Total production in F mount was about 60 units. The first F mount lens was 631000 and the last reported lens is # 631056. The first 10 or so 1000/6.3's in NRF mount were all black. Production then shifted to a light gray crinkle paint. A very few may have been made in Bronica mount. See 1000/6.3 in Nikon Rangefinder Mount
Even though F mount production slightly exceeded Rangefinder production, the F mount version is harder to find than you might expect. Apparently a lot of the F mount 1000/6.3's were sold to the US military and never survived their ordeal.
---
The 1000/6.3 was important to Nikon. Besides showing Nikon's optical innovation, the 1000/6.3 anchored the long end of their telephoto lineup AND showed Nikon's commitment to the special needs of professional photographers.
---
Home Camera Articles FOR SALE Orders I Buy / Wants Repairs Books Adapters
Revised: February 23, 2008 . Copyright © 1998-2008 Stephen Gandy. All rights reserved. This means you may NOT copy and re-use the text or the pictures in ANY other internet or printed publication of ANY kind. Information in this document is subject to change without notice. Other products and companies referred to herein are trademarks or registered trademarks of their respective companies or mark holders.