Leitz 50/1.2 Noctilux in Leica M Mount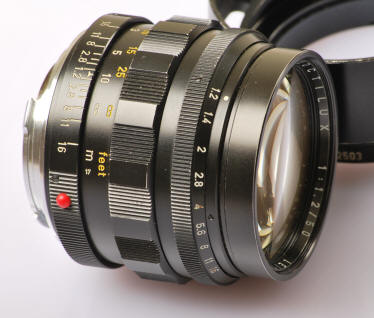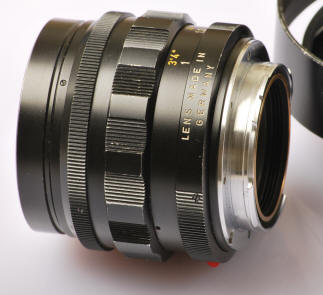 Introduced in 1966, Leica's first Noctilux was f/1.2, not f/1. It was designed by Mandler, easily Leica's all time best lens designer. It incorporates two aspherical lens surfaces which proved very difficult to manufacture. That difficulty was a major factor in this lens being replaced by the faster non aspherical 50/1 Noctilux in 1976. The 50/1.2 Noctilux was manufactured only nine years, 1966 to 1975 with an approximate production of two hundred per year. Real world, the 50/1.2 Nocti turn up very seldom. To this day it remains the only f/1.2 made by Leica M lens. Hmm. What is the plural of Noctilux? Noctiluxes? Nocti? Noctili? Noctilum? Noct-Nocts? Knockers? Maybe not. Tech: 6 elements in 4 groups, close focus 1 meter, half click f/stops 1.2 to f/16, weight 515 grams, M mount only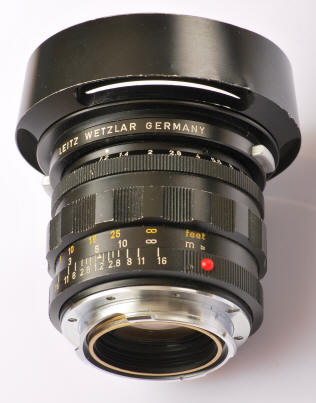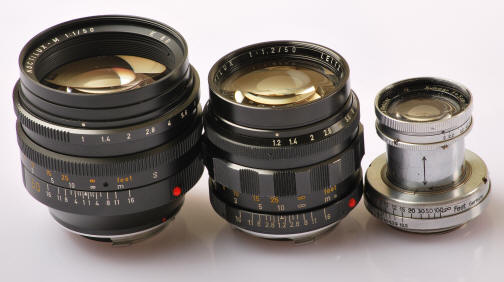 The reversible clip on lens hood # 12503 unscrews to hold a Series 8 filter. Woe to you if you lose this hard to find lens hood in your day's shooting. This particular lens is one of the rarest 1.2 Noctilux. It was actually USED to take pictures! Thanks to collectors, about 9 out of 10 of these never left the safety of their factory box!
Three Leica lenses left to right: Noctilux 50/1, Noctilux 50/1.2, Summar 50/2. The 50/1.2 is much smaller than the 50/1.
---
Revised: November 01, 2008 . Copyright © 2008 Stephen Gandy. All rights reserved. This means you may NOT copy and re-use the text or the pictures in ANY other internet or printed publication of ANY kind. Information in this document is subject to change without notice. Other products and companies referred to herein are trademarks or registered trademarks of their respective companies or mark holders.