Home Camera Articles FOR SALE Orders I Buy / Wants Repairs Books Adapters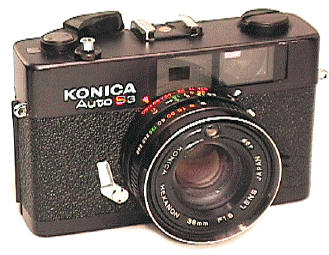 Konica Auto S3
Compact 35RF with fast sharp lens, Nice VF and RF, advanced ambient light balancing auto GN Flash system, Shutter Priority only.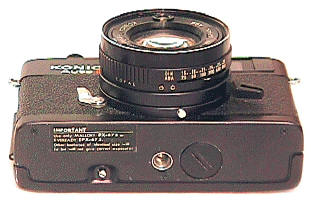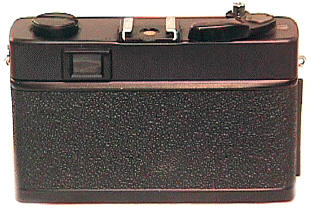 The Plus Side
Compact 35 Rangefinder with 38/1.8 lens, focusing to 36" The six element four group lens is an exceptional performer, called "one of the best semi-wide angle optics of its speed we have ever tested" by Modern Photography. Amazingly, ALL apertures had center values between 64 to 82 lines per mm.
The S3 is one of the few cameras of its class with an exposure lock, accomplished by depressing the shutter release slightly.
Sophisticated ambient light / flash exposure system -- the most advanced in the compact 35 RF class. Inserting the flash shoe disconnects the metering system from the aperture and connects it to the focusing, by virtue of the pin barely visible in the picture on the right -- underneath the edge of the accessory shoe. Set your S3 for the guide number of your flash, ranging from 22 to 180 in feet, with a 2nd scale for Meter GN 7 to 56. The killer part is the ability to balance ambient and flash exposure. With the flash attached, a green "synchro flash" bar moves up and down the viewfinder's aperture scale as you focus. After you focus, change shutter speeds until the meter needle matches the green bar. This ingeniously balances your ambient and flash exposure. Quite a neat trick, the only rangefinder camera of any make that I can think of with this feature.
Nice viewfinder/rangefinder for this class of camera. RF spot, framelines, and indicated f/stops are brighter and easier to see than the average camera of this type. Effective baselength 14.2mm
Shutter priority AE with chosen f/stops shown in finder
Very Quiet leaf shutter.
Close Focus 36"
Large focusing lever makes for fast, easy focusing
Large, convenient easy to use controls
Black anodized finish
Flash sync at all speeds, 1/8 to 1/500 plus B.
Hot Shoe and PC flash connection
CDS cell inside 49mm ring, making filter compensation automatic
ASA range 25-800
Meter Coupling Range: EV 4.7 (1/8th at f/1.8) to EV 17 (1/500th at f/16) at ASA 100
Lens caps serves as ON/OFF switch to save battery current.
Hot Shoe and PC outlet
Open camera back by pulling up rewind lever
Set the Shutter to B by pushing in the chrome tab on the left side of the lens
Threaded cable shutter release
Weight 17 oz, measurements 4 9/16" long x 3" high x 2 5/16" deep 115mm x 77mm x 60mm
So far as I know, the Konica S3 came in any color you wanted, so long as it was black. The finish is black anodized, not black paint enamel.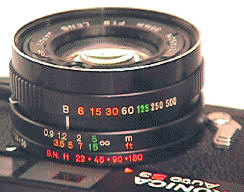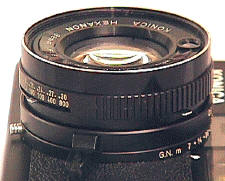 You set the shutter speed, the camera sets the aperture. Guide number flash system gives accurate flash exposures with manual flash units. Set film speed with small lever on bottom of lens. Set GN number with larger lever on bottom of lens. The GN number is indicated next to the focusing scale.
Konica S3 Accessories:
Auto-Up 3, close-up device from 19.5" to 3 feet
X-14 Konica Electronic Flash, Guide Number 45 with ASA 100 film
X-20 Konica Electronic Flash, Guide Number 64 with ASA 100 film
Konica Cube Flash for Flash Cubes -- a type of flash bulb
49mm Lens Hood
Soft Case with strap
The Negative
NO Manual over-ride, Shutter priority AE only. Exposure compensation by adjusting film ASA setting.
IF the battery dies, the shutter still works, but your aperture is wide open at f/1.8.
Not an easy to find camera, at least in the US
Designed for 1.35V EPX-675 Mercury Battery
The winning points of the S3 are the nice RF/VF for this class of camera, its unique flash system, and its sharp lens. The slightly wider 38 is preferable in my mind to the standard 40mm lenses in this camera class. Though the body is very similar to the Minolta 7sII, Konica has installed a superior RF/VF system and an important ambient light balancing GN Flash system, at the cost of manual over-ride. This is one of the nicest compact 35RF cameras.
---
Revised: November 25, 2003 . Copyright © 1998-2002 Stephen Gandy. All rights reserved. This means you may NOT copy and re-use the text or the pictures in ANY other internet or printed publication of ANY kind. Information in this document is subject to change without notice. Other products and companies referred to herein are trademarks or registered trademarks of their respective companies or mark holders.