Home Camera Articles FOR SALE Orders I Buy / Wants Repairs Books Adapters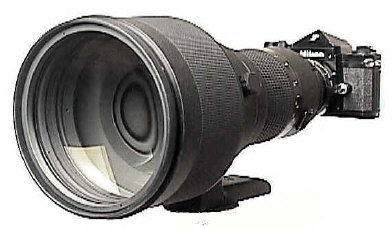 Nikon 300/2 ED-IF
Having the distinction of being the fastest production 300mm lens ever made for 35 SLRs, the compact Nikkor 300/2 ED-IF AIS weighs in at a petite 16 lbs. Sold complete in the CT-300 Aluminum case with its custom TC-14C Teleconverter and custom Hood Extension, the 300/2 IF was special order only. It was sure to make any true photog's heart go pitter-patter, at least until they found out about the $29,000 list price---then it was heart attack time.
Some sources say there are two versions, but for all practical versions, there is only one. Although announced in 1981, this early 300/2 was apparently only produced as a prototype--not a production lens. The prototype has a separate lens hood and an optional small economical 160mm protective optical flat. Pictured is the production AIS version, with built in retractable hood, drop in 52mm filters and a permanently mounted 160mm optical flat protective filter. The 300/2 has 11 elements in three groups, of which 3 of the first 4 are ED (Extra Low Dispersion) glass for maximum optical performance. The 300/2 uses Nikon multi-coating, called Nikon Integrated Coating (NIC) on all air to glass lens element surfaces. I've been told that the 300/2 is sharper at f/2 than the superb 300/2.8 at 2.8! IF your work demands a 300/2, this is your first, last, and only choice.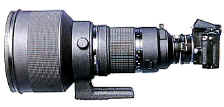 Both pics show the same lens! Shown is the 300/2 with TC-14C Teleconverter, mounted on a Nikon F. The right hand shot shows no lens hood mounted. The left pic shows the built in hood extended, as well as the supplementary HE-1 (Hood Extension) mounted for maximum flare prevention. What's a Hood Extension? It's a second lens hood added to the first one!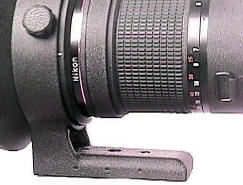 Built in amenities include a large 360 rotating tripod socket without detents, with two 1/4 tripod threads and one 3/8th tripod thread. Also included are side mounted strap lugs for the ever convenient hand held shot. Close focus is 13 feet or 4 meters. Internal focusing helps explain the 300/2's compact size, with a diameter of only 183mm and a length of only 339mm (without lens hoods).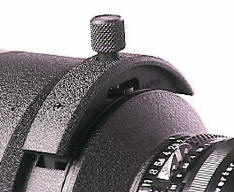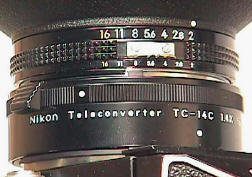 The drop in filter drawer takes standard 52mm Nikon filters. The optics are designed to have a filter mounted in the drawer at all times. Close up of the 300/2's custom TC-14C 1.4 Teleconverter which was automatically included with the lens. It turns the 300/2 into a 420/2.8. Specially designed for the 300/2, Nikon describes the TC-14C as having "outstanding resolution with virtually no loss in image quality." In practical terms, the fates often separate the 300/2 from its TC-14C and CT-300 case.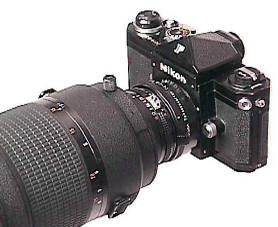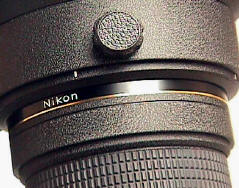 Note the robust solid construction. Keeping in standard Nikon practice, the gold ring identifies this as a lens having ED or Extra Low Dispersion glass for superior optical performance. There is only one gold ring, but three ED elements in the 300/2.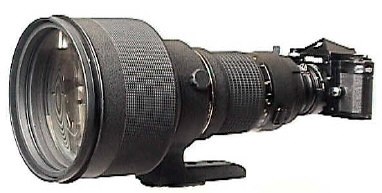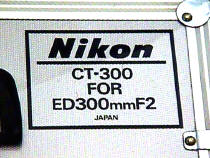 A complete 300/2 second version includes 1) the lens 2) CT-300 case 3) TC-14C Teleconverter 4) HE-1 Hood Extension 5) large vinyl drawstring front lens cap 6) drop in gelatin filter holder.
300/2 AIS production lenses started at 182121. The last reported serial number is 182561, making for an estimated production of 450. Considering the 300/2's incredibly highly list price, I'm that surprised that many were made, but a unique lens justified the big investment. Very popular with Hollywood cinematographers, probably at least half were converted to motion picture mounts, further reducing the ranks even more for the Nikon photographer or collector with deep pockets. Trivia: Pentax showed a 300/2 prototype in the late '70s, but it never made it to the production line.
BTW, a Pentax 300/2 Prototype was shown, but never made it to production.
---
Aspherical Element? Close examination of this particular lens has led several very knowledgeable Nikon people to conclude the 4th element is Aspherical! While I am not absolutely sure, it does seem very likely because I trust their judgment. What's interesting is Nikon doesn't publicly claim the 300/2 is Aspherical. Whether standard production, or a limited prototype, is unknown. If you have any information on the subject, please let me know.

Lens and 300/2 information courtesy of Wade Wilcox.
---
Manufactured only on special order from 1983 to 1985, no other production 300 has duplicated the Nikkor 300/2's phenomenal speed.
---
Home Camera Articles FOR SALE Orders I Buy / Wants Repairs Books Adapters
Revised: November 26, 2003 . Copyright © 1998-2002 Stephen Gandy. All rights reserved. This means you may NOT copy and re-use the text or the pictures in ANY other internet or printed publication of ANY kind. Information in this document is subject to change without notice. Other products and companies referred to herein are trademarks or registered trademarks of their respective companies or mark holders.