Canon Fed 50/.95 -- Fastest Fed in the West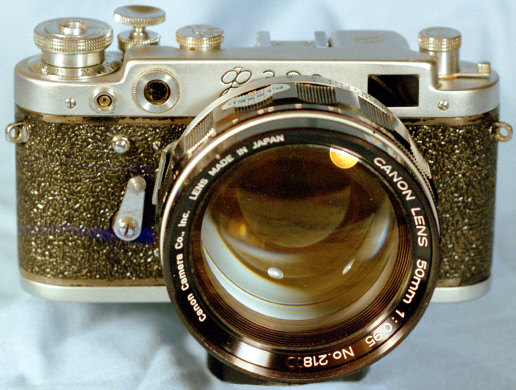 If Soviet production claims are to be believed, the Ruskies produced over a million Leica Screw mount copies, Feds and Zorkies. Of generally better quality were the Kievs, Soviet Zeiss Contax II and III copies. The Soviet made Fed 2 was produced from 1955 to 1970 in Leica Screw Mount. Shown here is a Fed 2 Type III, distinguishable by the flash sync and self timer. It is an interesting camera with a life size 1:1 finder and a long 67mm rangefinder baselength WITH built in diopter adjustment via a lever around the rewind knob. Shutter speeds are a bit limited with B, 30, 60, 125, 250, and 500. The removable back translates to easy film loading. In the US the Fed 2 is not that common, but that does not make it a rare camera. In today's plastic camera beeping everything world, the Fed boasts all metal construction and no stinking built in meter. In the memorable words of a 1974 Leica M4 ad, the Fed 2 is a "Think Camera." If you want to mount a meter on it, the small Voigtlander VCII Meter is one of the better choices.
Being an inventive chap, Lance Dennis decided to Canonize his Fed II by add the lens mount from a Canon 7. This allows him to mount his bayonet mount Canon 50/.95 (the fastest 35 full frame 50mm lens ever in standard production), while still being able to use the interior screw mount for Leica screw mount lenses. Hmm. Did Lance Canonize his Fed, or Federalize his Canon? hmm.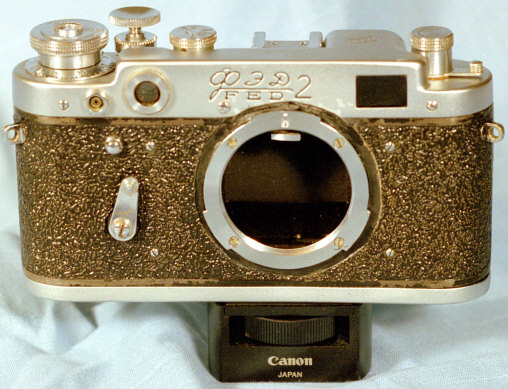 Photographs on this Page Copyright Lance Dennis 2003, All rights reserved
---
Revised: March 19, 2007 . Copyright © 2003 Stephen Gandy. All rights reserved. This means you may NOT copy and re-use the text or the pictures in ANY other internet or printed publication of ANY kind. Information in this document is subject to change without notice. Other products and companies referred to herein are trademarks or registered trademarks of their respective companies or mark holders.