CameraQuest Home Shopping Cart Price List Camera Articles I Buy / Wants Repairs Books Adapters
Voigtlander 40/1.4 Nokton $449 Order HERE in stock
Voigtlander 40mm Film Viewfinder $169 - Black
MC Multi Coat or SC Single Coat Version for B/W $449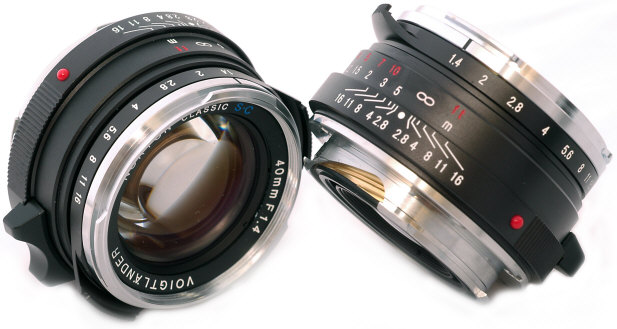 The new Voigtlander 40/1.4 is the fastest 40mm lens ever made for full frame 35mm photography, by any camera manufacturer. Available initially only in black Leica M mount, it is rangefinder coupled, 43mm filter size, 7 elements in 6 groups, with a close focus of .7 meter. Dimensions are 55mm wide x 29.7mm long with a weight of 175 grams. The vented lens hood is sold separately. Some photogs especially prize the 40mm focal length a providing the best and most natural perspective for 35mm 24x36 format, including noted American photography writer Mike Johnston. Like the 35/2.5 Pancake II, no lens hood is included with the 40/1.4. An interesting point is that the lens cap can be attached or removed with the hood attached.
The 40/1.4 is a particularly good match for the Leica M3 as the M3's entire viewing area outside its 50mm frameline approximates the 40mm field of view.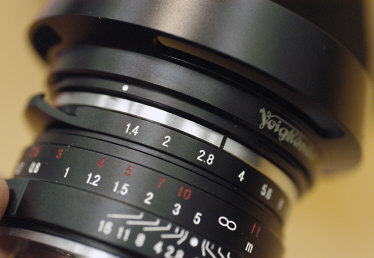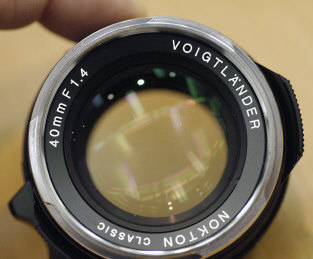 Cosina introduced TWO versions of the 40/1.4 at Photokina 2004. The standard "Nokton Classic" version is multi-coated. The limited production version for the Japanese home market is the 40/1.4 "Nokton Classic S.C." This is where it gets confusing. Cosina already makes multi-coated SC lenses (no periods) in classic Nikon Rangefinder mount. The 40/1.4 S.C. stands for "Single Coated". Why you ask? Because there is more to photographic imagery than super sharpness and the best possible lens test results. To quote Cosina's President Mr. Kobayashi "The 40/1.4 SC lens was produced for those who believe single coated lenses give more beautiful imagery in Black and White." Some Japanese photogs prefer the imagery of single coated lenses to multi-coated lenses, and so this limited edition version of 500 40/1.4 S.C. lenses. The first production run of the single coated 40/1.4 was a quick sell out in the Japanese home market.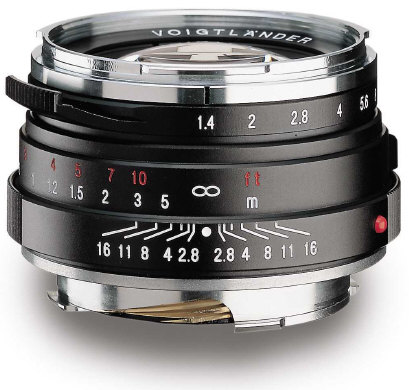 So far as I know, the Voigtlander 40/1.4 is the smallest, lightest f/1.4 lens in Leica M mount!
The 40/1.4 brings up the 50/75 frameline on the Leica M6, just like the previous 40/2 lenses for the Leica CL and Minolta CLE. Mr. K is apparently aiming to offer a faster lens for CL and CLE owners, as well as a fast 40 for his own Bessa R3A with 1:1 life size finder. The 40/1.4 will mount fine on the CLE, however the 40/1.4 hood will block the CLE's rangefinder. Either use a different hood on the CLE, or modify the hood with a jeweler's hacksaw to remove about 25% of the lens hood that blocks the CLE's rangefinder.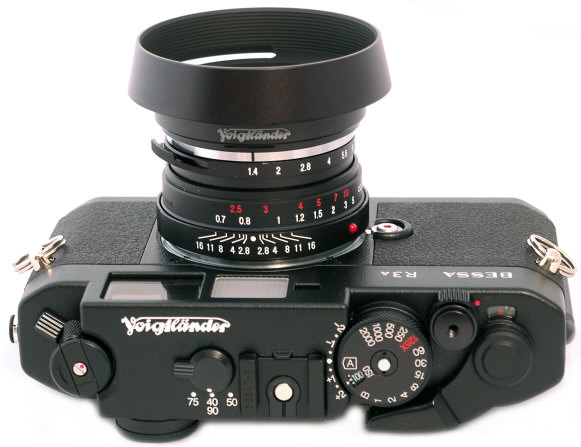 The Voigtlander 40/1.4 with LH-5 Hood mounted on the Voigtlander R3A with 40 frameline and 1:1 finder. The LH-5 vented lens hood was replaced by the LH-6 hood (which fits either the 40/1.4 or 35/1.4) at $69.
Prices Voigtlander System Bessa R2A/R3A Bessa Chart Bessa R2 Bessa T Heliar 101 101 PICS Bessa T intro Bessa T T or IIIf? Bessa R Bessa L Bessa L/A Lenses 35/1.2

Accessories VC Meter II MiniSoftrelease Bessa R2S & R2C SC Lens Intro SC Lenses SL Lenses SL 12&15 Lenses Prominent 50mm Lens Adapter
---
CameraQuest Home Shopping Cart Price List Camera Articles I Buy / Wants Repairs Books Adapters
Revised: September 11, 2017 . Copyright © 2006-13 Stephen Gandy. All rights reserved. This means you may NOT copy and re-use the text or the pictures in ANY other internet or printed publication of ANY kind. Information in this document is subject to change without notice. Other products and companies referred to herein are trademarks or registered trademarks of their respective companies or mark holders.