Home Shopping Cart Price List Lens Adapters Camera Articles Repairs Site Map I Buy / Wants
NEW Comparison Voigtlander Leica Mount Lens Chart!
Voigtlander Sony FE Lens INFO PAGE ! Order HERE
ONE PAGE Listing ALL Cosina Voigtlander Sony FE Mount Lenses
these are the first Voigtlander Sony FE mount lenses - time will tell what other FE lenses arrive
FREE NEXT DAY USA Shipping ON ORDERS OVER $599!
Orders received by 3 PM California time Mon-Sat usually shipped the same day.
Free Next Day USA shipping to most lower 48 state locations by USPS Express Mail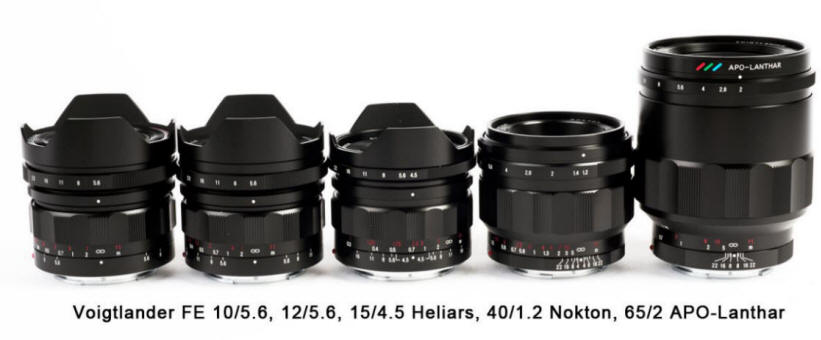 Voigtlander FE Mount Lens Functions - Subject to change without notice
1) EXIF Data - For Example for the 15mm FE: Lens - E 15mm f/4.5 Focal Length - 15mm Maximum Aperture - f/4.5 Aperture - the shooting aperture of the pic providing your camera body allows it
2) Lens Correction Data - photog can turn on/off Fall Off, Chromatic Aberration, Distortion providing your camera body allows it
3) Manual Focus Assist - set MF Mode - Live View image will be possible when manual focus detected by camera.
Duration of Mode is OFF, 2 seconds, 10 seconds, Unlimited providing your camera body allows it
4) Focus Distance Setting - set MF Mode - photog will see user set focus distance on LCD screen providing your camera body allows it
5) Electronic Front Curtain Shutter - a CPU on the lens transmits the optical information to the camera body,
which
correct the shutter speed without unevenness in exposure at high speed shutter like 1/4000 or 1/8000
providing your camera body allows it
6) Axis Image Stabilization providing your camera body allows it
Sony FE Mount or Leica M mount Lens for your Sony NEX or 7 Series?
So far all Voigtlander FE mount lenses are made in two lens mounts: FE mount or Leica M mount.
While there are advantages as explained above with the FE mount, there are disadvantages too. So far Sony E mount lenses are not adaptable to other cameras.
Suppose the next Super Dream Camera with a brand new lens mount blows your Sony away.
A super mirrorless camera from both Nikon or Canon are both long overdue as this is written in August 2016.
The odds are that new Super Dream lens mount WILL mount Leica M lenses via adapter, but NOT Sony FE lenses (or M43 or FujiX for that matter).
Leica M mount lenses will mount on your Leica M system camera or your Sony via adapter, but your M camera can't mount your FE lenses.
Explore the world of Voigtlander Leica M mount lenses HERE
---
10mm f/5.6 HELIAR-HYPER WIDE Aspherical Sony FE-mount

$1099 Order HERE
Voigtlander's 10mm f/5.6 is the world's first 10mm rectilinear (distortion free) 10mm lens for full frame cameras!

Focal Length: 10mm
Aperture Ratio: F5.6
Minimum Aperture F22
Aperture Mode: 1/3 Click Stop
Lens Construction: 10 Groups 13 Elements, 2 Aspheric
Angle of View: 130°
Aperture Blade: 10
Minimum Focus: 0.3m
Filter size: N/A
Diameter × Length: Φ67.4mm × 68.5mm
Weight: 375g
Electrical Contact: Available
Other: Selective Aperture Control System
   Integrated Petal Hood
---

Voigtlander 12mm F5.6 ULTRA WIDE-HELIAR Aspherical III Sony FE-mount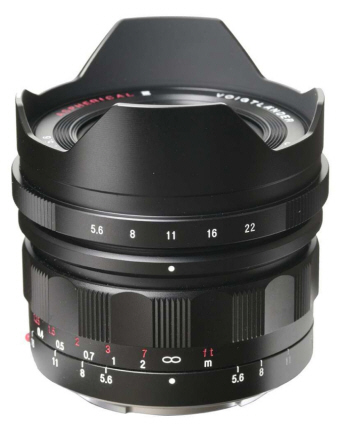 Focal Length: 12mm
Aperture Ratio: F5.6
Minimum Aperture: F22
Aperture Mode: 1/3 Click Stop
Lens Construction: 9 Groups 11 Elements, one aspherical
Angle of View: 121°
Aperture Blade: 10
Minimum Focus: 0.3m
Filter size: NA
Diameter x Length Φ68.3mm x 67.4mm
Weight 350g
Electrical Contact: Available
Other: Selective Aperture Control System
   Integrated Petal Hood

---
Voigtlander 15mm F4.5
SUPER WIDE-HELIAR
Aspherical III Manual Focus Sony FE-mount
.
Voigtlander's popular super wide 15mm f/4.5 III lens is now available in the new line of Sony FE-Mount lens.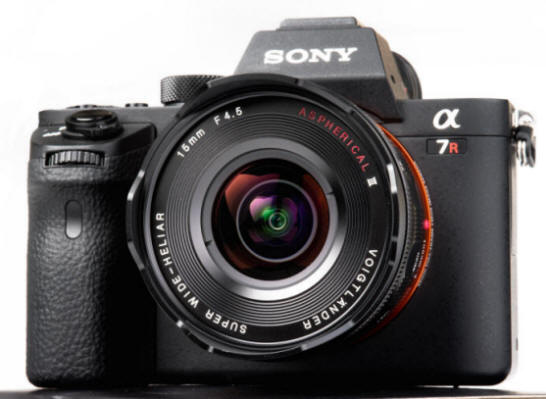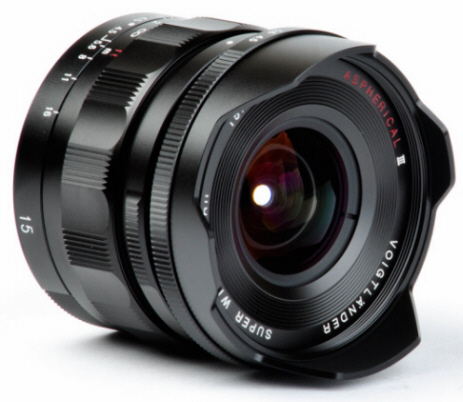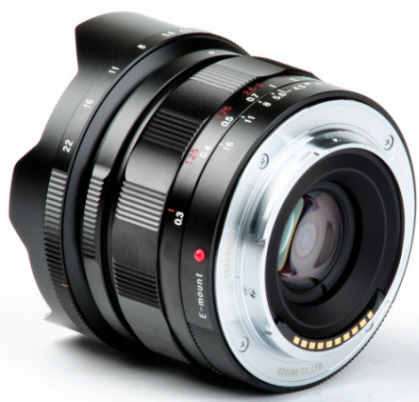 Focal Length: 15mm
Aperture Ratio: F4.5
Minimum Aperture: F22
Aperture Mode: 1/3 Click Stop
Lens Construction: 9 Groups 11 Elements, one aspheric
Angle of View: 110°
Aperture Blade: 10
Minimum Focus: 0.3m
Filter size: Φ58mm
Diameter x Length Φ66.4mm x 62.3mm
Weight 298g
Electrical Contact: Available
Other: Selective Aperture Control System
   Integrated Petal Hood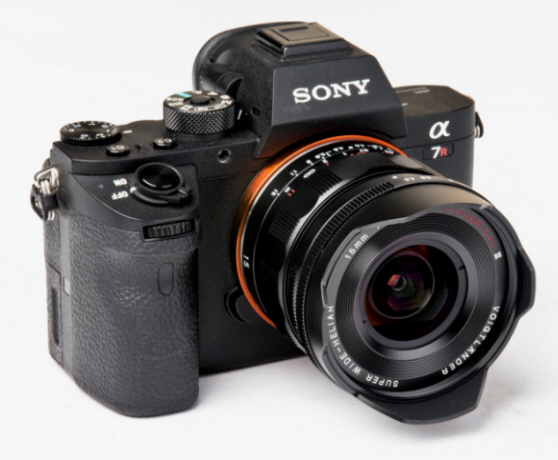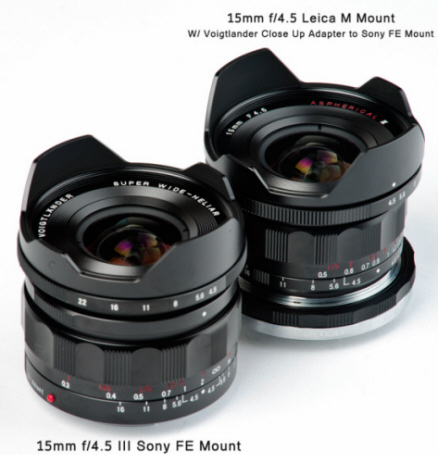 ---
Voigtlander 40mm f/1.2 Nokton Aspherical Sony FE Mount
$1059 Order HERE
The FASTEST production full frame 40mm lens ever made!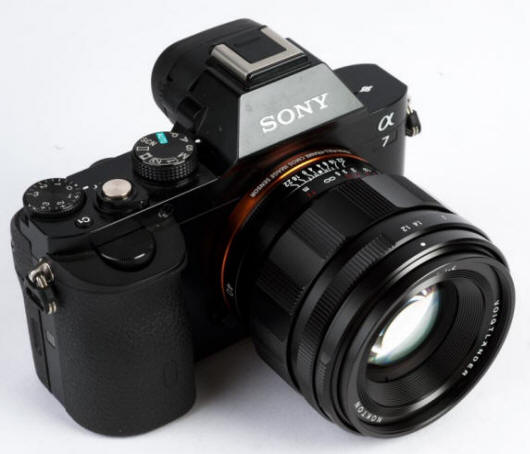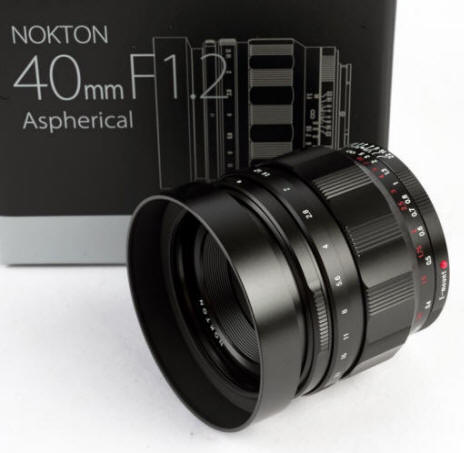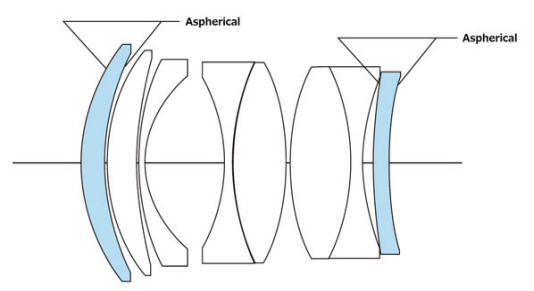 Manual Focus Short Super Fast Normal lens providing limited depth of field at f/1.2
Advanced optical design with TWO Aspherical elements optimized for Sony mirrorless cameras
Selective Aperture Control allows click-less aperture selection for video
Chipped to take advantage of Sony's electronic interface:
Providing EXIF, Focus Peaking, 5 Axis Image Stabilization if camera supported, Lens correction
60mm field of view on APS-C sensors
Precision 1/3 click f/stops
8 elements in 6 groups
Filter size: 58mm
Close focus 13.78" or 1:6.2 (or 10.5" from front of lens)
10 Aperture blades for dreamy bokeh
f/stop range f/1.2 to f/22
Size: Weight 14.6 oz, lens extends 58mm from camera body at infinity,70.1mm diameter
Lens hood and Lens caps included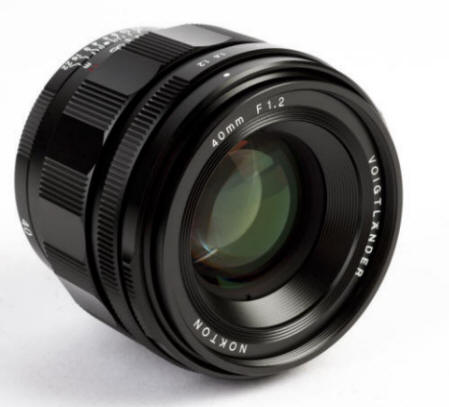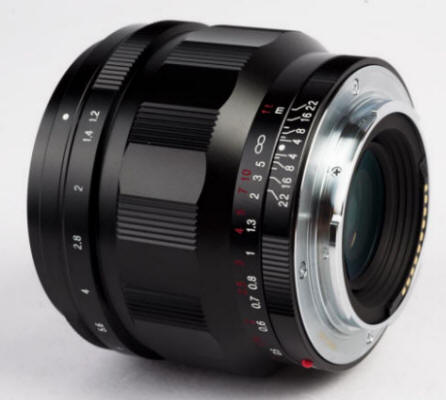 ---
Voigtlander 65mm F2 Aspherical Macro Apo-Lanther Sony FE Mount
$999 Order HERE

APOCHROMATIC MACRO Long Normal LENS!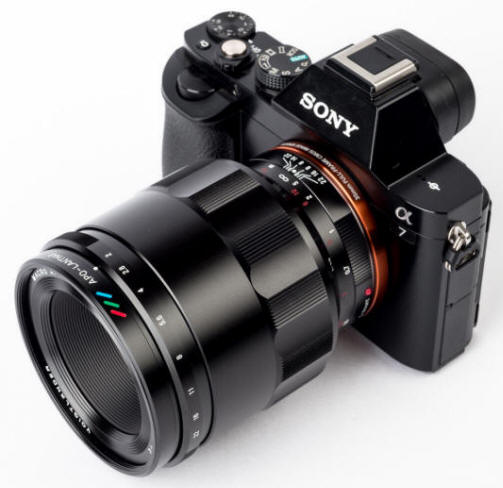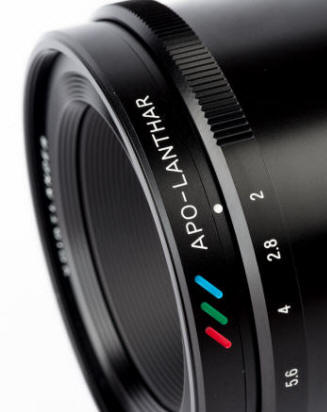 Thinking of the 65mm f/2 APO-Lanthar only as a macro lens is a bit inaccurate and limiting.


This is a super sharp highly corrected apochormatic long normal lens which also happens to close focus to 1:2.
It is quite capable of being your standard normal lens.




Quoting from the Cosina Site:

We announce the release of the Voigtländer MACRO APO-LANTHAR 65mm F2 Aspherical, a Sony E-mount macro lens for full frame sensors. The APO-LANTHAR designation is given to especially high performance lenses in the Voigtländer lens lineup. The legendary APO-LANTHAR lens that continues to enthrall photographers with its outstanding imaging performance and beautiful rendering was born in 1954, but its origins can be traced back around 120 years (see additional info about the APO-LANTHAR below).

A need for apochromatic optical designs that reduce the longitudinal chromatic aberrations of the three primary colors (RGB) of light to practically zero arose with the increasing popularity of color film. Now, with the current range of high-resolution digitals sensors, this need for extremely high-level control of chromatic aberrations is even more pertinent than when film changed from monochrome to color. So rather than just being for already solved old technologies, apochromatic optical designs are indeed a subject requiring serious consideration in the digital age.

The Voigtländer MACRO APO-LANTHAR 65mm F2 Aspherical, which inherits the designation "APO-LANTHAR", is a high performance manual focus macro lens optimized for the imaging sensors of Sony mirrorless cameras. The optical performance of this lens, which provides an image circle capable of covering a full frame sensor, rates as one of the finest in the history of Voigtländer. Sharp imaging performance is obtained from maximum aperture where you can enjoy blurring the background, and by utilizing a floating mechanism this lens delivers outstanding image quality for subjects from the minimum focusing distance of 31cm (reproduction ratio of 1:2) through to infinity. This lens is a manual focus and manual aperture design, but also features electrical contacts that enable the lens settings at image capture to be included in the Exif information of the image data. Furthermore, the lens is installed with a distance encoder to enable support for 5-axis image stabilization on bodies with this feature, for example by providing distance to subject information used in X,Y shift compensation. Focus peaking while manual focusing is also supported.

Main features
■ Full frame Sony E-mount with electrical contacts
■ Apochromatic optical design that eliminates chromatic aberrations
■ Enhanced high performance utilizing aspherical lens surfaces
■ Optical design optimized for digital imaging sensors
■ Extremely solid and durable all-metal barrel
■ Manual focus for precise focusing
■ Maximum reproduction ratio of 1:2 at a minimum focus distance of 31 cm


Focal Length: 65mm
Aperture Ratio: 1:2
Minimum Aperture: F22
Lens Construction: 8 Groups 10 Elements
Angle of View: 38°
Aperture Blade: 10
Minimum Focus: 0.31m
Macro Ratio: 1:2
Filter size: Φ67mm
Diameter x Length: Φ78.0mm x 91.3mm
Weight: 625g
Electrical Contact: Available
Manual Focus Assist: Available
Exif Data: Available
Auto Lens Correction: Possible
* only on camera body with 5-Axis Image Stabilization
Supplied Accessory: Front Cap, Rear Cap, Lens Hood



APO-LANTHAR HISTORY

The history of the APO-LANTHAR begins with the HELIAR invented by Hans Harting in 1900. Despite its simple optical configuration of five elements in three groups, the HELIAR was a lens with superb depictive performance. As an example of the HELIAR optical formula still being valid in the present day, it is used in the currently available HELIAR Vintage Line 50mm F3.5, a lens known for its superb depictive performance.  
Furthermore, a HELIAR is recorded as being the lens used to take imperial portraits of Emperor Showa, and it is said the HELIAR lens was extremely highly regarded for its beautiful depictive performance and even treated
as a family treasure by portrait photography businesses during the Showa period.

Moving forward about half a century from the birth of the HELIAR to 1954, Albrecht Wilhelm Tronnier
developed a lens using the same five-elements-three-groups configuration as the HELIAR utilizing new glass types to achieve performance that exceeded the HELIAR. That lens was the APO-LANTHAR. The APO in APO-LANTHAR indicates an apochromatic optical design. The main characteristic of such a lens is that longitudinal chromatic aberrations caused by the different wavelengths (frequencies) of the three primary colors (RGB) of light are reduced to practically zero to achieve high-level color reproduction. Color film slowly gained popularity after its release in 1935, and one reason why the APO-LANTHAR was developed was to address a growing need to capture light
more faithfully than possible with monochrome film.

The first camera to be fitted with an APO-LANTHAR lens was the 6 x 9 roll film rangefinder camera
representative of post-war Voigtlander, the Bessa II. There were three different lens variations of this camera: APO-LANTHAR 4.5/100, COLOR-HELIAR 3.5/105, and COLOR-SKOPAR 3.5/105. The APO-LANTHAR 4.5/100 variation has red, green, and blue (RGB) rings indicating the apochromatic optical design engraved around the front of the lens barrel to differentiate it from the other versions as a special lens. Due to the rarity and high performance of the Bessa II fitted with APO-LANTHAR lens, this camera has become a legendary camera traded on the used market at high prices and the envy of camera collectors.
As homage to the RGB colors that differentiate the APO-LANTHAR from other lenses beginning with
the BESSA II, the MACRO APO-LANTHAR 65mm F2 Aspherical also features
three colored dashes indicating the RGB colors at the front edge of the lens barrel.

---
Home Shopping Cart Price List Lens Adapters Camera Articles Repairs Site Map I Buy / Wants
Revised: January 09, 2018 . Copyright © 2016 Stephen Gandy. All rights reserved. This means you may NOT copy and re-use the text or the pictures in ANY other internet or printed publication of ANY kind. Information in this document is subject to change without notice. Other products and companies referred to herein are trademarks or registered trademarks of their respective companies or mark holders.