Home Camera Articles FOR SALE Orders I Buy / Wants Repairs Books Adapters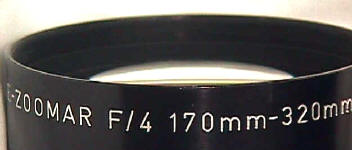 Zoomar Rapid Focus Medium Format Tele-Zoom 170-320/4 for Hassy 1000/1600, Hassy 2000FC, Bronica S, Norita, Bronica S, Rollei SL66, Pentacon 6, Mamiya 645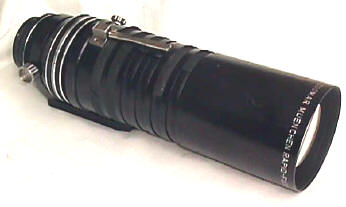 Today any Zoomar lens is difficult to find. This is one of the harder to find Zoomars. Who was Zoomar? An absolutely first class amazingly innovative optical firm under the guidance of the American optical engineer Dr. Frank Back. Still no bells ringing? We pay homage to Zoomar every time we talk about a Zoom lens. Whether the Zoomar came before the Zoom, or vice versa, is the old chicken or the egg question.
Dr. Back designed the first production 35mm SLR zoom, the famous 36-82/2.8 Zoomar originally made in Voigtlander Bessamatic mount in 1959, produced in the Munich Kilfitt factory -- as were most Zoomars. When Heinz Kilfitt retired in 1968, he sold the factory to Dr. Back, who operated it under the Zoomar name from its headquarters in Long Island, New York. In 1986 Zoomar unfortunately left the civilian market, concentrating on military optics. Zoomar history courtesy of my buddy, Marc Small.
The 170-320/4 Zoomar would cover 2 1/4, but also 35mm. Finish and workmanship are simply beautiful. You get a very heavy duty feeling from it. Length varies from about 13 1/2" to 18 1/2" depending upon zoom focal length and focus distance. Filter size is a petite 90 mm. Weight a modest 6 lbs. 14 oz. Closest focus distance 14 feet. Also available was a special 2x extender which was usable on 35mm only. 35mm mounts included Alpa, Canon FD, Contarex, Edixa, Exakta, Leica with Viso 1s, Leica M with Viso 2, Minolta MD, Miranda, Nikon F, Pentax screw mount, Praktina, and Arriflex.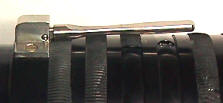 An unusual feature is the FOCUSING lever. Pushing in the spring set lever enabled you to quickly focus in or out, thus the name RAPID FOCUS ZOOM.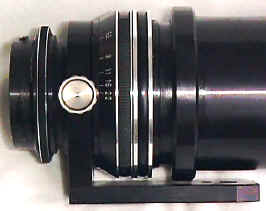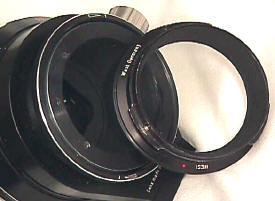 Another nice feature is the large rotating tripod mount. The chrome knob is the rotating lock. One of the most useful features of all Zoomars are their interchangeable mounts for maximum versatility. Rotating the ring locks or unlocks the camera mount of choice. 2 1/4 mounts were made for Hasselblad 1000f & 1600f, Hasselblad 2000FC, Pentacon 6, Rollei SL66, Norita, and Bronica S, Mamiya 645 -- but of course you need the correct adapter. The strong Kilfitt styling influence leaves little doubt this was produced in the Kilfitt factory.

Accordingly, this is one of the very very few 2 1/4 zoom ever offered for the Hassy 1000/1600, Bronica S, Rollei SL66, or Norita Mounts!!

Here the Zoomar is shown at maximum focal length, at closest focus. The chrome knob near the center of the lens locks down selected zoom focal length. Note lack of depth of field scales.
---
Home Camera Articles FOR SALE Orders I Buy / Wants Repairs Books Adapters
Revised: November 26, 2003 . Copyright © 1998-2002 Stephen Gandy. All rights reserved. This means you may NOT copy and re-use the text or the pictures in ANY other internet or printed publication of ANY kind. Information in this document is subject to change without notice. Other products and companies referred to herein are trademarks or registered trademarks of their respective companies or mark holders.