Home Camera Articles Shopping Cart I Buy / Wants Repairs Books Adapters
Lomography Petzval 85mm f/2.2 Portrait Lens
$599 Free Shipping
CameraQuest is a Lomography USA Art Lens Distributor
Oddly enough in today's age of digital photography, a funny sounding group called Lomography is probably today's most successful champion of the fine art of FILM cameras - introducing hundreds of thousands to the decadent pleasures of FILM images. Lomography is the trademark of Lomographische AG of Austria, founded in 1992 by Viennese students who loved the beautiful blurry film effects of the Russian made Lomo LCA 35mm film camera. Specializing in a wide range of creatively designed inexpensive film cameras, Lomography turned into a global movement for the appreciation of the FILM images! You will find no stinking digital cameras (with apologies and credit to the banditos of John Huston's Treasure of Sierra Madre) within the Lomography film kingdom.

Initially taken as somewhat of a joke by "serious" photographers, the ranks of Lomography has grown into hundreds of thousands of Lomographers worldwide. Its difficult to be sure, however Lomography quite possibly represents the today's world's largest organization of film photographers. Quite Hip, you will find many of the various Lomo cameras being sold today inside the upscale modern American store Urban Outfitters. In July 2013 Lomography started its Petzval Kickstarter campaign to produced a new Lomography made Petzval portrait lens. Their efforts were hugely successful, generating over $1,000,000 and over 3000 backers! The lens pictured here is the result. This lens is the first of Lomography's new ART LENS lineup, sold only by specially selected dealers.

The Petzval lens was invented in 1839 and is generally considered photography's first successful portrait lens. Oddly enough, it was invented by a Slovakian Professor working at the University of Vienna named Jozef Maximillian Petzval. Petzval's lens was produced only in Germany by Peter Wilhelm Friedrich von Voigtländer. And so today, its very fitting that a company founded by Viennese students in Vienna would once again produce the Petzval lens.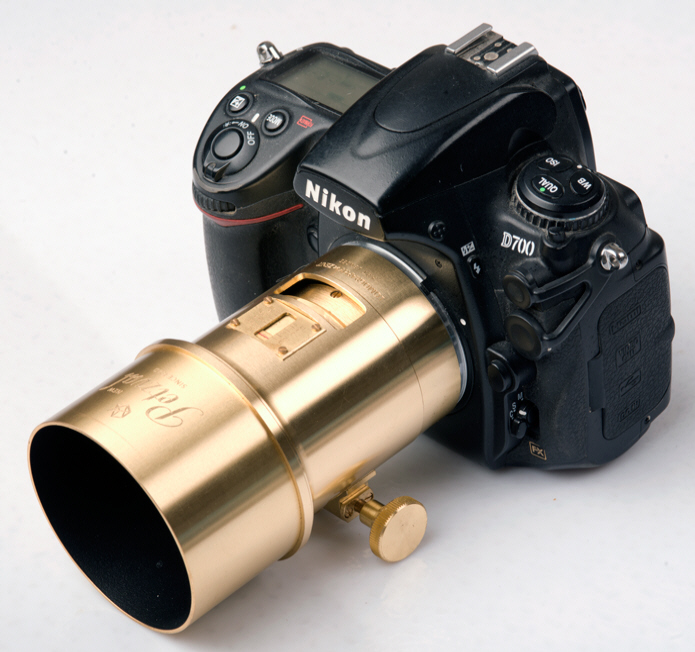 Eat your hearts out Nikon, Canon, Leica, Zeiss and Sony lens owners! Your MEH old fashioned autofocus OEM lenses don't have real shiny brass lens barrels, real brass gear and pinion focusing or real Waterhouse stops!
Technical Specifications
Lomography 85mm f/2.2 Petzval formula portrait lens famous for unique swirly bokeh out of focus areas

Manual focus using gear and pinion focusing

Metal brass lens barrel, bright brass or black paint finish

Weight 24 oz, length 113mm (mounting flange to lens cap), maximum diameter 70mm lens hood, 61mm body of lens barrel

Filter size 58mm

Close focus 1 meter (focus closer by adding extension tubes, bellows, close up lenses)

Waterhouse lens stops with manually set f/2.2, f/2.8, f/4, f/5.6, f/8, f/11 apertures. A solid Waterhouse stop is also provided for to better seal the opening when you are not shooting. While early production lenses had a problem with the Waterhouse stops easily falling out of the lens, these late production lenses have no such problem.

Produced in Nikon F or Canon EOS SLR lens mounts

You may shoot via manually chosen exposure, or aperture priority at shooting aperture, with or without automatic TTL flash with most modern Nikon or Canon SLR cameras (digital or film)

The Nikon mount is adaptable to practically every modern "mirrorless" digital camera, including but not limited to Sony NEX (small and full frame) Micro Four Thirds M43, Canon M, Fuji X, Pentax Q, Nikon One, Ricoh GR M, Leica M240 with the appropriate adapters.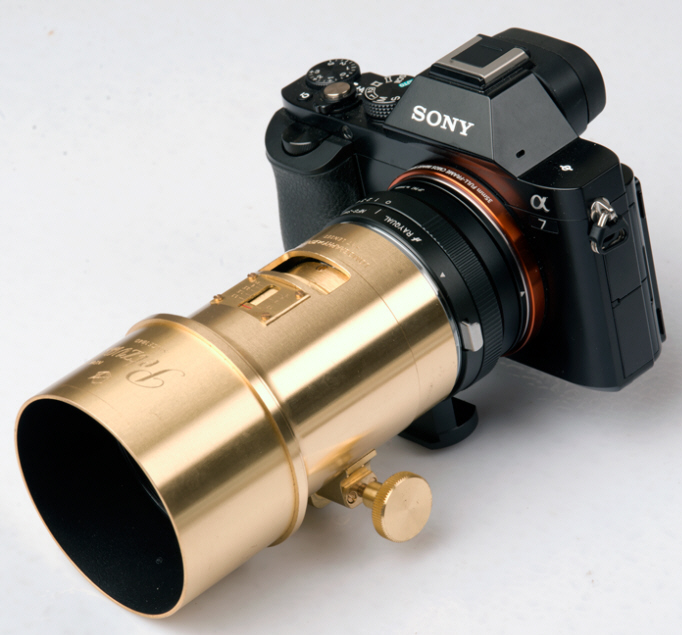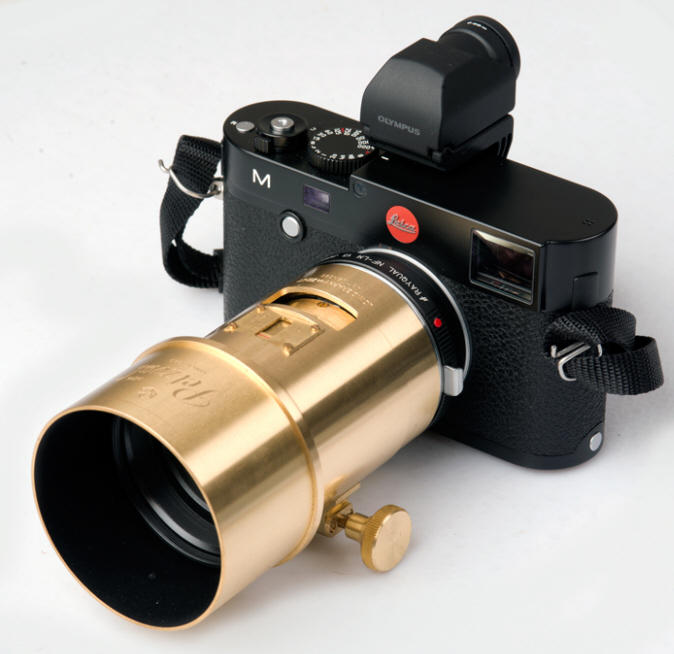 Shown above on the Nikon D700 full frame DSLR, Sony A7 full frame, and Leica M240 with Visoflex focusing thanks to the Olympus VF-2 viewfinder. While f/2.2 is its widest official aperture, shooting without a Waterhouse stop can give you a bit more speed as well as more "special effects" with light leaks, flare and reflections. You might also experiment without the lens hood.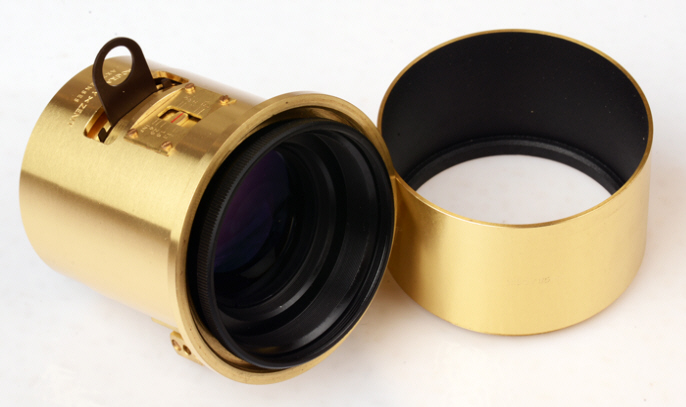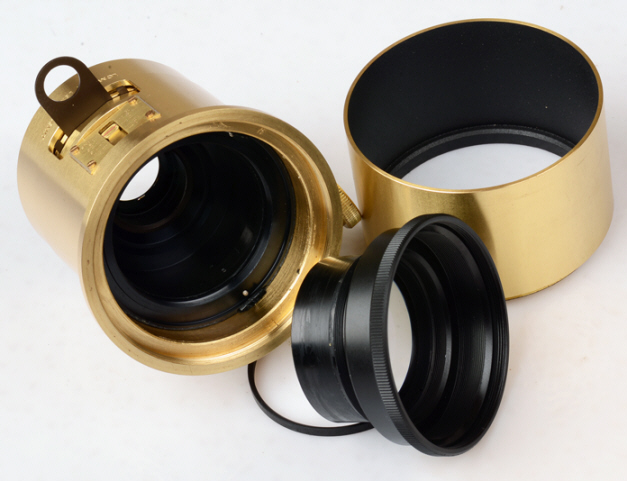 Removing the lens hood will give you a noticeably shorter lens by 40mm as well as increasing the "special effect" of creative flare for your customers willing and able to pay for such amazing extras! "Gee pro photographer, I really like the picture effect in that large print on your wall. Can you do that for me too?" "Well, OK, but don't tell anyone. I'm supposed to charge extra for that." Removing the lens hood will also give you access to the 58mm filter threads. Unscrew that black filter thread and you will remove the front elements from the lens in order to clean the lens of dust - or wrestling mud if you happen to drop the lens at the local mud wrestling championships.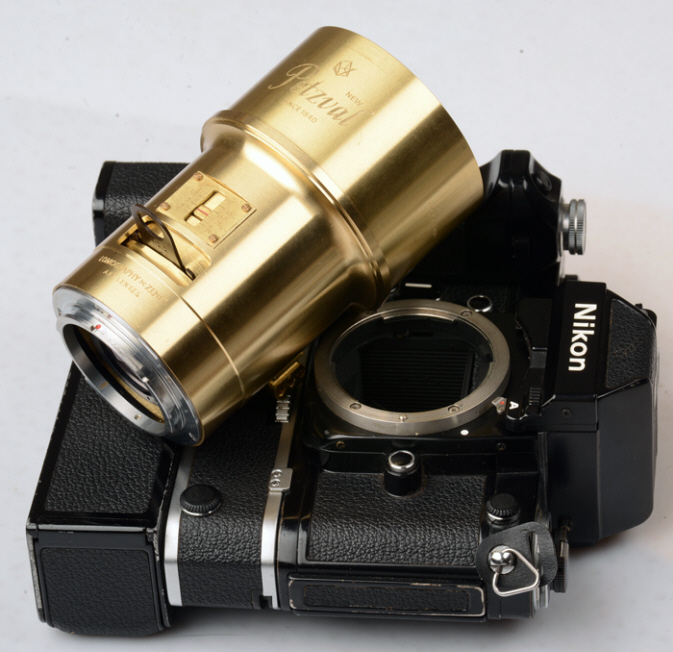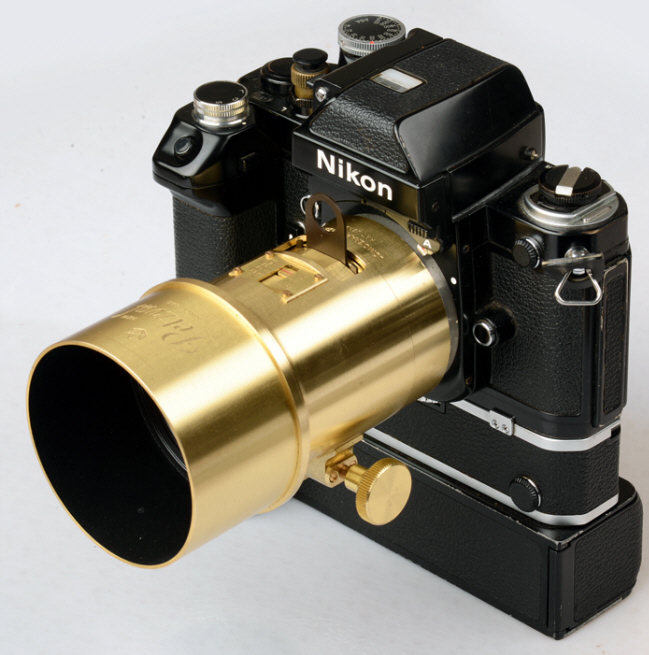 Behold Nikon's professional photojournalist film eating monster of yesteryear, this nifty brassed black paint professional Nikon F2A camera vintage 1977 with the FIVE FRAMES PER SECOND motor drive MD-2 weighing a featherweight 5 lbs without lens! Woe to the photog who wants to shoot their Lomo as fast as the Nikon F2 with motordrive!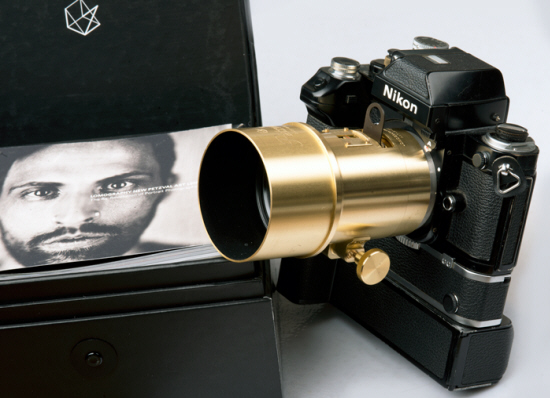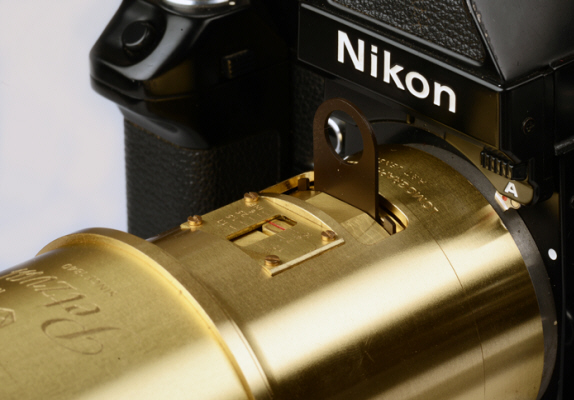 Good to Know
Underwater photography: the all brass Petzval lens is guaranteed to sink like a rock unless it is mounted on a Canon DSLR, in which case it will sink like a Canon.

Interplanetary Communications: At night high energy laser reflections from the shiny brass lens barrel may be seen from space, or maybe not.

Reclaimed Brass: There is no absolutely no truth in the rumor that Petzval brass lens barrels were reclaimed from the three sunken German U-boats off the coast of Buenos Aires that delivered a certain mustached individual and wife to Argentina in October 1944. All that brass was used in Eva Peron statues.

Alien Space Ships: Contrary to news reports, Lomography's Petzval lens barrels are definitely NOT used by little green space aliens for interplanetary time travel thru wormholes. However questions about standard interplanetary travel without time warps and worm holes by little grey space aliens still remain and are being checked into.

Test Pics taken with Nikon D800, focus distance 5 feet, f/2.2 to f/16

soft wide open, the Petzval is surprisingly sharp by f/ 11 to 16

Petzval f/2.2 Sepia Conversion

Petzval f/2.2

Petzval f/2.8

Petzval f/4

Petzval f/5.6

Petzval f/8

Petzval f/11

Petzval f/16
---
Home Camera Articles Shopping Cart I Buy / Wants Repairs Books Adapters
Revised: September 25, 2014 . Copyright © 2014 Stephen Gandy. All rights reserved. This means you may NOT copy and re-use the text or the pictures in ANY other internet or printed publication of ANY kind. Information in this document is subject to change without notice. Other products and companies referred to herein are trademarks or registered trademarks of their respective companies or mark holders.