Home Camera Articles FOR SALE Orders I Buy / Wants Repairs Books Adapters
Leica M6 "Panda": For some obscure reason, collectors started calling a chrome M6 with black fittings a "Panda" M6, and were strangely were willing to pay a premium for them. I say strangely, because nothing is special about the Panda M6 as far as I can tell. It's just a chrome M6 with black advance, shutter dial, rewind knob, and rewind selector lever. The rumor is that originally the M6 Panda were born not from design, but from a temporary shortage of the proper chrome parts at the factory. They were NOT a special edition by Leica. After the initial batch, and finding some people liked the combination, it's not clear if Pandas were intentionally produced or not. Leica serial number lists make NO differential between the Panda and regular chrome M6. At one time, Leica also listed a M6 chrome make over into the Panda.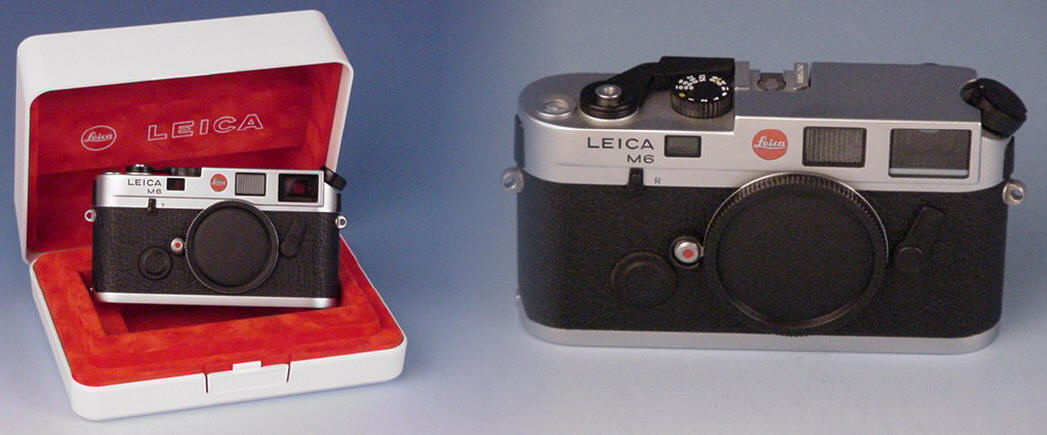 photos courtesy and copyright 2000 of Duncan Meeder, Foto Henny Hoogeveen, Holland, all rights reserved
Camera dealers, not being fools, are very welling to charge more for the Panda if some Panda lover is willing to pay extra for it. If you really like the Panda, you can easily turn your plain chrome M6 into a Panda by ordering black parts from the Leica Parts Department. Hmm. If you put a black baseplate on a Panda, does that make it a "Super Panda?" If you change only half the parts to black, does that make it a hybrid Panda ? Hmm. What do you get if you cross the Dragon M6 with a Panda M6 ? Roasted Panda. PS: Buy your special Panda film containers here -- black plastic top with white plastic bottom, only $20. All black or all white film containers, 25 cents each.
---
Home Camera Articles FOR SALE Orders I Buy / Wants Repairs Books Adapters
Revised: November 28, 2003. Copyright © 1999, 2000 Stephen Gandy. All rights reserved. Information in this document is subject to change without notice. Other products and companies referred to herein are trademarks or registered trademarks of their respective companies or mark holders.