Home Camera Articles FOR SALE Orders I Buy / Wants Repairs Books Adapters

Leica M6 TTL "Øresundsbron" Black Paint Oresund Bridge:
This is a new year 2000 limited edition M 6 TTL 0.85 Black Paint camera. It commemorates the opening of the Oresund Bridge, the bridge between Sweden and Copenhagen. Only 150 were produced. The back of the top plate is engraved with the bridge, and a special number 1 to 150. This one is number 112. It was produced for the Nordisk Foto Import A/S in Denmark -- the Danish Leica distributor. With its Leica script and black paint, it is very similar to the LHSA M6 TTL Black Paint.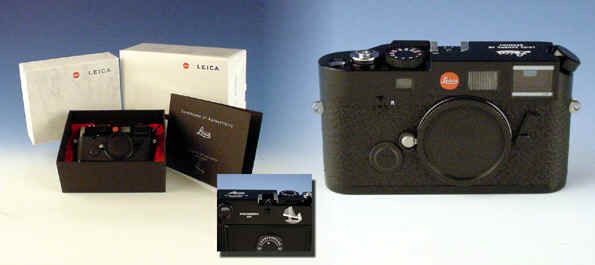 The ODD thing about the camera is that ONLY 1/2 of the bridge is shown in the engraving -- the Danish side! A Scandinavian friend of mine tells me the Danes and Swedes are famous for not getting along so well. This is a Danish commemorative, and they apparently didn't want to show the Swedish side of the Bridge! I wonder if the there will be a Swedish "Øresundsbron" special showing the other end of the bridge, but not the Danish side ??
Interestingly, this camera was sold in three different configurations. 50 were sold body only. 25 were sold with a special 35/2 ASPH BLACK PAINT lens. 75 were sold with a special 50/1.4 ASPH BLACK PAINT lens. Rumors of a special Swedish export version with camera box, but no camera, have not been confirmed.
photo courtesy and copyright 2000 of Duncan Meeder, Foto Henny Hoogeveen, Holland, all rights reserved
---
Home Camera Articles FOR SALE Orders I Buy / Wants Repairs Books Adapters
Revised: November 25, 2003 . Copyright © 1999-2002 Stephen Gandy. All rights reserved. This means you may NOT copy and re-use the text or the pictures in ANY other internet or printed publication of ANY kind. Information in this document is subject to change without notice. Other products and companies referred to herein are trademarks or registered trademarks of their respective companies or mark holders.