Home Camera Articles FOR SALE Orders I Buy / Wants Repairs Books Adapters
Nikon F3 NASA: Space Nikon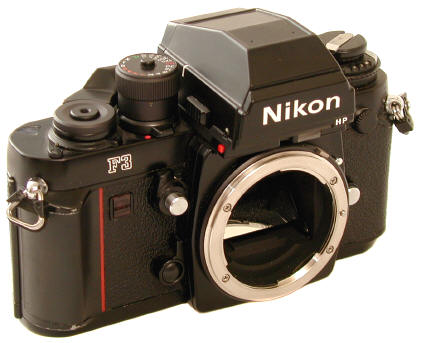 Presumably the NASA F3 was intended for US space shuttle flights. From time to time they are sold off surplus, usually in combination with specially NASA marked MD4 motors and 250 backs. Production is less than 100, but that is just my guess, not official information. In any case, it is safe to say the NASA F3 is among the rarest Nikons.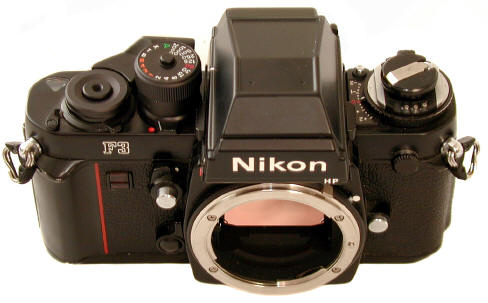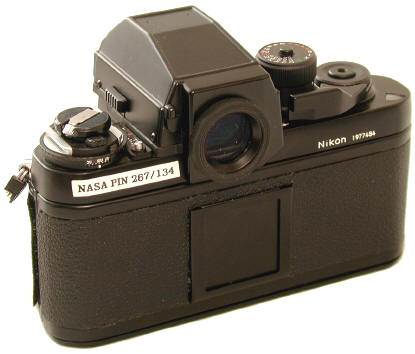 I was surprised to see the white NASA PIN tag stuck on the body, rather than engraved.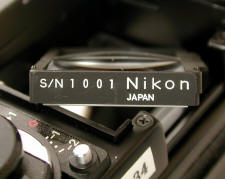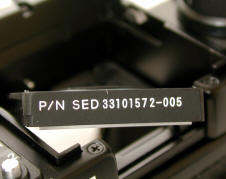 The Type P focusing screen, with a 45 degree rangefinder prism surrounded by a thin microprism circle, with cross hairs, is engraved on either end of the focusing screen.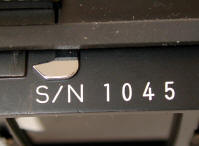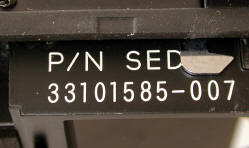 The HP Prism also has ID engravings on both sides.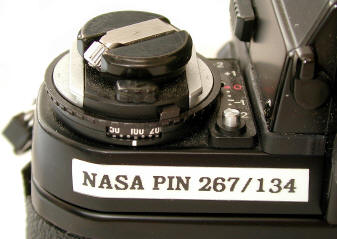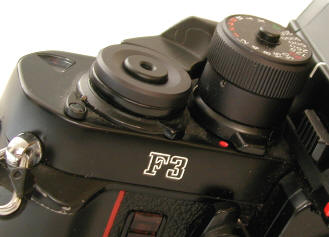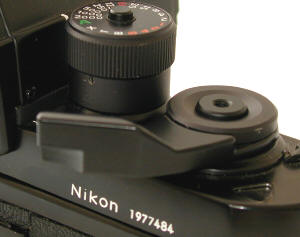 Note the higher than normal shutter speed dial, and the larger than standard advance lever.
NASA F3's have several variations. The version I have seen most often is fitted with a hot shoe on the prism, larger than usual mirror lock up lever, and modified MD-4 motor and 250 back, along with the raised shutter speed dial and larger than normal advance lever seen here. A special 55/2 UV Nikkor was also made for NASA. Dummy F3 NASA cameras were also made for display, as a way of wasting tax money. This camera is unusual as it does not have the hot shoe on the prism, yet the prism and focusing screen both have special NASA markings.
---
Revised: November 26, 2003 . Copyright © 2002 Stephen Gandy. All rights reserved. This means you may NOT copy and re-use the text or the pictures in ANY other internet or printed publication of ANY kind. Information in this document is subject to change without notice. Other products and companies referred to herein are trademarks or registered trademarks of their respective companies or mark holders.