CameraQuest Home Shopping Cart Price List Camera Articles I Buy / Wants Repairs Books Adapters
Voigtlander SC Nikon Rangefinder Mount Lens 21/4, 25/4, 35/2.5 Introduction
still IN STOCK at CameraQuest!
I am sad to say Voigtlander SC lenses for classic Nikon and Zeiss Contax Rangefinders are DISCONTINUED and on CLOSEOUT SALE.
Once gone, I believe they become collectibles due to low production and because they are only modern lenses created for Classic Nikon and Contax Rangefinder -- get them while you can!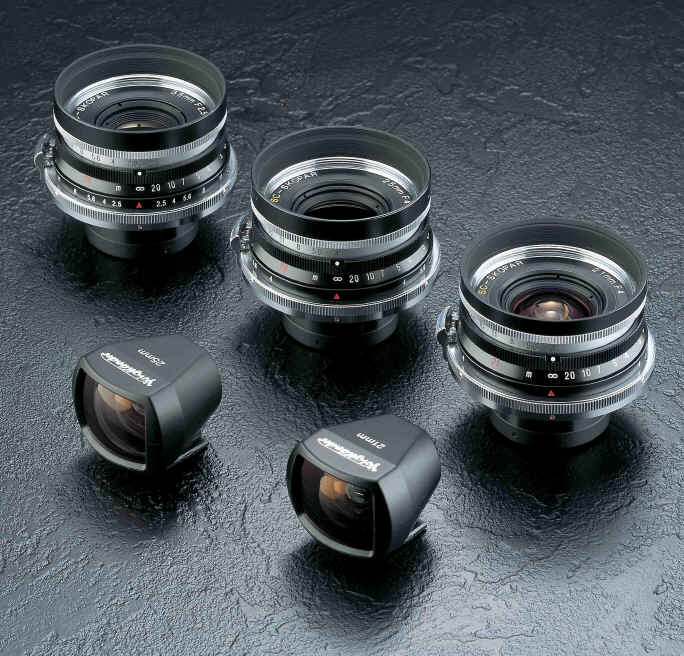 SC Cosina Voigtlander 2001:
In February 2001 Cosina introduced the first new wide angle lenses for Nikon and classic Contax Rangefinders in over 30 years, the multicoated Voigtlander 21/4, 25/4, and 35/2.5 SC-Skopars. The "S-C" stands for the Nikon S Rangefinder series, and the classic Zeiss Contax Rangefinders. These lenses will fit both classic rangefinder lines. Do not confuse the classic Contax rangefinders of the '30s to '50s with today's Contax G series -- completely different mounts. They will also work with the various Russian Kiev Contax copies.

No other multi-coated wide angle lenses in these mounts has ever been available. Users and collectors who can't find Nikon or Contax rear caps will probably buy more than a few of the new Voigtlander rear caps -- I know I will.

Initially these are limited production lenses. Cosina is taking a big chance on these long discontinued lens mounts that other lens manufacturers have NOT been willing to take - - not even Nikon. If the lenses don't sell well, this will be the only production run. Planned are 900 21/4's, 800 25/4's, and 700 35/2.5's. TRANSLATION: Buy them early while you can -- BEFORE they become high priced collector's items !
All 3 Lenses Share Family Traits:
All three look much like the classic black and chrome Nikon Rangefinder wide angle lenses

The finish is very high, classic Nikon owners will be happy

All are sold with screw in lens hoods and caps

All mount on the external bayonet

All are focused using the internal helical on the body with the focusing wheel

All use 43mm filters, sharing filter and front cap compatibility with the classic 21/4, 28/3.5, 35/3.5, 35/2.5, 35/1.8, 50/1.4 and 135/3.5 Nikon Rangefinder lenses

All can be confused at a quick glance with the classic Nikon Rangefinder lenses

All are virtually the same weight and close to the same size

All have the focal length engraved on the lens barrel for quicker identification

These are the first multi-coated wide angle lenses ever made for Nikon or Contax Rangefinders!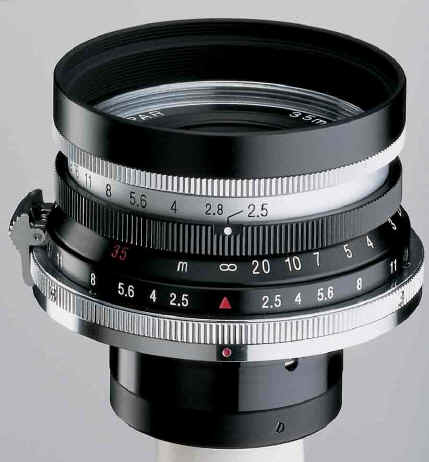 35/2.5 SC-Skopar
f/2.5 to f/22, 43mm filter size, close focus .9 meter, weight 141 grams, 7 elements in 5 groups

Voigtlander 35/2.5 Prototype. The amazing thing about this lens is how heavily constructed it is, just like the classic Nikon rangefinder wides. The chrome hood are on the prototypes only, not the production lenses.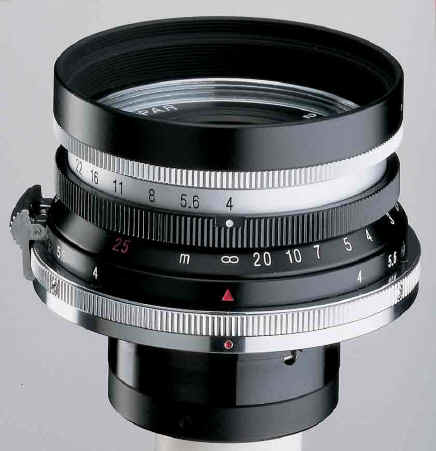 25/4 SC-Skopar
f/4 to f/22, 43mm filter size, close focus .9 meter, weight 141 grams, 7 elements in 5 groups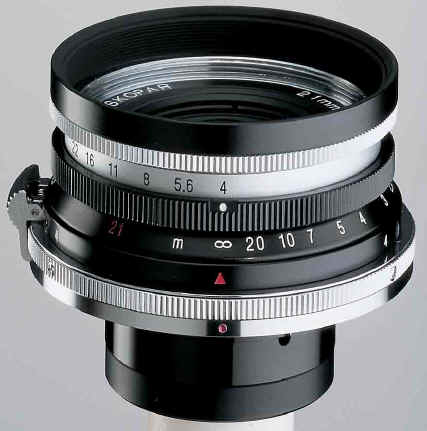 21/4 SC-Skopar
f/4 to f/22, 43mm filter size, close focus .9 meter, weight 140 grams, 8 elements in 6 groups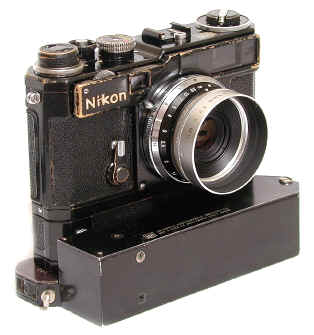 Here the 35/2.5 prototype is mounted on a black Nikon SP with SP motor and the even rarer Jacobson SP cordless battery pack
Mr. Kobayashi has made sure these lenses are something to be proud to use on your vintage Nikon.
Nikon RF users are fortunate to have some new lens choices after only a thirty seven year wait !
Voigtlander Bessa R2S 50/3.5 Heliar S NHS Commemorative in Classic Nikon Rangefinder Mount Nikon Historical Society - Last Production May 2005
Voigtlander SL 12/5.6 and 15/4.5 Aspherical widest EVER for NRF
Voigtlander Nikon Rangefinder SC Mount Lens Intro 21/4, 25/4, 35/2.5 intro

Voigtlander Nikon Rangefinder SC Lenses: SC 21/4, SC 25/4, SC 28/3.5, SC 35/2.5, SC 35/1.2 Prototpe, S 50/1.5, S 50/2.5, S 50/3.5, S 85/3.5

Voigtlander VC Meter II small compact silicon meter with LED readout for Nikon Rangefinders
---
CameraQuest Home Shopping Cart Price List Camera Articles I Buy / Wants Repairs Books Adapters
Revised: September 11, 2017 . Copyright © 2001--2013 Stephen Gandy. All rights reserved. This means you may NOT copy and re-use the text or the pictures in ANY other internet or printed publication of ANY kind. Information in this document is subject to change without notice. Other products and companies referred to herein are trademarks or registered trademarks of their respective companies or mark holders.