CameraQuest Home Shopping Cart Price List Camera Articles I Buy / Wants Repairs Books Adapters
VC II meter announced at Photokina 2004 9/20/2004
The Voigtlander VC Meter II $225 Order HERE IN STOCK!
Please specify chrome or black with your order!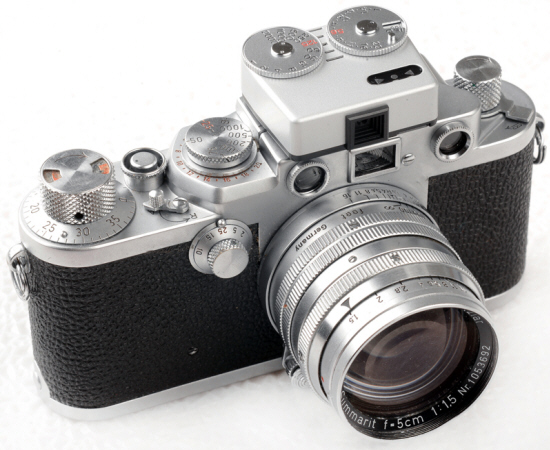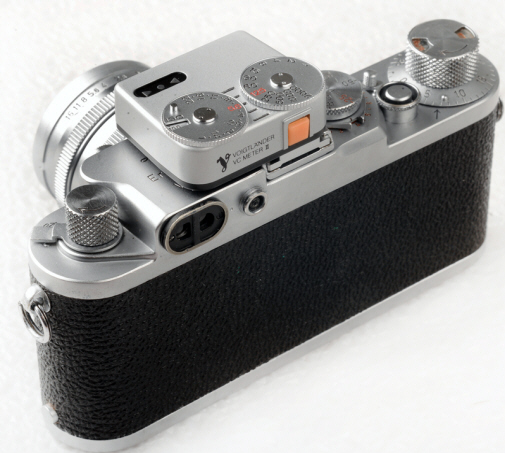 Leica IIIf with 50/1.5 Summarit and Voigtlander VCII Meter
The new improved Voigtlander VC II Meter is arguably the most useful single accessory for classic meterless cameras. Small, lightweight, and easy to use, it will help get many closet retirees back into picture taking. Note that it is an especially good choice for 99% of all meterless rangefinder cameras, including Leica M's, Leica Screw mounts, Nikon Rangefinders, Contax Rangefinders, and Canon Rangefinders. Lots of cameras? No problem! Just transfer the VC II to your shooter that day! The VC Meter II is an updated VC Meter I, one of Voigtlander's most popular products.
How does the meter work? Quite well! 1) insert the two batteries into the improved easier to open battery compartment 2) set film speed by rotating the f/stop dial by the knob on top of dial, so your film speed appears in the window 3) push orange meter switch on back of meter -- meter stays on about 10 seconds after you let go of switch 4) rotate meter f/stop and or shutter speed dials until the green LED lights up. 5) transfer meter reading to your camera. Real world, this is an easy to use fast working meter.
New smaller, lower profile

Exposure Lock: The exposure is locked for about 10 seconds after you press the metering button, or until you press the button again. After 10 seconds the meter shuts off.

The meter exposure readout is much improved. The suggested exposure is now on a center indicator between the f/stop and shutter speed dials.

The push open battery cover is much easier and faster to use than the I's screw on battery cap.

The accessory foot is now movable to adapt to different cameras. As shipped it fits fine on Leica and many other cameras. For S2, S3, SP and S4 Nikon Rangefinders, unscrew the accessory shoe mounting screws and re-position the foot to the other mounting position. The meter will not fit the Nikon I, M, or S without an extension to raise the meter above the rewind knob. Cosina even provides extra mounting screws in case you lose some!

Meter angle approximately 30 degrees

Silicon Metering Cell

LED meter read out, center round greed LED, red LEDs on both sides

ISO 25 to 3200 with 1/3 stop increments on the film speed dial

The ISO film speeds are now larger, and marked at 1/3 stops.

EV 1 to EV 20

Powered by two LR 44 alkaline or SR44 silver oxide batteries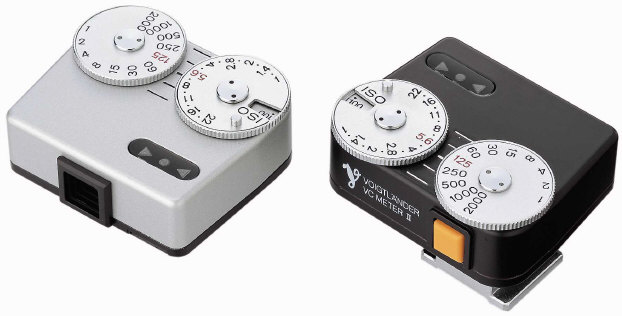 You have your choice of silver or black chrome. The chrome version looks right at home on classic Leica, Nikon, Contax, and Canon rangefinders. Operation is easy. Set the film speed, push the button on the back of the meter, adjust the dials until the center LED lights up. The meter shuts off after 10 seconds to save batteries.
The foot of the meter can be moved into two positions for either Leica cameras or classic Nikon/Contax rangefinders by unscrewing the three screws. The hinged push open battery compartment is a nice improvement over the previous screw in battery cap, which was mysteriously programmed to fall to the floor and hide behind furniture.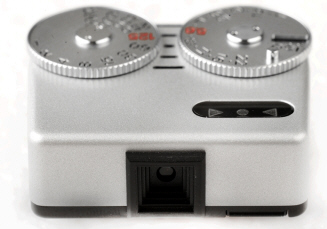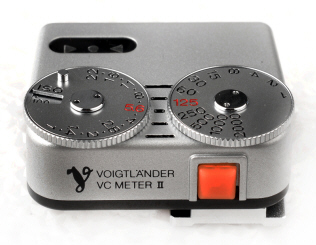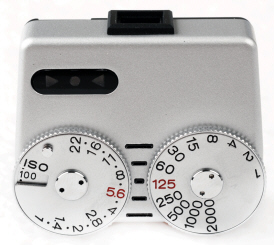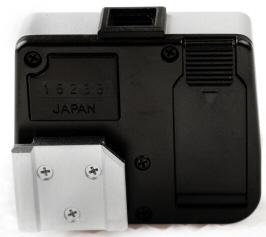 Cosmetically the Voigtlander VC Meter II is styled much like original factory equipment on many classic cameras. You have a choice of silver or black chrome. The VC II is pictured above mounted on an Leica M3 with the double accessory shoe and 28/35 Minifinder.
The VC II mounts directly in the accessory shoe. The VC II works well with the discontinued VC Double Accessory shoe allows you to mount the meter side by side with your choice of finders. IF YOU CAN FIND THEM, as shown in the photo above, the VC Meter II can easily combine with the discontinued Voigtlander 28/35 Mini-Finder and discontinued Double Accessory shoe. This is a particularly attractive combination on many classic rangefinder cameras including all Leica Screw Mount cameras, Leica M2/M3/M4, Nikon S, S2, S3, SP, classic Zeiss Contax I, II, IIa, and all Canon Leica Screw Mount rangefinders. Unfortunately all 3 types of double accessory shoes are discontinued and sold out.
So far as I know, this is the smallest add on meter ever made for classic rangefinder cameras, of any make. While both the old and new VC meters weigh in at 42 grams, the new meter measures 42.5Wx37Lx19.5H vs. 38W x36.9Lx24.9H in mm. The big size reduction is 5mm in height. The chrome version is a fairly close match to the chrome used on many classic cameras, including Leica and Nikon. Above the VC II is pictured on a Leica M3 and on a Zeiss Contax IIa.
ALSO Introduced with the VC Meter II at Photokina 2004 were the new Voigtlander 40/1.4 M mount lens, and two new Voigtlander Leica M mount rangefinder cameras, the Bessa R2A and R3A.
Prices Voigtlander System Bessa R2A/R3A Bessa Chart Bessa R2 Bessa T Heliar 101 101 PICS Bessa T intro Bessa T T or IIIf? Bessa R Bessa L Bessa L/A Lenses 35/1.2

Accessories VC Meter II MiniSoftrelease Bessa R2S & R2C SC Lens Intro SC Lenses SL Lenses SL 12&15 Lenses Prominent 50mm Lens Adapter
---
CameraQuest Home Shopping Cart Price List Camera Articles I Buy / Wants Repairs Books Adapters
Revised: September 11, 2017 . Copyright © 2004-13 Stephen Gandy. All rights reserved. This means you may NOT copy and re-use the text or the pictures in ANY other internet or printed publication of ANY kind. Information in this document is subject to change without notice. Other products and companies referred to herein are trademarks or registered trademarks of their respective companies or mark holders.