Home Shopping Cart Camera Articles FOR SALE Orders I Buy / Wants Repairs Books Adapters
Voigtlander 35/1.2 Nokton Aspherical Version II
Voigtlander 35/1.2 lens with Next Day USA Delivery and premium clear B+W Multi Coated XS-Pro Nano Filter. Orders received by 1PM California time Mon-Fri usually shipped the same day. Free Next Day shipping by USPS Express Mail or FedEx, depending upon USA location.
improved performance with smaller size and closer focus!

$1200 IN STOCK! Order HERE

LH-8 Vented Lens Hoods $109

The FASTEST 35mm Leica M mount lens in current production!

The legendary Nokton 35/1.2 Version I was replaced by the slightly smaller Version 2 with improved glass for better optical performance!

V1 & V2: V2 has a thinner smaller lens barrel (size 62mm x 60.8mm) vs. (63mm x 77.8mm), weighs slightly less (490 grams vs. 471), easier to bar code for digital Leicas, can now scale focus to .5 meter (both RF focus to .7meter - the RF limit of M cameras) different lens hoods which are not interchangeable between the two versions, same 52mm filter size.

Scale focus .5 to .7 meters (focus by lens scale), RF close focus .7 meter

10 elements in 7 groups - same formula as before, but improved glass gives improved performance

3 Aspherical lens surfaces

F/stops 1.2 to 22 in half stops

52mm filters

12 aperture blades

Size 62mm x 60.8mm, weight 471 grams

Dedicated LH-8 bayonet on vented hood (not usable on V1) which is not included with the lens

63 degree field of view

Black only

Announced by Cosina February 12, 2011

For Digital Leicas, code for the 35/1.4 ASPH Summilux

Manufacturer's ID BA237B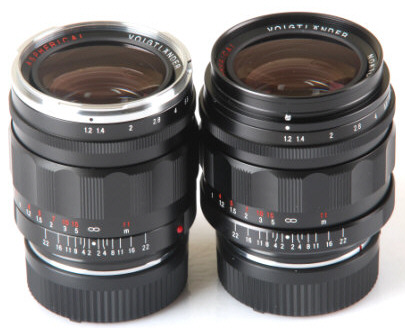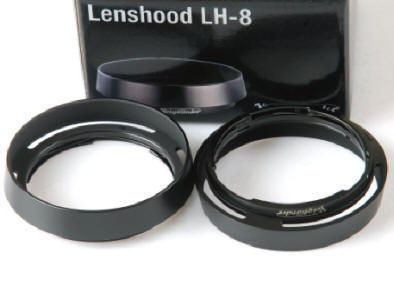 Voigtlander 35/1.2 V2 (chrome filter ring) along side the slightly larger 35/1.2 V1

back row 35/1.7 Ultron Screw Mount, 35/1.2 Nokton V2

front row 35/2.5 C Color Skopar Screw Mount, 35/2.5 P Color Skopar, 35/1.4 Nokton
---
Revised: October 19, 2013 . Copyright © 2004-13 Stephen Gandy. All rights reserved. This means you may NOT copy and re-use the text or the pictures in ANY other internet or printed publication of ANY kind. Information in this document is subject to change without notice. Other products and companies referred to herein are trademarks or registered trademarks of their respective companies or mark holders.