CameraQuest Home Shopping Cart Price List Camera Articles I Buy / Wants Repairs Books Adapters
Classic Voigtlander Prominent 50mm Lens Adapter
To Classic Contax or Nikon Rangefinder --
Discontinued - When Available
Use Classic Voigtlander Prominent 50mm lenses on your Nikon or Contax Rangefinder with FULL Rangefinder Coupling!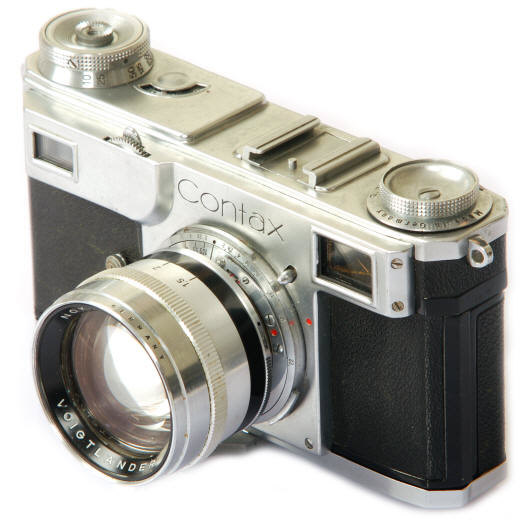 Contax II mounting a Voigtlander Prominent 50/1.5 Nokton via the Prominent C Lens Adapter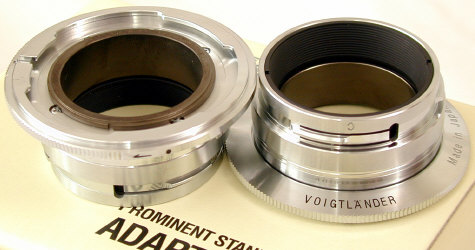 Knock Knock, Who's There?
Introduced in May 2003, the Voigtlander Prominent S adapter is for Nikon Rangefinder bodies. The Prominent C adapter is for classic Contax Rangefinder bodies (not modern G series) and Russian Kiev Bodies.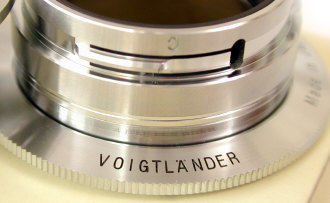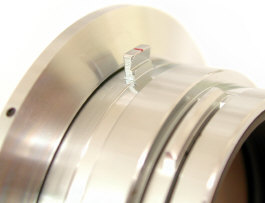 Notice the high quality machining and finish, as well as the "C" engraving which indicates this adapter is for Contax I, II, III, IIa, IIIa, and Russian Kiev Contax copies.
Note this adapter works with classic Voigtlander Prominent 50 mm lenses only -- not other focal lengths.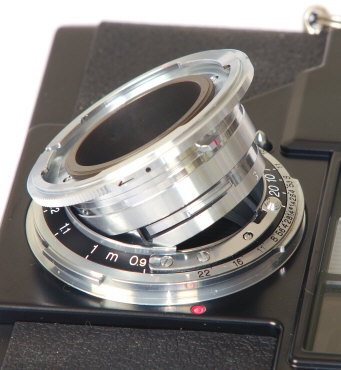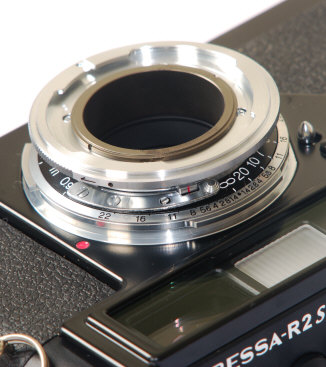 Voigtlander Bessa R2S mounting a Voigtlander Prominent 50/1.5 Nokton via the Prominent S Lens Adapter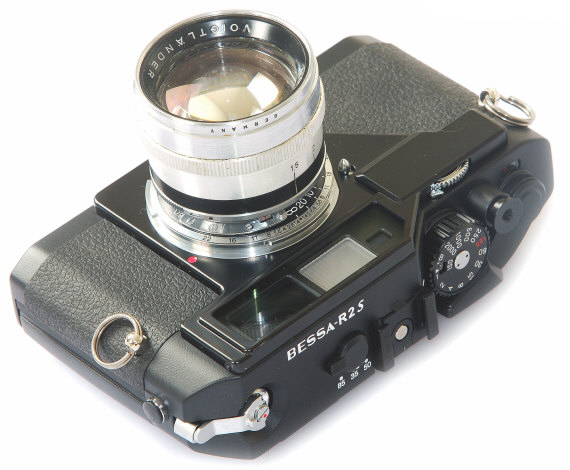 Why go to all the bother? Because some people consider the classic Voigtlander 50/1.5 Nokton the very best of all the classic 50mm lenses of the 50's -- better than anything from Leica, Zeiss, Canon, or Nikon. Obviously such an opinion is just that. Nevertheless few would deny the Prominent's 50/1.5 Nokton is among the very best classic fast 50's, regardless of the mythical Number One ranking. So far as I know, this is the first Prominent lens adapter manufactured by a camera maker to use the classic Nokton (as well as the 50/2 Septon) on either Nikon or Contax rangefinders.
Due to its rarity, as well as its performance, the very rare Nokton in Leica screw mount often sells for $3500 plus, while the Prominent 50/1.5 Nokton often sells for $250 or less -- at least until this adapter became available.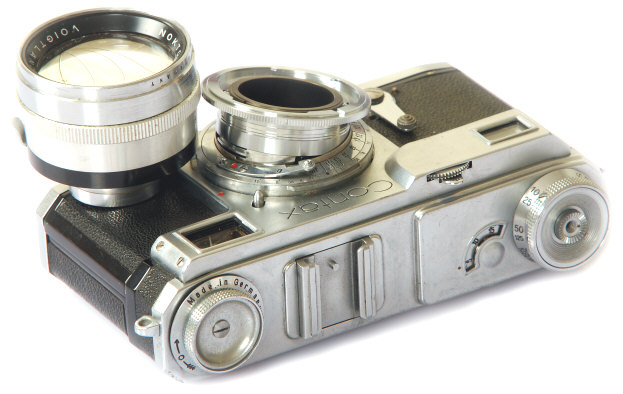 Back To Lens Adapter Main Page
---
Voigtlander Nikon/Contax Rangefinder Related Products

Voigtlander Bessa R2S R2C Rangefinders in Classic Nikon or Contax Rangefinder Mounts

Voigtlander Bessa R2S 50mm f/3.5 Heliar S NHS Commemorative in Classic Nikon Rangefinder Mount

Voigtlander SL 12/5.6 and 15/4.5 Aspherical widest EVER for NRF

Voigtlander Nikon Rangefinder SC Mount Lens Intro 21/4, 25/4, 35f/2.5 intro

Voigtlander Nikon Rangefinder SC Lenses: SC 21/4, SC 25/4, SC 28/3.5, SC 35f/2.5, SC 35/1.2 Prototype, S 50mm f/1.5, S 50f/2.5, S 50mm f/3.5, S 85mm/3.5

Voigtlander VC Meter II small compact silicon meter with LED readout for Nikon Rangefinders

---

CameraQuest Home Shopping Cart Price List Camera Articles I Buy / Wants Repairs Books Adapters
Revised: September 13, 2017 . Copyright © 2003-2012 Stephen Gandy. All rights reserved. This means you may NOT copy and re-use the text or the pictures in ANY other internet or printed publication of ANY kind. Information in this document is subject to change without notice. Other products and companies referred to herein are trademarks or registered trademarks of their respective companies or mark holders.