Home Camera Articles FOR SALE Orders I Buy / Wants Repairs Books Adapters
Prices Voigtlander System Bessa Chart Bessa R3M / R2M Bessa R2A/R3A Bessa R2 Bessa T Heliar 101 101 PICS Bessa T intro Bessa T Bessa R Bessa L Bessa L/A Lenses 35/1.2 21/25 Shade Accessories VC Meter II MiniSoftrelease Bessa R2S & R2C SC Lens Intro SC Lenses SL Lenses SL Lenses SL 12&15 Lenses
Join the Cosina Voigtlander User Mailing List

Voigtlander Bessa Telemetro Price List Payment Options

$279 Silver CLOSEOUT!

Great Looking NOS Brown Deluxe Case with Bessa T only $1.00! $59 Value

Unique inexpensive compact lightweight M camera with long rangefinder base and the ONLY M camera with built in diopter adjustment in the rangefinder!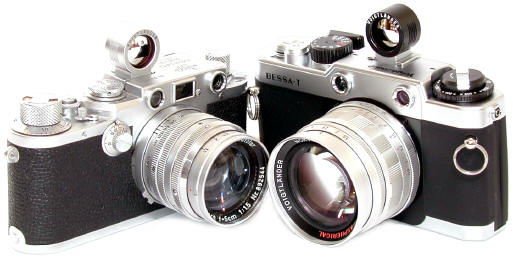 Voigtlander Bessa T or updated IIIf ?
OK, suppose you love the classic Leica IIIf, but want to update it. How would you do that ?
Add TTL Metering

Change the Screw mount to M mount

Easy back door loading

Increase top speed to 1/2000th and flash sync to 1/125th

Change knob advance and rewind to faster levers

Optional bottom trigger winder that can be added or taken off the camera at any time without removing the film -- unlike the IIIf trigger winder

Bigger, brighter Rangefinder image with built in diopter adjustment

Modern full lens lineup with multi-coated optics

Economically priced so most photogs can afford it

Hmmm. The Bessa T has all of these features..... did Mr. Kobayashi have the Leica IIIf in mind when he designed the T? The major conceptual difference between them is the 50 finder. The IIIf's body has a built in 50 finder, but uses auxiliary finders for all other lenses. The T has no built in finder, and uses add on finders for ALL lenses.....but remember the T's add on 50 brightline is better than the IIIf's built in 50 finder. Hmmm. The Bessa T was discontinued 5/1/2004.

Yet another way to look at the T is as a M mount Bessa L with a long base rangefinder added. hmm.

---

The Voigtlander Bessa T has a special place in Leica M mount camera history.

First of all, the Bessa T is a unique camera design utilizing a built in rangefinder without a built in viewfinder. It is the ONLY Leica M mount camera with a built in diopter adjustment for the rangefinder. It is the ONLY Leica M mount camera with a meter readout visible from the top of the camera, making it ideal for low angle and Visoflex applications. It is the 1st mechanical shutter Leica M mount camera not built in cooperation with Leica. It is the least expensive Leica M mount camera ever made. It is the first Leica M mount camera made by Cosina Voigtlander. All in all, not a bad list of achievements for Mr. K's 1st M!
---
Home Camera Articles FOR SALE Orders I Buy / Wants Repairs Books Adapters
Revised: November 08, 2008 . Copyright © 2001-2006 Stephen Gandy. All rights reserved. This means you may NOT copy and re-use the text or the pictures in ANY other internet or printed publication of ANY kind. Information in this document is subject to change without notice. Other products and companies referred to herein are trademarks or registered trademarks of their respective companies or mark holders.