Home Camera Articles FOR SALE Orders I Buy / Wants Repairs Books Adapters
Prices Voigtlander System Bessa Chart Bessa R3M / R2M Bessa R2A/R3A Bessa R2 Bessa T Heliar 101 101 PICS Bessa T intro Bessa T T or IIIf? Bessa R Bessa L Lenses 35/1.2 21/25 Shade Accessories VC Meter II MiniSoftRelease Bessa R2S & R2C SC Lens Intro SC Lenses SL Lenses SL 12&15 Lenses Prominent 50mm Lens Adapter
Join the Cosina Voigtlander User Mailing List
Voigtlander Bessa L or Modern Leica A?
First Camera body of new Voigtlander System introduced 1999, Officially Discontinued 5/30/2003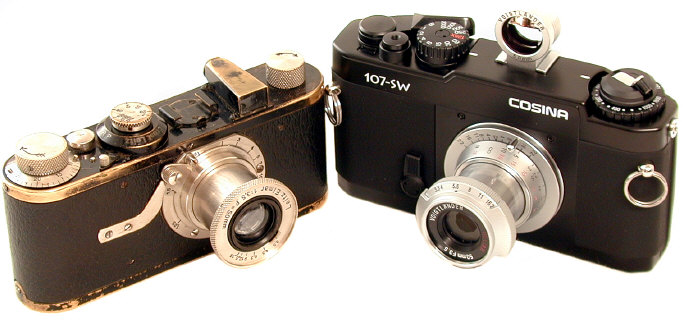 The 1925 Leica A established not only Leica, but what would become 35mm photography. The 1998 Cosina Voigtlander Bessa L (aka Cosina 107-SW), established today's Cosina Voigtlander rangefinder success story. IF you take a close look, the similarities are remarkable.
If you start with the Leica A design and add:
TTL Metering

Standardized interchangeable lens mount

Lever Film Advance

Lever Film Rewind

Easy film loading

Wider shutter speed range of 1-1/2000th plus B

Flash Sync

Strap Lugs

Self Timer

Threaded Cable Release
What Do Yah Got? The Cosina Voigtlander Bessa L !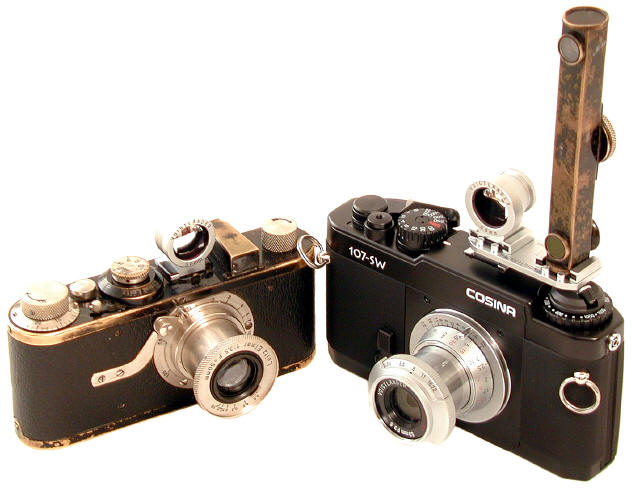 Leica A shown with Voigtlander 50mm Brightline Finder, fixed collapsible 50/3.5 Elmar lens. Cosina 107-SW (aka Voigtlander Bessa L) shown with interchangeable collapsible 50/3.5 Voigtlander Heliar lens, double accessory shoe, 50mm Brightline Finder, and 1925 Leica vertical Rangefinder.
---
Revised: October 14, 2007 . Copyright © 2004-2007 Stephen Gandy. All rights reserved. This means you may NOT copy and re-use the text or the pictures in ANY other internet or printed publication of ANY kind. Information in this document is subject to change without notice. Other products and companies referred to herein are trademarks or registered trademarks of their respective companies or mark holders.