CameraQuest Home Shopping Cart Price List Camera Articles I Buy / Wants Repairs Books Adapters

The Most Important Classic Camera Accessory of the last Four Decades? ? Maybe....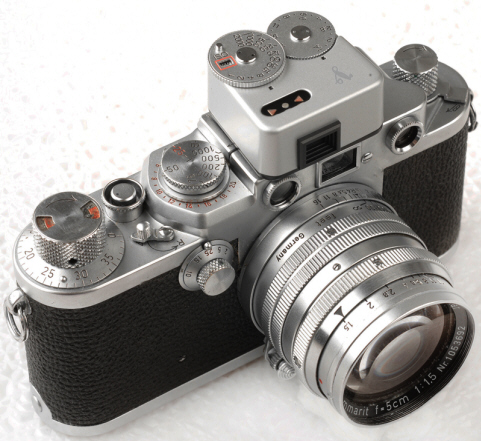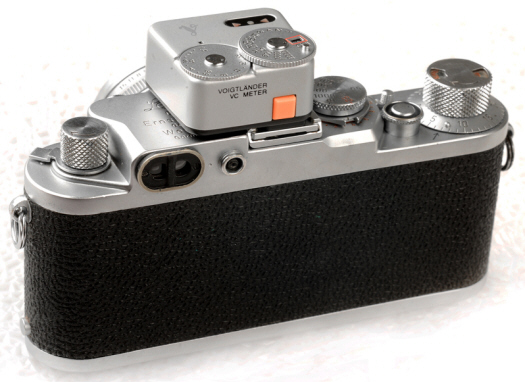 Leica IIIf with 50/1.5 Summarit and Voigtlander VC Meter
Voigtlander VC Clip on Meter I
VC Meter I Discontinued 5/2004, replaced by VC Meter II 9/2004
I admit when I first heard about the Voigtlander VC meter, I just didn't see the point. I mean, so what? a clip on meter! Haven't their been dozens or more clip on meters? Then I got my hands on one, and saw the light.
The problem with most pre-1960 classic cameras is no built in meter. A lot of my favorite cameras fall into this category, like the screw mount "Barnack" Leicas; the many Leica copies including Nicca, Leotax, and Canon; all of my Nikon Rangefinders; Zeiss Contax rangefinders; and of course the illustrious Leica M3/M2/M4, not to mention countless other classics. Without meters older classics become much harder to use than today's plastic computer wonders, often finding themselves unused and collecting dust. True, many classic cameras did have clip on meters, but four decades later these meters are often not working and unrepairable -- and hard to find.
While no single VC feature is incredible, all the VC features combine to create a superb and unique tool for the classic camera user: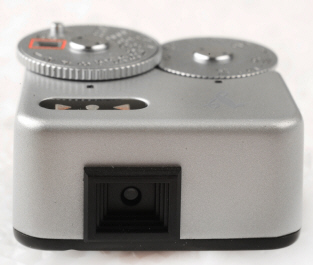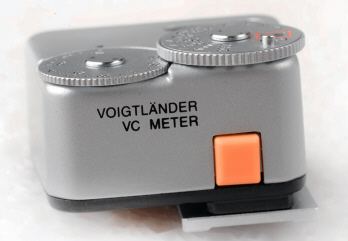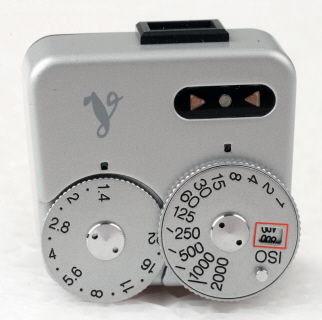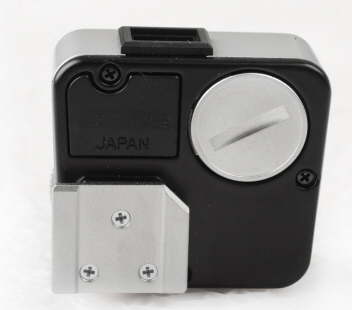 The controls are the best I have ever seen for any clip on camera meter. Two large easy to read dials control f/stops and shutter speeds selection, from f/1.4 to f/22 and from 1/2000th to 1 second. The film speed range is from 25 to 3200, selectable by rotating the top of the shutter speed selector. The shutter speed dial is click stopped, the f/stop dial is not. Note neither the f/stops and shutter speeds dials are linked to the camera like the old Leica MR or Nikon SP meters. This becomes a very important advantage.

The meter has classic styling, fitting in very well with your classic camera.

Silicon metering cell instead of CDS

Easy to see LED readout, even in bright sunlight. The middle LED is green, the two outer LEDs are red. The LED's light up in the direction that the selector dials are turned, making exposure selection that much more easier. The middle Green LED seems to have about 1/2 of a stop plus/minus leeway, before also lighting the adjacent Red LED. If the exposure is more than about 1 stop off, only a Red LED will light, indicating the direction you need to turn the dials to light the Green LED. In other words, the VC meter should be fine for negative work, but if you are shooting slides, a couple of readings of the highlights and shadows are in order. Is this imprecision worth the trade off of size and weight compared to a larger hand held meter? To me it definitely is.

Powered by easily available 1.5 volt silver 76 batteries

Very small and lightweight, only weighing one ounce. It is about half the size of the various Leica MR meters

Angle of view equal to a 90mm lens

Meter turns itself off about 10 seconds after you press the orange "ON" switch. The meter will stay on as long as you keep the button pressed.

Want to use a separate finder too? Not a problem. Voigtlander makes double accessory shoes (not hot) which will allow mounting both the meter and the finder. The double shoes are made for the knob wind Leicas, Nikon S and S2, and the Contax II, III, IIa, IIIa.

You can use it as a separate hand held meter, especially convenient if your classic camera does not have a standard accessory shoe, like the Nikon F or Rolleiflex. Voigtlander at one time made a special VC Meter neck strap, with an old fashioned velvet like pouch to keep the strap in while not in use (long discontinued and now hard to find). Shown is the underneath side, with the VC accessory shoe slid into the neck strap mount.

Could it be Improved? Yes. For my tastes, the meter could stay on longer, say 20 seconds instead of 10. I would also prefer a five LED meter readout similar in style to the Nikon FM2, rather than only a 3 LED readout.

Perhaps the most important feature is that unlike most dedicated clip on meters of the 1950's, the VC is easily transferred from one camera to another. You can use it on most classic cameras mounted on the accessory shoe. One meter for two cameras, a dozen cameras, or if you get a bit carried away like me, more cameras than you want to admit to. Of course I have a number of "serious" do it all meters, but they are large and heavy...not the thing I want to use when I want to go out shooting with just a camera and one lens. That is where the VC meter comes in. It is so light and small, it fits perfectly and for all practical purposes becomes part of the original camera. Damn, this is one very sensible classic camera accessory.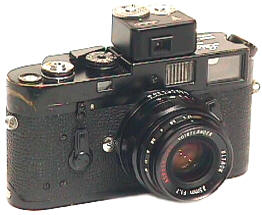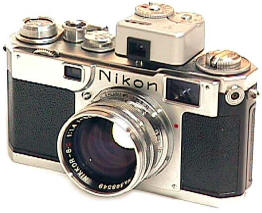 Leica M4 and Nikon S2 with the Voigtlander VC meter. The M4 is mounting the Voigtlander 35/1.7 Aspherical Ultron.
This product is so obvious now that I am looking at it, it makes me wonder why no one made it before.

Leica really should have made this meter, about 20 years ago when LED's came out.
Since the VC meter can be used with practically any classic meterless camera, it seriously gets my vote as the most important classic camera accessory of the last four decades.
With the VC's convenience, many classic dust collectors will start shooting again.
VC Meter I Discontinued 5/2004, replaced by improved smaller VC Meter II 9/2004
Prices Voigtlander System Bessa R2A/R3A Bessa Chart Bessa R2 Bessa T Heliar 101 101 PICS Bessa T intro Bessa T T or IIIf? Bessa R Bessa L Bessa L/A Lenses 35/1.2

Accessories VC Meter II MiniSoftrelease Bessa R2S & R2C SC Lens Intro SC Lenses SL Lenses SL 12&15 Lenses Prominent 50mm Lens Adapter
---
CameraQuest Home Shopping Cart Price List Camera Articles I Buy / Wants Repairs Books Adapters
Revised: September 11, 2017 . Copyright © 2002-3 Stephen Gandy. All rights reserved. This means you may NOT copy and re-use the text or the pictures in ANY other internet or printed publication of ANY kind. Information in this document is subject to change without notice. Other products and companies referred to herein are trademarks or registered trademarks of their respective companies or mark holders.