Home Camera Articles FOR SALE Orders I Buy / Wants Repairs Books Adapters
Tom's Toy Shop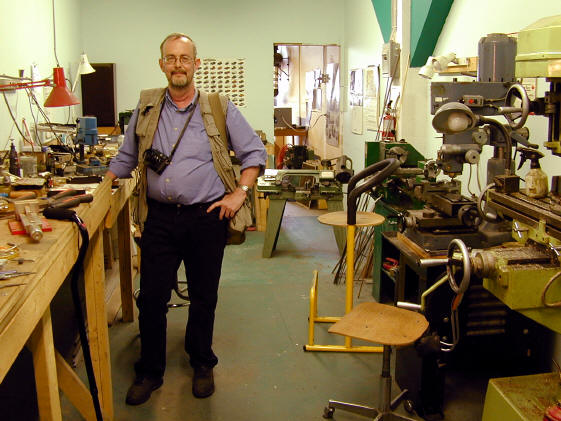 Tom Abrahamsson in his huge megalithic 600 square foot Vancouver Rapidwinder Factory.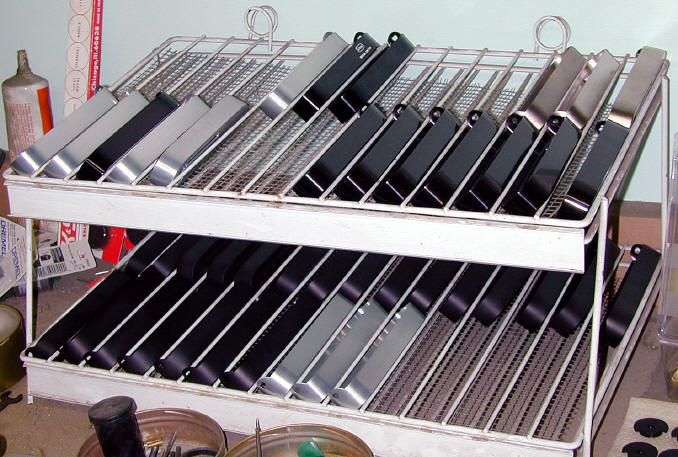 Rapidwinder bodies awaiting completion. On the top row you will see a M6 black glossy finish Rapidwinder with the LHSA logo for the LHSA M6 TTL, and three M6 Titanium Rapidwinders. Note the black matt, black glossy, and silver finishes.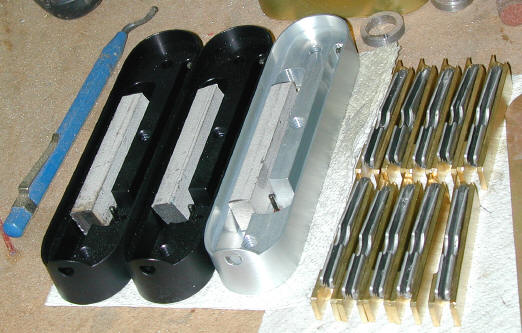 Shown are three of the super rare stainless steel drive Rapidwinders, awaiting the arduous 6 hour machining process on each stainless steel block. Regular production Rapidwinder brass drives are shown to the right.
A wind up Rapidwinder? Note quite. This out of scale pic shows a larger than life size M shutter speed dial prototype, designed for gloved photogs in freezing conditions. It is not yet regular production.
---
Revised: November 26, 2003 . Copyright © 1998-2002 Stephen Gandy. All rights reserved. This means you may NOT copy and re-use the text or the pictures in ANY other internet or printed publication of ANY kind. Information in this document is subject to change without notice. Other products and companies referred to herein are trademarks or registered trademarks of their respective companies or mark holders.