Home Camera Articles FOR SALE Orders I Buy / Wants Repairs Books Adapters Back To Lens Adapter Main Page
Click Here to find out about Voigtlander Leica Mount lenses which fit your M43 or NEX camera
via Voigtlander Adapters! -- CAUTION Very Long Page with LOADS of Info!
Voigtlander Lens Adapters for all MICRO 4/3 Digital Bodies

Olympus EP1, EP2 etc

Panasonic Lumix G1, GH1, GF1 etc

Voigtlander Leica M Lens to Micro 4/3 Adapter $179

Voigtlander Pentax KA Lens to Micro 4/3 Adapter $179

Voigtlander Nikon F Lens to Micro 4/3 Adapter $179 !
Back To Lens Adapter Main Page
Link to Rayqual Micro 4/3 Leica R, Canon FD, Olympus OM, Contax/Yashica Adapters

"Stephen - just received the Voigtlander Nikon F to M43 adapter. 

Thanks for getting this out so quickly. The quality difference between this 

and the El Cheapo one I bought on eBay is substantial. 

Definitely worth the extra money."  Kerry McClain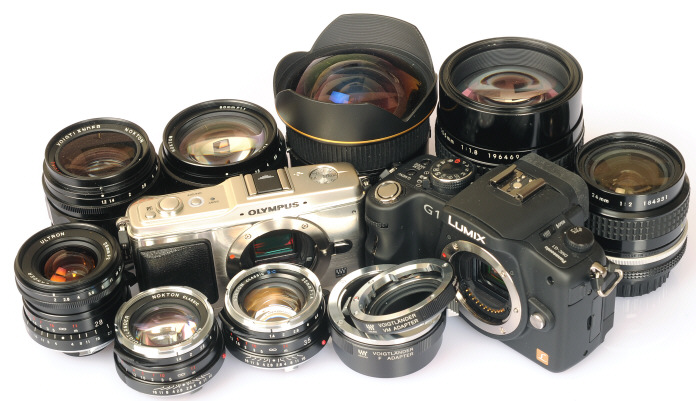 Fast Times with a Micro 4/3 High: BACK Row: Voigtlander 35/1.2, Voigtlander 50/1.1, AF Nikkor 14/2.8, 105/1.8 Nikkor, 24/2 Nikkor, FRONT Row: Voigtlander 28/2, Voigtlander 40/1.4, Voigtlander 35/1.4 SC, Voigtlander F and M Micro 4/3 Adapters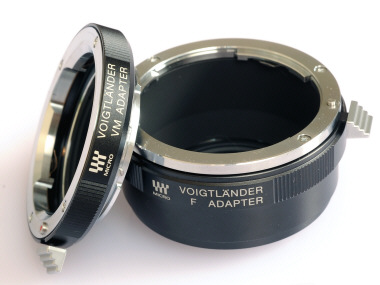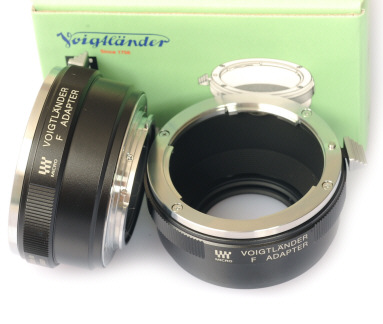 Voigtlander Leica M and Nikon F Adapters Side by Side: IN STOCK $179!
Panasonic Lumix G1 or Olympus EP-1 Micro 4/3 Cameras:
The Poor Man's Leica M8!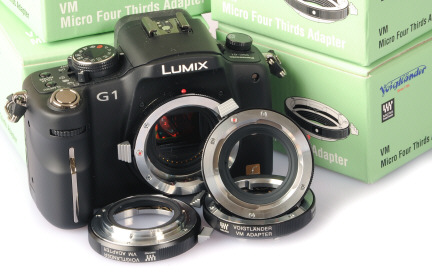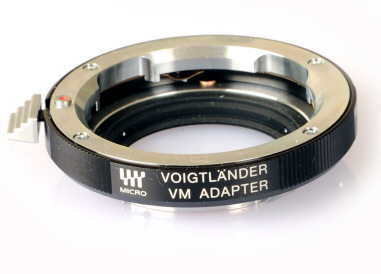 Voigtlander VM Micro 4/3 Adapter with G1
two lenses incompatible lenses are the 50/2 Dual Range Summicron and the 135/4 Tele-Elmar M mount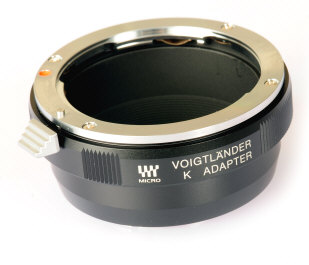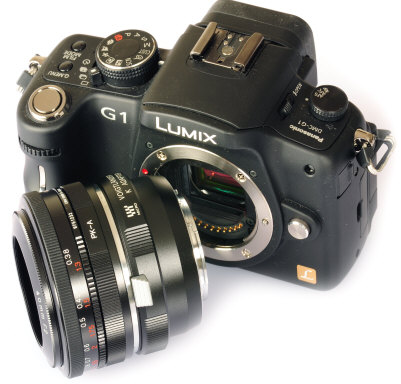 Voigtlander Pentax K Micro 4/3 Adapter with Voigtlander 40/2 KA lens and G1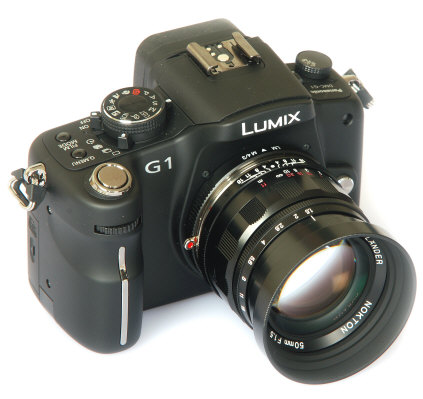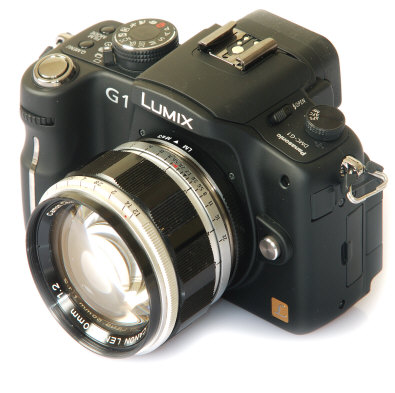 The Panasonic Lumix G1 mounting the Leica Mount Voigtlander 50/1.5 and the Canon 50/1.2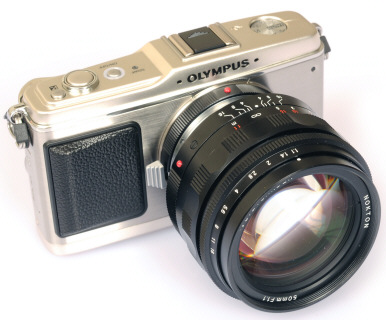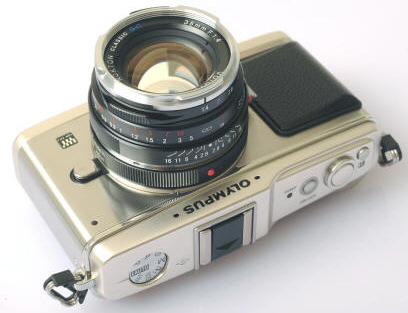 Olympus E-P1 mounting Voigtlander M adapter and Voigtlander 50/1.1 and Voigtlander 35/1.4SC.
Tutorial on using Voigtlander Leica M adapter on E-P1 HERE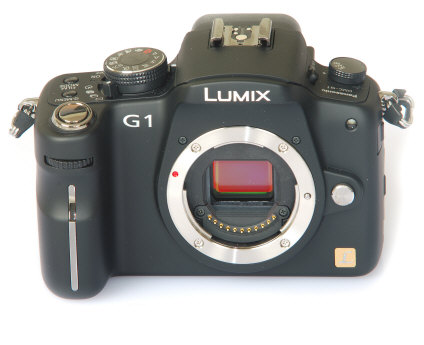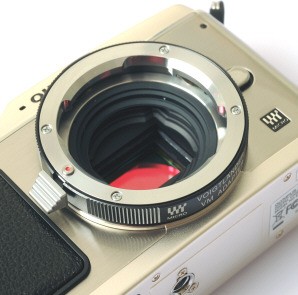 AS STRANGE AS THIS SEEMS: Relatively low cost Micro 4/3 cameras like the Panasonic G1 and Olympus E-P1 have become the "Poor Man's Leica M9" as they are only the 3rd digital camera platform to be able to use Leica M and Leica Screw mount lenses!
Leica M Lens to Micro 4/3 Instructions:
At Photokina 2008 Olympus and Panasonic introduced the new digital "Micro 4/3" lens format. The first and so far the only M4/3 camera to market is the Panasonic G1. You can find plenty of info about the new Micro 4/3 cameras on the net, so I am only going to mention what I consider the most important points:

The M4/3 are the most adaptable digital SLRs ever produced because they have an unusually small lens back focus, which in turn allows room for adapters to adapt more lenses to the M4/3 format than is possible to any other digital format so far.

In practical terms, this means the first ever adapters to digital SLR focusing for the likes of such lenses as Leica M, Leica Screw Mount, Canon FD & FL, Olympus Pen F, Konica Autoreflex, classic Contax and Nikon rangefinder lenses, as well as practically any other focal planed shuttered 35mm SLR you can think of -- when we get around to making those adapters!

IN THE BEGINNING: Leica M rangefinder and Canon FD/FL lens adapters will be available first. More Micro 4/3 lens adapters in practically all 35mm SLR and rangefinder mounts will follow in time.

Micro 4/3 cameras have ELECTRONIC VIEWFINDERS which automatically brighten up the lens aperture is made smaller. In other words, this makes them close to ideal for use with adapted lenses!

Field of View is 1/2 that of 35mm cameras: Micro 4/3 cameras have a much smaller format than 35mm cameras. A 50mm lens via adapter on your Micro 4/3 camera will still be a 50 mm lens, BUT its field of view will be halved down the field of view of a 100mm lens. A 25mm adapted lens has the field of view of a 35mm format 50mm lens, etc.

Big Lenses: While the adapters are very strong, you are going to be able to mount some very large lenses on your little M4/3 camera! The bigger the lens the more support it needs so you don't tear the mount off your M4/3 camera!

As I hope you can see from the pics, these are VERY well made precision adapters.

The Leica M adapter adds 9.5mm in thickness between the camera body and lens, according to my super duper ultra high precision 99 cent plastic calipers.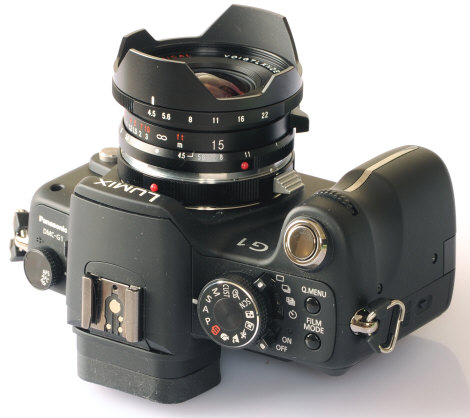 Voigtlander 15/4.5 VM lens on Voigtlander Leica M to Micro 4/3 Adapter mounted on Panasonic G1
Lenses Easily Interchange: The adapter can be mounted on the camera and left on the camera while you interchange Leica M lenses

Light Baffle for Lens Protection and Better Lens Performance: There is a light baffle on the back of the adapter which both protects the gold lens contacts on the camera body AND helps minimize flare within the light chamber

What about Leica screw mount lenses? Just mount a Leica screw to M bayonet mount adapter and then mount the lens on the M4/3 adapter!

Be Careful! Some Lenses MAY NOT WORK! 99% or more of all Leica mount M lenses (and Leica mount screw mount lenses with a standard screw mount to M adapter) are probably compatible with the adapter and camera. HOWEVER there must be some lenses which are NOT compatible. Older deeply set wide angles which do not meter properly on a Leica M5 or M8 are obvious lenses to be very careful with on your M4/3 camera. Be very careful when mounting a lens on the adapter and Micro 4/3 camera the first time to make sure there is no damage to your camera!

OTHER Adapter Combinations: Panasonic makes a 4/3 to Micro 4/3 adapter. That adapter can be combined with the CameraQuest 4/3 adapters to use Nikon SLR lenses, Leica R lenses, Contax/Yashica lenses, Pentax K lenses, Pentax M42 lenses, Rollei SL 35 lenses, Topcon / Exakta lenses, Minolta MD lenses.

Future Micro 4/3 Cameras Compatibility? Your Leica M Lens adapter works well with the first Micro 4/3 camera to hit the market, the Panasonic Lumix G1. Future Micro 4/3 cameras may or may not be compatible, depending upon their future design features.

Future Micro 4/3 Adapters? In time there will be future adapters for previously digital inadaptable lenses such as Olympus Pen F and Konica Autoreflex lenses, not to mention most other popular 35mm SLRs.

105/1.8 Nikkor and 24/2 Nikkor mounted on Olympus E-P1 and Panasonic G1 via the Voigtlander F to M43 Adapter. The Voigtlander Nikon Micro 4/3 adapter will work with 99.99% of all Nikon SLR lenses by any manufacturer EXCEPT G series lenses which do not have the necessary aperture ring to control the f/stop and lenses which protrude so deeply into the Nikon body that mirror lock up is required.
---
Panasonic Lumix G1 Micro 4/3 Lens Adapter Camera Settings
·
Mount your adapter on the G1 and set the camera dial on the top plate to A for aperture priority
·
Open the LCD panel on the back of the G1 and press the "Menu/Set" button on the back of the camera
·
On the far left frame of the LCD panel, go down to the 2nd tier, the Custom Menu
·
Now go to last Custom menu setting "SHOOT W/O LENS"
·
The "SHOOT W/O LENS" MUST be ON -- otherwise the G1's viewfinder will be dark when you have the adapter mounted!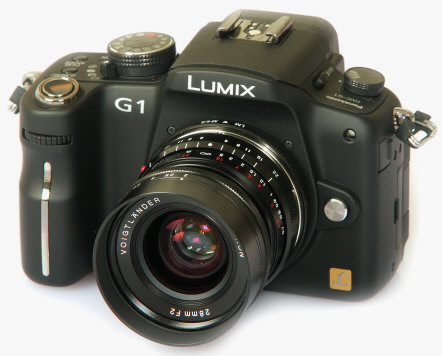 G1 mounting Voigtlander 28/2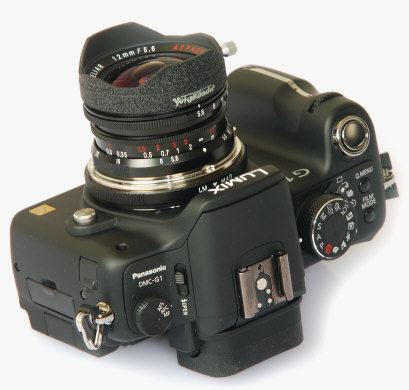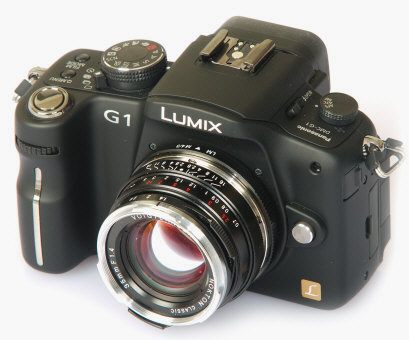 G1 mounting the Voigtlander 12/5.6 and 40/1.4 Nokton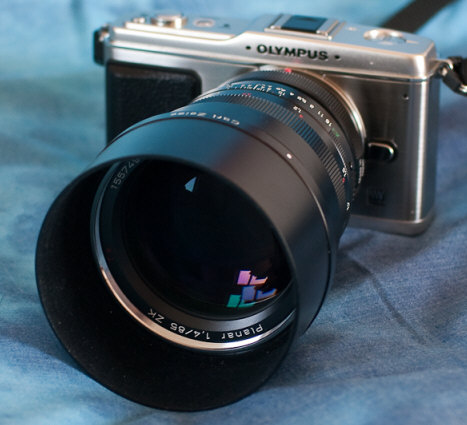 Olympus E-P1 mounting Zeiss ZK 85/1.4 via Voigtlander PK Adapter, copyright Coveted Pixel 2009
Known Incompatible Lenses
1) F Adapter: To give you control of the aperture, the F adapter requires a lens with an aperture ring. G series will mount, but you will have no aperture control

2) F Adapter: Deep set mirror lock up lenses will likely not mount on the adapter and camera. IF they do, be VERY careful that the rear of the lens does NOT touch the sensor!

3) M Adapter: Deep set wide angles will likely not mount on the adapter and camera. IF they do, be VERY careful that the rear of the lens does NOT touch the sensor!

4) M Adapter: The 50 Dual Range Summicron will not mount
CLICK HERE FOR THE Rayqual MICRO 4/3 ADAPTER PAGE

For Canon FD, Contax/Yashica, Leica R, and Olympus OM Lens to Micro 4/3 Lens Adapters
---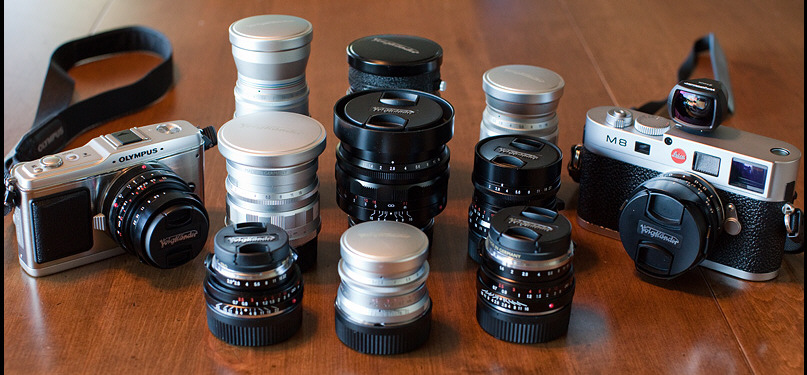 Jeffrey Hapeman wrote:

Stephen,

Yes, I got the other package. I am attaching a family photo I took today. The PEN and the M8.2 make a nice pair that can share a good stable of lenses.

I have always been a Leica fan, and have a lot of Leica binoculars and telescopes, but I have to say that the Cosina-Voigtlander lenses have really impressed me. I have found the build quality to be as good or better than many of the Leicas, and the optics on most models are as good or better as well. There are few Leicas that can outperform the CV glass, but the price premiums just don't warrant the slight bit of extra sharpness and contrast--most of which can be recaptured today with good digital processing. Tremendous value in the CV line. It would be nice if they could make a newer DRF as the Epson is a bit long in the tooth, and the M8.2 is still really overpriced--and a bit dated technologically.

Thanks again,


Jeff


---

Stephen,

I received the K-Mount adapter today. Thanks for the quick shipment. It looks and works great with my old Pentax SMC lenses, giving my Lumix G1 a whole new set of shooting options.

Brian Hudson, Marietta, GA
---
Home Camera Articles FOR SALE Orders I Buy / Wants Repairs Books Adapters
Revised: April 23, 2015 . Copyright ©2009 Stephen Gandy. All rights reserved. This means you may NOT copy and re-use the text or the pictures in ANY other internet or printed publication of ANY kind. Information in this document is subject to change without notice. Other products and companies referred to herein are trademarks or registered trademarks of their respective companies or mark holders