Home Camera Articles FOR SALE Orders I Buy / Wants Repairs Books Adapters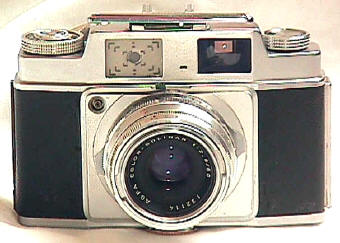 Agfa Ambi Silette
If there is a better viewfinder/rangefinder in a 35mm leaf shutter interchangeable lens RF, I have yet to find it. Often it's called "The Poor Man's Leica. "The Agfa Silette was introduced in Europe in 1957 and to the US in 1959, discontinued in 1961. Today they hard to find in the US, but finding all four lenses is much harder. It's a well made compact interchangeable lens rangefinder with an outstanding finder and an amazing bayonet mount.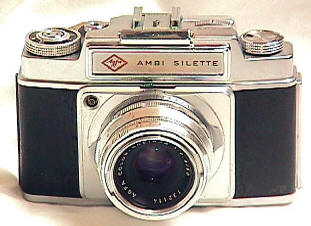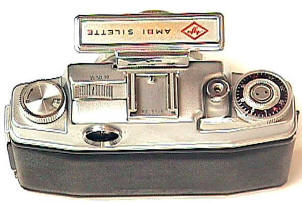 The strangest thing about the Silette is the peculiar cover over the front viewfinder. I don't like it at all. If I shot a lot with the Silette, I would have it removed. If you look closely you will see two little handles on either side of the lens, to change the Synchro-Compur shutter though its 1-500 plus B range. The Silette has flash sync at all speeds. A standard PC connection is on the front of the camera, but there is no hot shoe. It has an accurate a TTL meter as the Leica M3, which is to say there is no built in meter. With a swing open back, it is easy to load.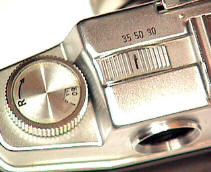 It was no accident that the Silette is sometimes called "The Poor Man's Leica." Other than the top of the line elite like Leica, Nikon, and Canon, very few rangefinders have brightline framelines and parallax correction. Not only that, the rangefinder and viewfinder images are bright and usable. You manually select the three position brightline parallax corrected finder for the 35, 50 or 90 frames. The 35 frameline is visible all the time, in combination with either the 50 or 90, but not both. It has a rewind knob rather than a faster rewind lever, but it is large and easy to use.

The Silette's frame counter is manually reset. The single stroke advance lever automatically returns to the neutral position as shown. The smooth shutter release is threaded for a standard cable release.
One of the Silette's strong points is a WONDERFUL bayonet mount. hmmm. Let me re-phrase that, one of the Silette's strong points is a WONDERFUL bayonet mount.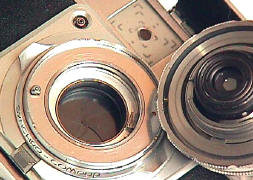 Every other camera bayonet mount I have ever seen, you have to line up the camera and lens in a certain way to mount the lens. Not on the Silette!! Just snap the lens on, and then rotate it until it seats itself clicks into place. Amazing.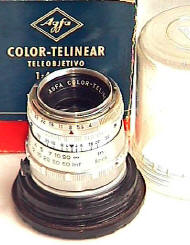 The four Silette lenses: 35/4 Agfa Color-Ambion, 50/2.8 Color-Solinar, 90/4 Color-Telinear, 130/4 Color-Telinear. Though obviously not a set of fast lenses, they enjoyed a reputation of sharpness and reliability. The 90/4 is shown with its hard to find plastic bubble and original box. Pick up the lens attached to its plastic base, and you will hear a sound much like sand in a plastic can. Turn the base over, and you will see a clear plastic compartment filled with what is apparently silica gel to keep moisture out of the lens - - a thoughtful touch. If you know of other Silette lenses, please email me.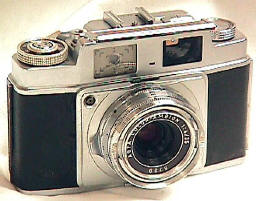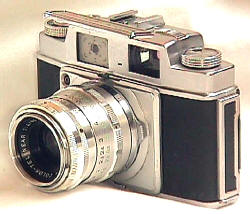 Silette with 35/4.5 and 90/4. The 35's filter ring had two half moon indentations for your fingertips to easily move the small aperture ring. The 35 has a f/stop range of 4 to 22, focusing to one meter (just over 3 feet.), weighing 3 oz, filter size 36mm. The 90 has a f/stop range of 4 to 32, close focusing 1.8 meters (just under six feet.), weighing 9 oz, filter size 36mm.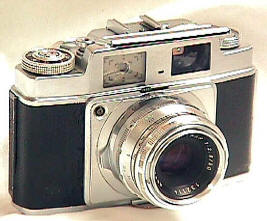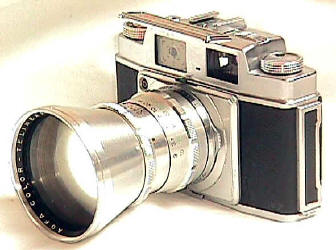 Silette with 50/2.8 and 130/4. The 50 has a f/stop range of 2.8 to 22, focusing to one meter (just over 3 feet.), weighing 6.5 oz, filter size 40.5mm. The 130 has a f/stop range of 4 to 22, close focusing a little less than 3 meters (about 9 feet.), weighing 16 oz, filter size 62mm.
Accessories: I know Agfa made a turret finder with 130 viewer (which I personally have no need for). Just use the central 2/3 of the 90 brightline. Also made were the obligatory camera cases, and a close-up device.
---
Home Camera Articles FOR SALE Orders I Buy / Wants Repairs Books Adapters
Revised: November 25, 2003 . Copyright © 1998-2002 Stephen Gandy. All rights reserved. This means you may NOT copy and re-use the text or the pictures in ANY other internet or printed publication of ANY kind. Information in this document is subject to change without notice. Other products and companies referred to herein are trademarks or registered trademarks of their respective companies or mark holders.