Home Camera Articles FOR SALE Orders I Buy / Wants Repairs Books Adapters
Bronica EC
w/ 75/2.8 Nikkor P and 12/24 back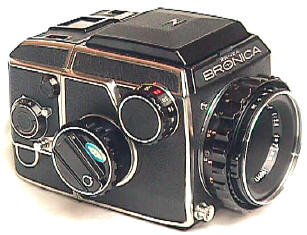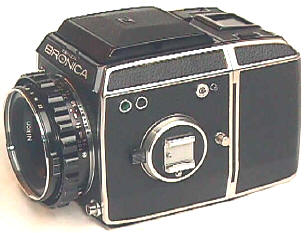 The EC is one of the last focal plane 6x6 Bronicas. The EC is relatively hard to find and not a lot of people are familiar it. This is unfortunate since they are superb cameras with lots of features, part of a large professional system.
Bronica EC features
An innovative split mirror, half of which goes up, half of which goes down, to reduce noise and vibration
Electronic controlled shutter for greater shutter accuracy
Close focusing to 18" with the 75/2.8 without accessories (try that with your Hassy)
Interchangeable focusing screens
An easily switchable 12 or 24 back (120 or 220 film)
A convenient dark slide storage on the back of the magazine
Bright easy to see focusing screen
A large range of shutter speeds, 1/1000th down to 4 seconds
A very convenient PC connection which automatically locks in a standard PC cord
Optional TTL metering with the separate meter head
Easy depth of field preview
Inserting dark slide automatically detaches back
Fast (for a focal plane 2 1/4 shutter) electronic sync speed of 1/60th
Very convenient operation and handling.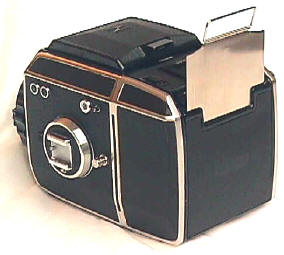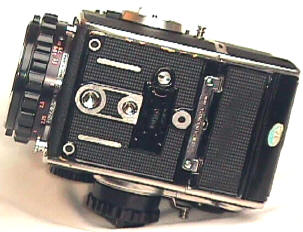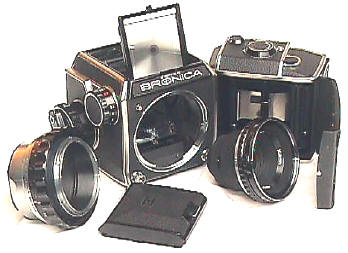 The Bronica EC is a quality professional camera with a huge system of lenses and accessories behind it. It offers an incredible bargain, dollar to performance, compared to Hassy.
---
Home Camera Articles FOR SALE Orders I Buy / Wants Repairs Books Adapters
Revised: April 06, 2009 . Copyright © 1998-2002 Stephen Gandy. All rights reserved. This means you may NOT copy and re-use the text or the pictures in ANY other internet or printed publication of ANY kind. Information in this document is subject to change without notice. Other products and companies referred to herein are trademarks or registered trademarks of their respective companies or mark holders.