Home Camera Articles FOR SALE Orders I Buy / Wants Repairs Books Adapters
Canon Rangefinder 25/3.5
When Rangefinders were still king (basically before the introduction of the Nikon F in 1959), there were only two 25mm lenses widely available to 35mm Rangefinder fans: the Canon 25/3.5 and the Nikon 25/3.5. About 7700 Canon 25/3.5's were produced 1956 to 1975, only in Leica screw mount, and only chrome as shown here. About 2,874 25/3.5 Nikkors were produced from 1953 to 1961, 1,924 in Nikon Rangefinder mount (both chrome and black versions) and 950 in Leica screw mount. In the classic Rangefinder era, 25's were very few and far between. Canon RF Lens INFO HERE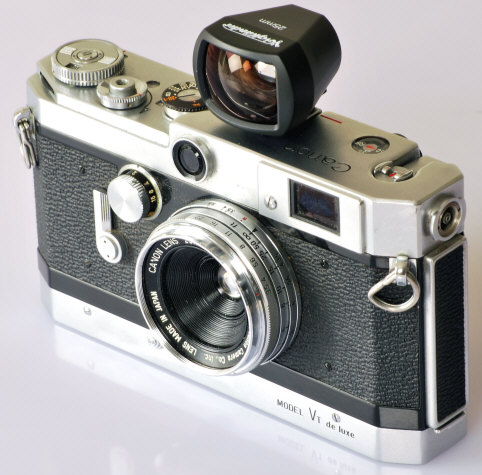 Canon 25/3.5 mounted on a Canon VT deluxe VTDM with modern 25mm Voigtlander viewfinder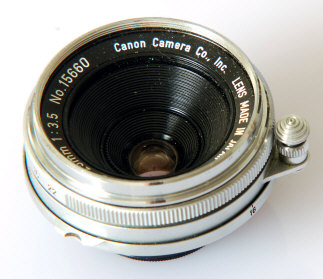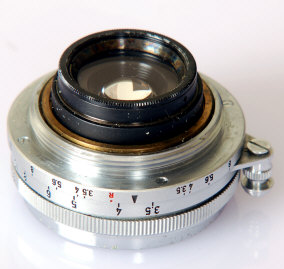 The Canon 25 is very tiny, weighing only 5.3oz, rangefinder coupled, and has an infinity lock, filter size 40mm. Like all classic era rangefinder lenses, it is of course single, not multi-coated. With its deeply recessed front element, no lens hood was needed -- or produced.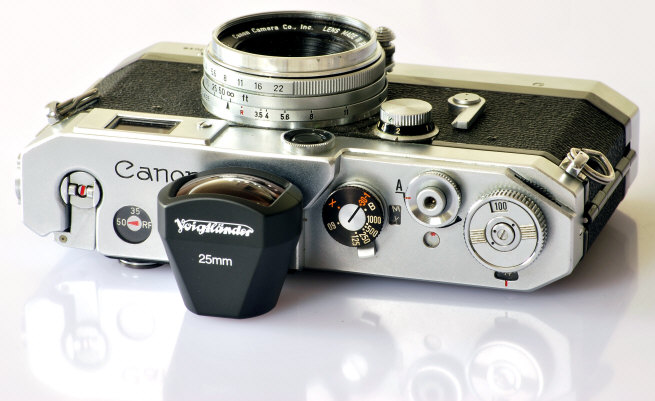 Canon 25/3.5 mounted on a Canon VT deluxe with modern 25mm Voigtlander viewfinder.
Want more info on Canon Rangefinders? Buy Peter Dechert's book Canon Rangefinder Cameras 1933-1968 and Peter Kitchingman's book Canon M39 Rangefinder Lenses 1939-1971.
---
Revised: March 21, 2010 . Copyright © 2010 Stephen Gandy. All rights reserved. This means you may NOT copy and re-use the text or the pictures in ANY other internet or printed publication of ANY kind. Information in this document is subject to change without notice. Other products and companies referred to herein are trademarks or registered trademarks of their respective companies or mark holders.