Home Camera Articles FOR SALE Orders I Buy / Wants Repairs Books Adapters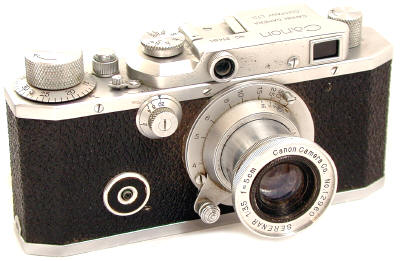 Canon S-11 Rangefinder
MIOJ
One of Canon's many "Leica Copies," the Canon S-11 of 1946-1949 has some interesting Canon 1sts.
With a production of over 7,500 cameras, the S-II was Canon's largest production camera to date, a sure sign things were looking up for the small company. Later S-11's like this one were the first Canons to have a standard Leica thread mount and the first Canon products to be marked "Canon Camera Company." Earlier S-11's were marked "Seiki-Kogaku" and may have had the earlier J mount or even an experimental mount. This sample shows some light corrosion, something typical for early Canon cameras -- the chrome finish was not that good. This example also has a flash sync outlet on the front. All S-11's left the factory without sync. This conversion was so well done, however, I can't help wondering if it was a later factory conversion. Yes indeed, the 50/3.5 Serenar is a close copy of the Leica Elmar 50/3.5. .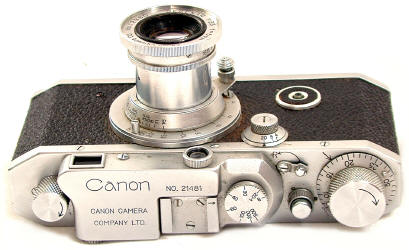 Controls and operation were typical Leica screw mount. The S-II's differed from their Leica heritage, however, by having a combined rangefinder-viewfinder instead of separate windows for each. All S-II's were marked "MADE IN OCCUPIED JAPAN" on the baseplate. If your S-II does not have it, somewhere it lost it's original baseplate.
The Canon S-II is important as a reminder of Canon's past and future: the occupation of Japan after W.W.II by American troops, and a proud young company first using the moniker for which it would become world famous "Canon Camera Company."
---
Home Camera Articles FOR SALE Orders I Buy / Wants Repairs Books Adapters
Revised: November 25, 2003 . Copyright © 1998-2002 Stephen Gandy. All rights reserved. This means you may NOT copy and re-use the text or the pictures in ANY other internet or printed publication of ANY kind. Information in this document is subject to change without notice. Other products and companies referred to herein are trademarks or registered trademarks of their respective companies or mark holders.