Home Camera Articles FOR SALE Orders I Buy / Wants Repairs Books Adapters
Incredibly RARE
20x24 de Golden Busch View Camera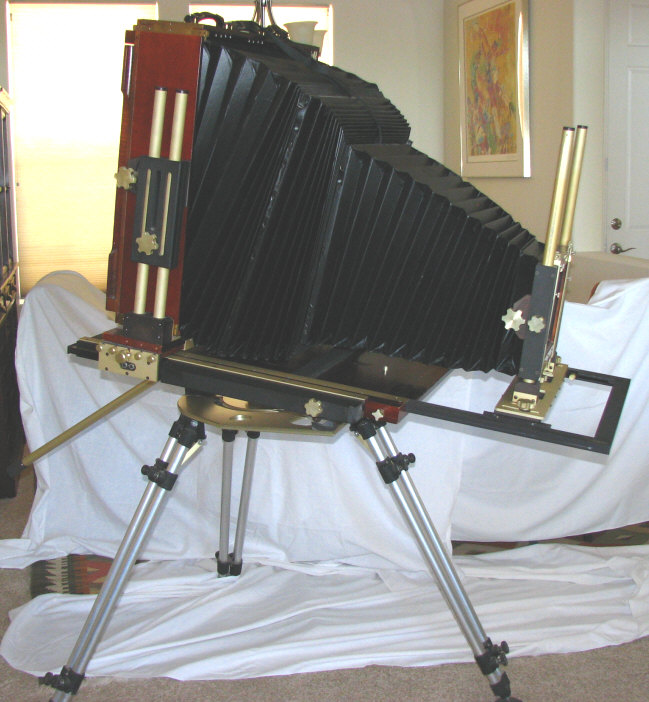 But, once upon a time they were made by Doug Busch in Rockford Illinois, about 1983 to 1986. According to an article in View Camera magazine, only about two dozen cameras in total were produced in 8x10, 11x14, 8x20, 12x20, 16x20, and 20x24 formats. Apparently at least one 40x60 was also produced. In 1983 prices, the "20x24 Platinum View" was $7950 - including special tripod if I am not mistaken. The 20x24 film holders were $395 each -- TWO are included with this camera. I have not found a list price for the Golden Busch 610/12 lens, but the 1016mm/f16 Golden Busch lens had a modest 1985 list price of only $5250.

I'm not sure how many 20x24 Golden Busch cameras were produced, but obviously with only 24 total over six formats, it is a very low number.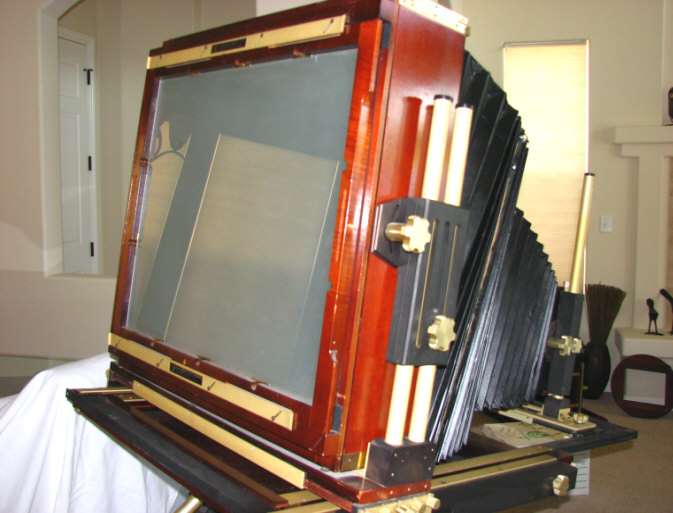 FULL movements
FRONT 6" Rise, Infinity Swing, 30 degree Forward and Back Tilt, and 6" Shift
REAR 7" Rise (spring loaded for ease of use), Infinity Swing, 30 degree Forward and Back Tilt, and 8" Shift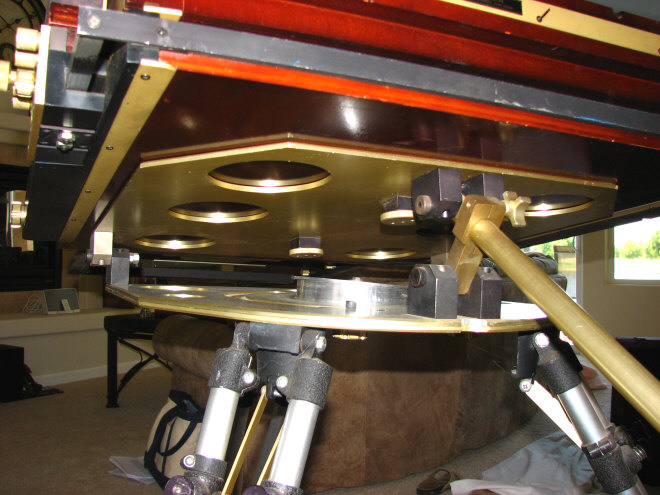 de Golden Busch Tripod and tripod mount are an engineering wonder to behold!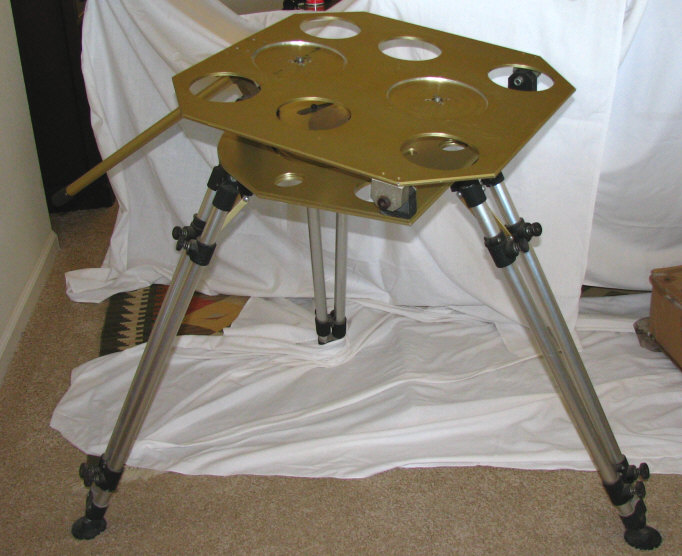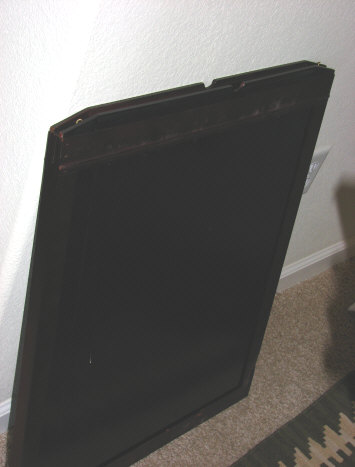 20x24 Film Holder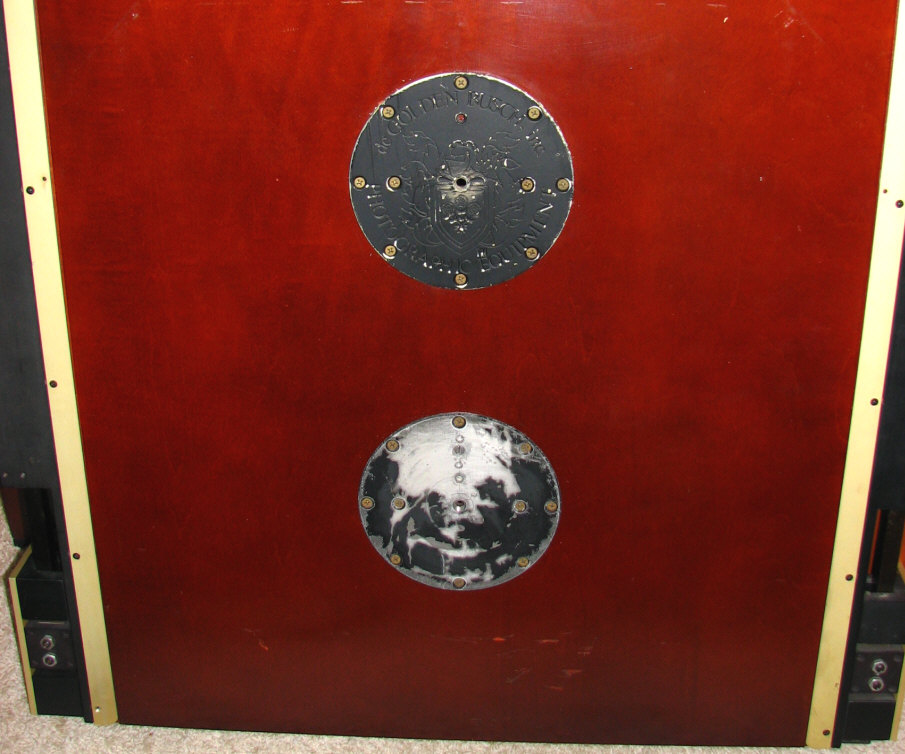 Base of camera showing tripod wear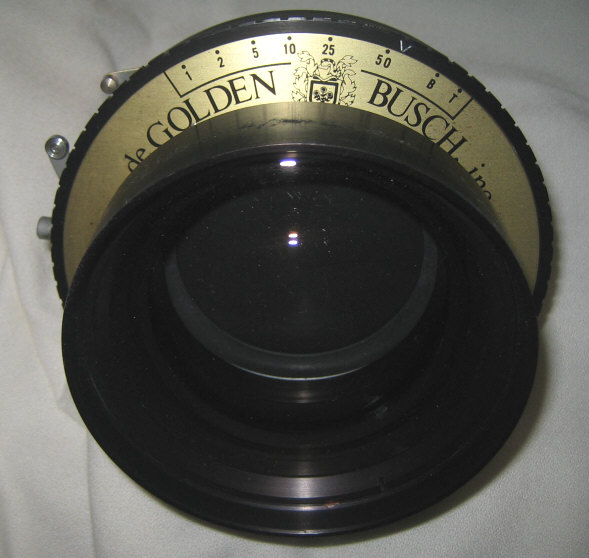 610/f12 Golden Busche Lens -
The camera, lens and tripod probably weighs over 100 lbs.

---

Home Camera Articles FOR SALE Orders I Buy / Wants Repairs Books Adapters

Revised: May 23, 2013 . Copyright © 2012 Stephen Gandy. All rights reserved. This means you may NOT copy and re-use the text or the pictures in ANY other internet or printed publication of ANY kind. Information in this document is subject to change without notice. Other products and companies referred to herein are trademarks or registered trademarks of their respective companies or mark holders.