Home Camera Articles FOR SALE Orders I Buy / Wants Repairs Books Adapters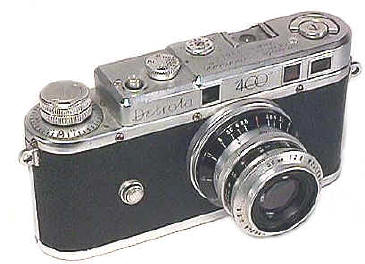 Detrola 400
Super Rare American "Leica" Wannabe

Today this obviously Leica inspired 35 is a very rare camera. It was made in the good 'ol USA, 1940 Detroit Michigan to be exact. The manufacturer was the Detrola Corporation, maker of inexpensive 127 cameras and auto accessories.
The Detrola 400 had the looks of a great camera, even if it wasn't. The Detrola Corporation didn't seem to understand cameras very well, but the Detrola 400 certainly benefited from an excellent but anonymous stylist. Designed to be marketed for $69.50 with the 50/3.5 lens, the 400 was too expensive to battle the Argus A in the marketplace, and far too simple and limited to go against the luxury 35's: Leica and Zeiss Contax.
Coupled rangefinder with separate rangefinder and viewfinder windows

Cloth Focal plane Leica style shutter with speeds from 1 to 1/1500 with separate low and high speed shutter dials. The 1/1500 is generally considered to be advertising fantasy.

38mm interchangeable screw mount, alas, not interchangeable with Leica. The Leica screw mount was still protected by patents in 1940.

Sleek stamped metal body with removable back

Excellent for its price chrome finish and leather body covering

50/2.8 Wollensak Velostigmat of triplet design shown with camera. A 50/3.5 Wollensak was also available. Apparently no other production lenses were made during the 400's short lifetime. Focus by turning the helical at the base of the lens.

Hot shoe flash bulb sync

Recessed rewind knob, film Advance/Rewind dial on camera front in self timer position

Standard 35mm 24x36 format, capable of taking standard 35mm cassettes

Left to right: Recessed rewinding knob, separate rangefinder and viewfinder windows, low speed dial, high speed dial, shutter release, knob wind and film counter.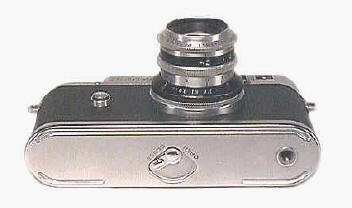 Sleek rounded body, single center mounted back latch
According to Lahue's & Bailey's "The American 35," Detrola 400 chief deficiencies included consistent film frame spacing and a shutter which gave uneven exposures as it tended to slow towards the end of its travel. They say the shutter problem was so bad the slow speeds were dispensed with in production cameras. This camera (serial number 12013) does have slow speeds, though 400's without slow speeds are reported. Lahue and Bailey also cite the astounding figure of 250,000 manufactured (more than Leica's best selling M3), even though the camera is extremely difficult to find even in America. Personally I find such production figures impossible to believe, especially since the Detrola 400 died a quick death. The 400 was announced in 1940 with W.W.II on the not too distant American horizon. Perhaps not coincidentally, Detrola Corporation went into bankruptcy and had its assets sold off by the summer of 1941. Photos courtesy and copyright of Roger Reinke.
The Detrola 400 is remembered today as an interesting American design that even most experienced American camera collectors have never seen.
---
Home Camera Articles FOR SALE Orders I Buy / Wants Repairs Books Adapters
Revised: November 25, 2003 . Copyright © 1998-2002 Stephen Gandy. All rights reserved. This means you may NOT copy and re-use the text or the pictures in ANY other internet or printed publication of ANY kind. Information in this document is subject to change without notice. Other products and companies referred to herein are trademarks or registered trademarks of their respective companies or mark holders.