Home Camera Articles FOR SALE Orders I Buy / Wants Repairs Books Adapters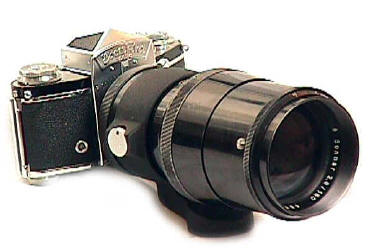 Exakta 180/2.8 Zeiss Olympia
fast early 50's telephoto
The famous Zeiss 180/2.8 Olympia was made in many mounts and variations. The Contax RF and later versions have separate profiles. This early 1950's Exakta mount Olympia is basically the same lens as the much more expensive Contax RF lens, just in an Exakta mount. One of the joys of Exakta collecting is that prices are often far lower than many other collectible cameras.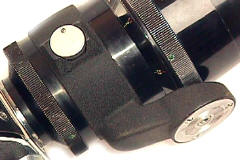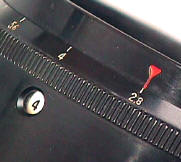 Note the very heavy duty construction, no plastic in this lens. This lens has a large rotating tripod mount. This is a pre-set lens. The photog selects the shooting aperture in the aperture window. The outside aperture ring shows the f/stop set at the moment. Rotating the pre-set aperture ring stop the lens at the pre-set aperture, in this case f/4.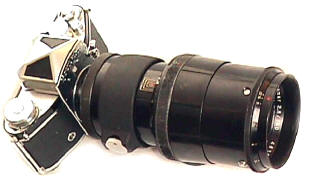 Lens weighs just under a petite 3 pounds, filter size is an economical 77mm, f/stops 2.8 to 32, close focus just under 5 feet. These 1950's Olympia's are engraved "Carl Zeiss Jena," having been made in East Germany. In case of fire, the Olympia can be used to break down walls.
---
Home Camera Articles FOR SALE Orders I Buy / Wants Repairs Books Adapters
Revised: November 25, 2003 . Copyright © 1998-2002 Stephen Gandy. All rights reserved. This means you may NOT copy and re-use the text or the pictures in ANY other internet or printed publication of ANY kind. Information in this document is subject to change without notice. Other products and companies referred to herein are trademarks or registered trademarks of their respective companies or mark holders.