Home Camera Articles FOR SALE Orders I Buy / Wants Repairs Books Adapters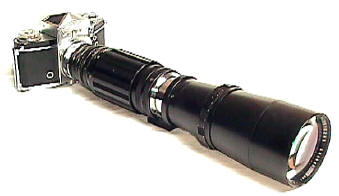 Exakta mount Komura 500/7
500mm was not a common focal length for Exakta, any Exakta mount 500 is hard to find today. This Komura 500/7 from the 1960's and offers a nice design and good craftsmanship. 1960 list price was $175. Komura was an independent Japanese lens maker.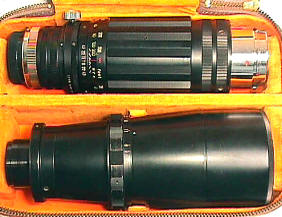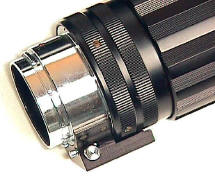 A manual aperture lens with interchangeable mounts, it breaks down into two pieces for compact carrying, and comes in its own velvet lined case. A heavy chrome bayonet mount fits the lens together. It also had a built in tripod mount and a rotating camera mount. Weighing in at almost 3 1/2 lbs, the lens measures in at almost 14" long, with a not so close focus distance of 26 feet and a filter size of 77mm.
---
Home Camera Articles FOR SALE Orders I Buy / Wants Repairs Books Adapters
Revised: November 25, 2003 . Copyright © 1998-2002 Stephen Gandy. All rights reserved. This means you may NOT copy and re-use the text or the pictures in ANY other internet or printed publication of ANY kind. Information in this document is subject to change without notice. Other products and companies referred to herein are trademarks or registered trademarks of their respective companies or mark holders.