Home Camera Articles FOR SALE Orders I Buy / Wants Repairs Books Adapters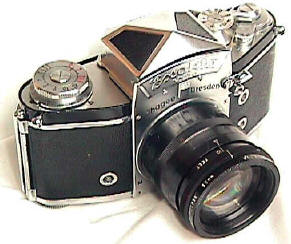 Exakta Mount
60/1.5 Carl Meyer Speed Anastigmat
Mystery Lens
So far as I have been able to determine, this lens is virtually unknown. It is not listed in the Exakta Cameras 1933-1978 book, nor is it listed in the Exakta Lens List. There are a lot of strange things about it:
60/1.5 Speed-Anastigmat, I can find no listing for a Speed Anastigmat in any focal length, any mount
Focusing range from 3 to 10 feet only, no meter markings.
No depth of field scale
Strange serial number "OC 856"
Apparently post war production, since it's coated. Glass and coating in nice shape, though some blackening appears to be coming off the edges of some of the front elements
Barrel of lens is black anodized aluminum
The lens is a single helical, i.e. the entire front rotates as you focus
F/stop range is 1.5 to 16
Filter size is 42mm
Lens size is 54mm (back of bayonet to front of lens at 10' focus mark) with a width of 51mm.
Guessing, I would think it was made for some sort of lab or instrumentation documentation during the early to middle 50's when Exakta owned the SLR market. With the "OC" serial number, Exakta super collector Gary Cullen thinks it could be an oscilloscope recording lens with a focusing mount added.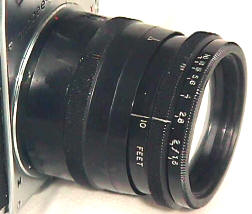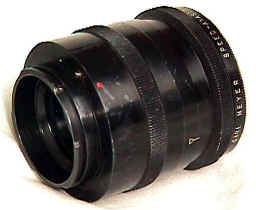 On the other hand, maybe the "OC" stands for "Other Contingencies " and it was used in secret US Government work to document the Alien crash at Roswell.....hmmmm. I wonder if it glows in the dark.
---
Home Camera Articles FOR SALE Orders I Buy / Wants Repairs Books Adapters
Revised: November 25, 2003 . Copyright © 1998-2002 Stephen Gandy. All rights reserved. This means you may NOT copy and re-use the text or the pictures in ANY other internet or printed publication of ANY kind. Information in this document is subject to change without notice. Other products and companies referred to herein are trademarks or registered trademarks of their respective companies or mark holders.