Home Camera Articles FOR SALE Orders I Buy / Wants Repairs Books Adapters
Nikon F3 US NAVY
While the Nikon F US NAVY is well documented, this is probably the first F3 US NAVY to be documented in Nikon collector literature. A standard F3 HP, it has the US NAVY engraving on the back edge of the top plate near the rewind.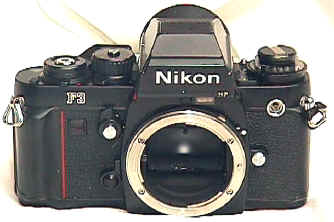 Exactly what this camera was used for, or how many were used in US NAVY service is undocumented and needs further research. Even so, it's exciting to occasionally run across something that is "new" and unknown. It's a comforting thought that collectors are probably a long way from knowing ALL Nikon variations -- it keeps collecting a lot more interesting.
---
Revised: November 25, 2003 . Copyright © 1998-2002 Stephen Gandy. All rights reserved. This means you may NOT copy and re-use the text or the pictures in ANY other internet or printed publication of ANY kind. Information in this document is subject to change without notice. Other products and companies referred to herein are trademarks or registered trademarks of their respective companies or mark holders.