Home Camera Articles FOR SALE Orders I Buy / Wants Repairs Books Adapters
Kobalux 21/2.8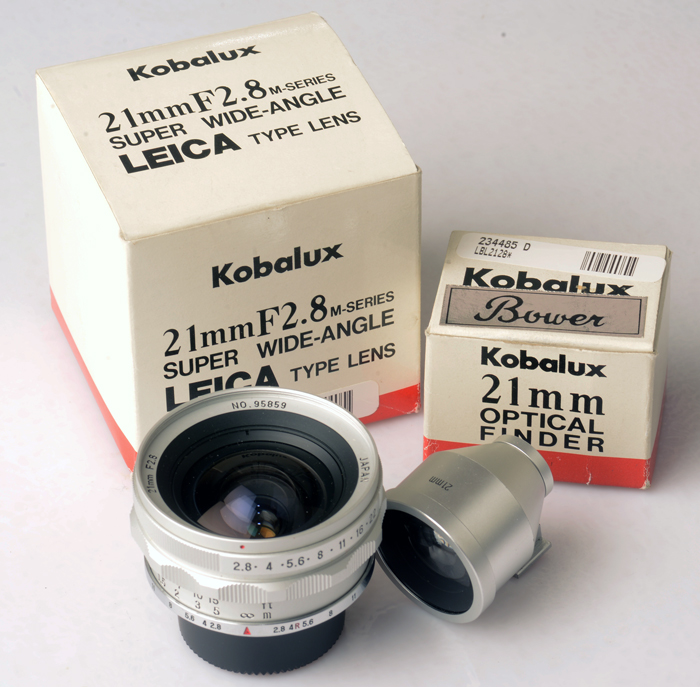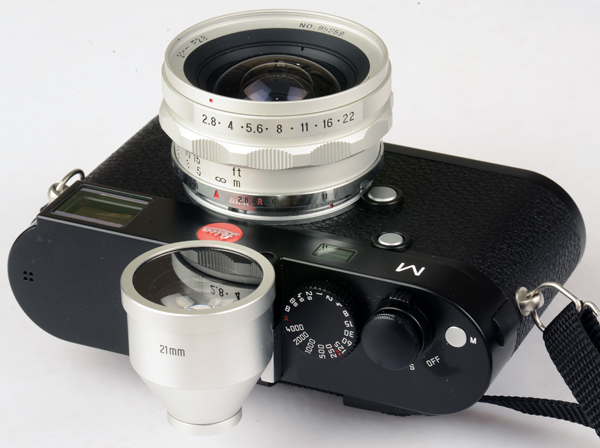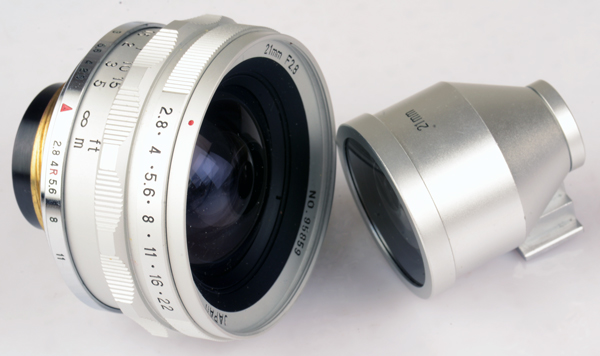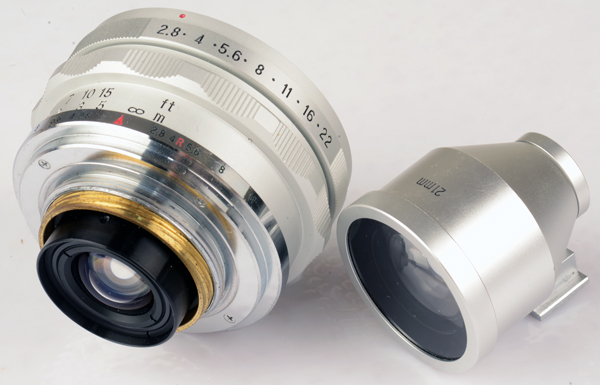 21/2.8 lenses in Leica screw mount are far a few between. This is the only one I am aware of. Unlike the 28/3.5 Kobalux, the 21/2.8 approaches Leica quality in the mid to small apertures. This is a modern rangefinder coupled multi-coated Japanese optic which will probably outperform most examples of the 21/4 Super Angulon. Unlike the 21/4, the Kobalux with its retrofocus design is usable with TTL metering on the M5, CL, CLE, and M6. Produced by YK optical in Yokohama, it was sold under a variety of names including Kobalux, Avenar, Bower and Pasoptik -- among others. Price wise it's a bargain compared to the very expensive, albeit superb, Leica 21 Aspherical. The 21/1.8 and 21/4 Voigtlander lenses are probably sharper. Alas, Kobalux apparently ended production in early 2002.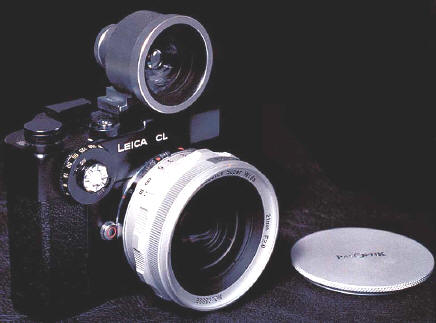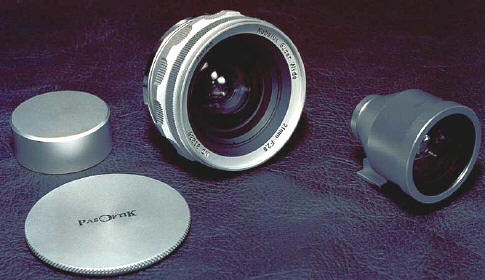 The 21/2.8 Kobalux has 8 elements in 6 groups, f/stops from 2.8 to 22, 58mm filter size, 6 aperture blades, 7 1/2 oz, 66mm overall diameter x 48mm overall length (35mm mounted on camera), weight 7.5oz. Pictured on the CL is the 2nd version of the lens. A 3rd version was introduced in 2001 with half click stops and slightly closer focusing .The finder is bright and overly large to the point of being embarrassing, with a 39mm diameter. It has a projected brightline and parallax correction marks in the finder. The corners may not be visible wearing glasses. A better finder choice is probably the much smaller Cosina Voigtlander 21 brightline.

It's a well made lens, conveniently needing only 1/4 turn to go from infinity to the closest focusing distance of one meter. The barrel has Depth of Field scales for 2.8, 4, 5.6, and 8 as well as an IR mark. At F8, DOF extends from infinity to 1 meter!
My thanks to John Maries for the pics,
Kobalux also produced a 28/3.5 lens
---
Home Camera Articles FOR SALE Orders I Buy / Wants Repairs Books Adapters
Revised: May 09, 2014 . Copyright © 1998-2014 Stephen Gandy. All rights reserved. This means you may NOT copy and re-use the text or the pictures in ANY other internet or printed publication of ANY kind. Information in this document is subject to change without notice. Other products and companies referred to herein are trademarks or registered trademarks of their respective companies or mark holders.