Home Camera Articles FOR SALE Orders I Buy / Wants Repairs Books Adapters

Leotax D IV
Japanese Leica Copy
After W.W.II many camera companies imitated Leica by manufacturing their own brand of "Leica Copy." Most copied were the Leica II, III, and IIIa. As time went on, many companies their own improvements. Leotax made about 20 different models between 1940 to 1961 and is often considered to be the best of the Japanese made Leica Copies from a standpoint of craftsmanship. Personally I find the Niccas just as good. "Leica Copies" by HPR estimates that less than 50,000 total Leotax were made.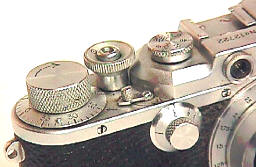 The Leotax D IV of 1950-1952 has an estimated production between 2500-3000. With no flash sync, and a shutter speed range of 1/500 to 1 second, and separated eyepieces, it's a Leica III copy.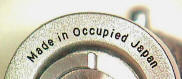 Noteworthy points are its very large and unusual raised shutter release, and that it was "Made in Occupied Japan" during the American troop occupation after W.W.II. The almost identical Leotax S amounts to a rarer synced version of the D IV. It add flash sync outlets on the front of the body. In his superb book Leica Copies, HPR estimates S production at only 600-700 units.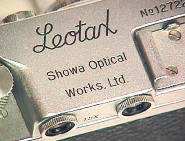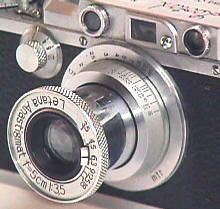 This is the rare first version of the 50/3.5 collapsible Letana Anastigmat. It was actually made for normal lens for the much earlier Leotax Original, Special A, Special B, and Special. Estimated production: about 1000 lenses for the four cameras.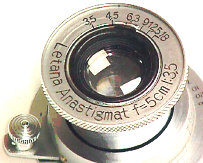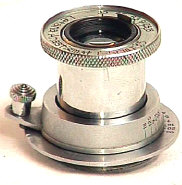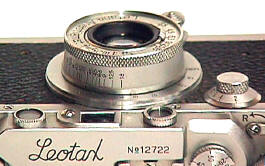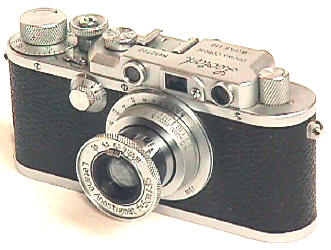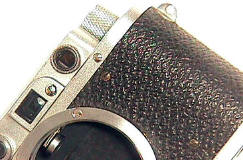 Note the more heavily textured body covering than Leica

Which is the Leica, which is the Leotax?
---
Revised: November 25, 2003 . Copyright © 1998-2002 Stephen Gandy. All rights reserved. This means you may NOT copy and re-use the text or the pictures in ANY other internet or printed publication of ANY kind. Information in this document is subject to change without notice. Other products and companies referred to herein are trademarks or registered trademarks of their respective companies or mark holders.