Home Camera Articles FOR SALE Orders I Buy / Wants Repairs Books Adapters
Leica M4-P 70th Anniversary 1913-1983
Midland's Last Hurrah

In 1983 Leica issued 2500 chrome M4-P's to commemorate 70 years of Leica dating from Oscar Barnack's first prototype in 1913. This is one of my own favorite Leica special editions as it actually commemoratives something worth commemorating The back of the top plate was engraved "Leica 1913-1983", along with one of the five letters in the Leica name, followed by a number 1 to 500. This camera has the commemorative number "E227". A regular production serial number was also engraved on the hot shoe. Probably thanks to a gifted engraver, there are also a very limited number of the "Napoleonic M4-P's" engraved "1813-1983" which translates to instant high priced collectible. Was that really an engraving mistake? hmm. Of the 23,180 standard production M4-P's, 22,680 were black chrome and only 500 were chrome, making the plain jane chrome M4-P plainly quite rare.
Also produced were a limited number of "Leica 1913-1983" MR-4 light meters, 28/2.8 Elmarits, 35/1.4 Summilux, 35/2 Summicrons, 50/1.4 Summilux, 50/2 Summicrons, 75/1.4 Summilux, 90/2.8 Tele-Elmarits, and Leica Winder M4-2 engraved to match this camera. While some of the specially engraved lenses were sold separately, some produced for various combo sets with the camera and a special camera bag marked "Leica 1913-1983." One 1913-1983 combo set consisted of the camera, winder, 35/2 Summicron, 90/2.8 Tele-Elmarit, and specially marked camera bag.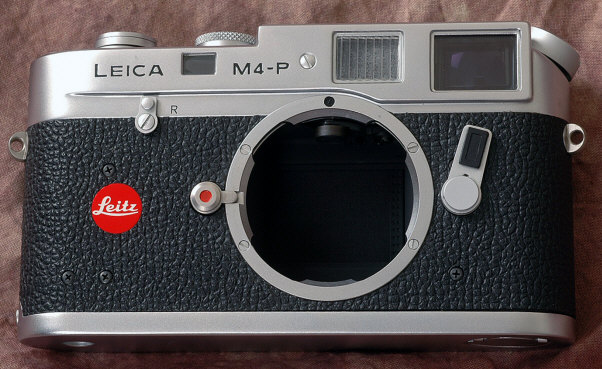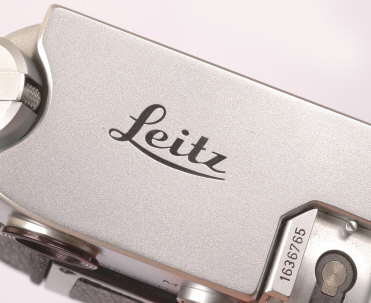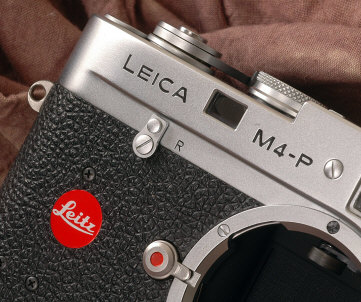 The M4-P's and M4-2's were engraved LEITZ on the top plate, something not done before or since on other M cameras. Personally I like the look of Leitz on the top plate and on the front. The M4-P's chromium finish have a bit texture to it than the earlier chromium M3 and M2's, but is still gorgeous!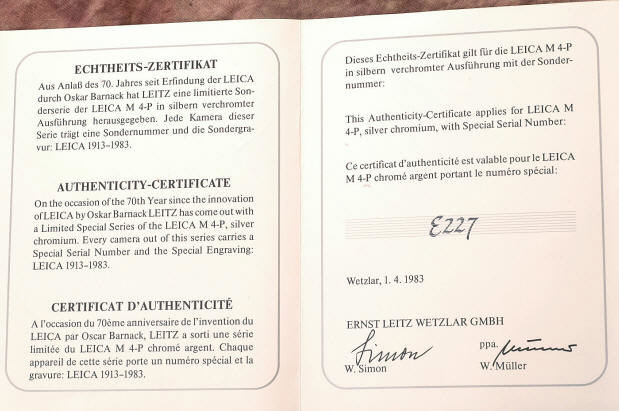 The 70th Anniversary M4-P included a specially marked box and a certificate of authenticity.
Take note Leica Midland's CEO Walter Kluck's signature is NOT there. A bad case of Midland envy?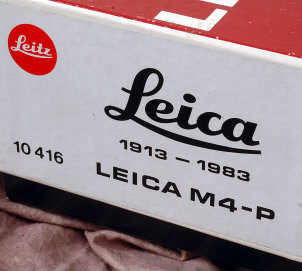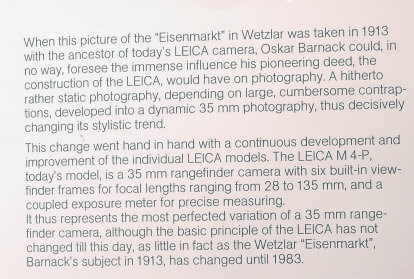 Alas, Oscar Barnack's famous 1913 Wetzlar marketplace shot is missing from this set.
The 70th Anniversary M4-P
Last Hurrah for Midland Saving Leica
OK, the official story you will read anywhere else is the 70th Anniversary M4-P celebrates anniversary of the first 1913 prototype UR Leica. But is that what this camera is REALLY about? If the 10 year anniversaries of the 1913 prototype are such a big deal, why are there not other 10 year Barnack prototype commemoratives? Why was this the first and last commemorative celebrating the anniversary of that 1913 prototype? hmm. Only eight years before in 1975 Leica brought forth Leica's 50th Anniversary M5 and CL cameras commemorating the 50th anniversary, and then not long after embarrassingly announced the end of the Leica M line. M5 sales had been disastrous, in large part because of the very popular smaller Leica CL whose profit had to be shared with Minolta, as it was produced in the Minolta factory. Future Leicas would be SLRs!

Then a funny thing happened. Photographers wanted to buy M cameras and Leica had none! Walter Kluck, the President of Leica's Midland Canada's factory, approached Leica management about renewing Leica M production. Wetzlar management was incredulous, but agreed providing Mr. Kluck could get 4,000 new M camera orders. He came back with 9,000 orders. Midland was given permission to renew M camera production. Long term, Walter Kluck had saved the M camera and what became the Leica Camera Company along with it. The made in Canada at the Leica Midland plant Leica M4-2 was announced at Photokina in 1976. The M4-2 was followed with the M4-P. Leica was saved as the Leica R System SLR sales went into the toilet. By 1983 the TTL M6 was under development, along with plans to move Leica M production back to Wetzlar. Somehow the 70th Anniversary M4-P was approved to make Leica a few more bucks. It would be the last Leica M camera introduced at Midland before the factory was sold to Howard Hughes Aircraft, and later to Raytheon. Interestingly, only a few of the German Midland employees chose to move back to Germany for free when the Midland factory was sold. The Midland factory arguably developed Leica's best optics, including the 50/1 and 75/1.4. With 2020 hindsight, it seems the sale of the Midland plant was a mistake. To this day, the Midland facility under Hughes and then Raytheon went on to enjoy lucrative US military contracts. Raytheon continued to produce 50/1 Noctilux optics until stopping production 2007, which in turn forced the 50/1 Noctilux to be discontinued, to be replaced by the 50/95 Noctilux.

What does this all this add up to in my opinion? Leica Midland Canada employees knew the goodbye writing was on the wall and wanted to remind Wetzlar Germany management that Midland had saved Leica, with one more, one last Leica M commemorative. The M4-P 70th Anniversary reaching back to Leica's 1913 beginning was Midland's swan song, the last new Leica model to be introduced from the Midland factory. To me this is one of the most memorable and interesting Leica M commemoratives, as its real meaning is not what it is officially about. I look at the M4-P 70th Anniversary sadly, a remind of jealousy between two Leica factories, and the last reminder that Midland saved Wetzlar. Nonsense? Maybe, maybe not.
The 70th Anniversary M4-P mounting the super speed 50/1 Leitz Noctilux, also designed and built at E. Leitz Canada.
---
Revised: November 01, 2009 . Copyright © 1998-2008 Stephen Gandy. All rights reserved. This means you may NOT copy and re-use the text or the pictures in ANY other internet or printed publication of ANY kind. Information in this document is subject to change without notice. Other products and companies referred to herein are trademarks or registered trademarks of their respective companies or mark holders.