Home Camera Articles FOR SALE Orders I Buy / Wants Repairs Books Adapters
Jaguar XK50 M6
As a long time Jaguar enthusiast, I was quite pleased to learn that Jaguar commissioned a special set of 50 Chrome M6's with chrome 50/2.8 Elmars to commemorate the 50th anniversary of the classic Jaguar XK engine and sports car.
A beautiful camera with a glorious heritage, the limited edition XK50 M6 is likely to become one of the most sought after M6 TTL's.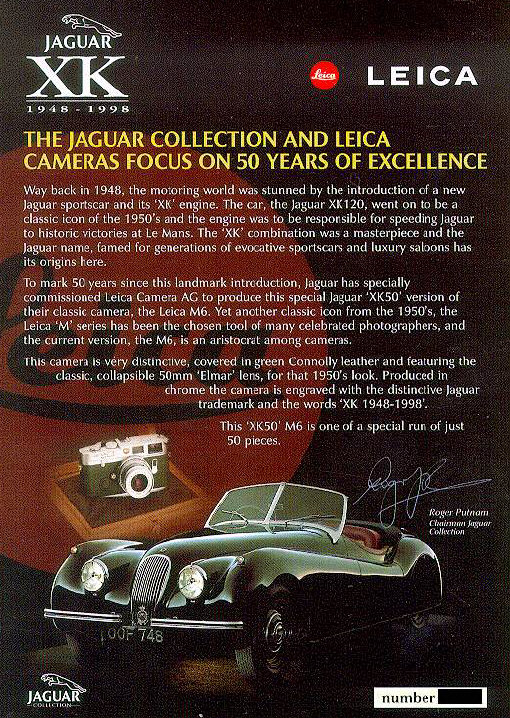 XK Certificate which accompanies the Jaguar XK50 M6.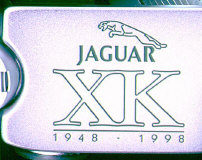 Top plate logo, note Jaguar Green Engraving!
Introduced in the Fall of 1998 by editorial in Jaguar's in house publication, Sovereign, over half of the fifty cameras sold within Jaguar's extended family. The remainder quickly sold out with press release. The cameras originally sold in the UK for GBP3,600 each including UK taxes (around US$5,900) or were exported for GBP3,063 (about US$5,000). By country, original sales were as follows: UK 29, USA 10, Germany 4, Italy 2, Singapore 2, Australia 1, Japan 1, Switzerland 1

Specially made to Jaguar's specifications, the XK50 Leica is based upon the last of the classic all mechanical chrome M6 with .72 finder. Uniquely, the body covering is British Racing Green (Jaguar's house colour) Connolly leather (like the car). Jaguar chose the older non-TTL body due to the more "classic" look it has over the 3mm higher top plate of the newer M6 TTL.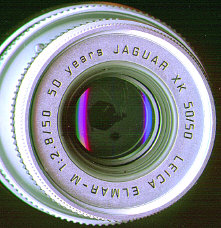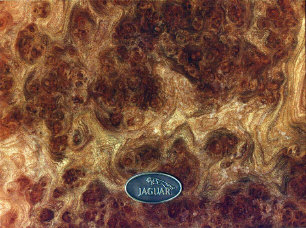 Specially engraved XK50 50/2.8 Chrome Elmar lens. Note numbering, the last of 50! Leica XK Presentation Box lid has the beautiful elm-burr veneer of the Jaguar's dashboard.
---
How did Jaguar go about getting their own M6 Commemorative? It's interesting because not everyone has Leica make a special edition M6. In the words of John Maries, initiator of the XK50 M6 project at Jaguar in England:

"I have no doubt that the name of "Jaguar" helped just a little! (It has gotten me into some pretty amazing places over the years). I originally contacted Gunter Osterloh, as the only name we knew, and was then quickly passed on to Sonke Peters, then Product Manager for the M6. Interestingly, most of our correspondence was by email.

The idea jogged along slowly to begin with but once the deal was struck, our only problem was finding leather of the correct colour. Rumor has it that Solms received in error, at one stage, a hide intended for the car of some Royal personage! As you would expect, Solms was great technically. Precise drawings came through by fax for sign-off. Sonke had virtually put the plans to bed before he left, although I acknowledge the part played by Stefan Daniels and the UK based guys in the final mile.

I also feel the fact that we knew what we wanted (thanks in no small part to one Stephen Gandy and his web site) was a key factor. The rational for the camera seemed a good one from all angles. Things fitted. For instance, in the event, I never had to advertise the cameras but I had ideas of a James Dean look-alike leaning against a car with a camera round his neck (yes, I know that in the 50's that might originally have been two other brands!) but that was the memory I was trying to capture."

---
I am pleased to say this page was approved by Jaguar in England and prepared under John's guidance. All pictures courtesy and copyright of Jaguar. I am also proud to say that this is the first page on the Internet devoted to the Jaguar XK50 M6. (January 1999).
---
Revised: November 07, 2004 . Copyright © 1998-2002 Stephen Gandy. All rights reserved. This means you may NOT copy and re-use the text or the pictures in ANY other internet or printed publication of ANY kind. Information in this document is subject to change without notice. Other products and companies referred to herein are trademarks or registered trademarks of their respective companies or mark holders.