Home Camera Articles FOR SALE Orders I Buy / Wants Repairs Books Adapters
Minolta 21/4

SRT Lens for Leica M
The Minolta 21/4 was Minolta's first 21, a non-retrofocus design which required mirror lockup on the SRT series of Minolta SLRs. It's well made, has a minimum of distortion, lightweight at 6 oz, and comes with an excellent unlabeled Minolta 21mm brightline finder. F/stop range from 4 to 16. Close focus just under 3 feet. Filter size 55mm.

How to get it on your Leica? With the handy-dandy Novoflex Minolta to Leica Screw Mount adapter plus a Leitz bayonet adapter, as shown in the pics! Of course it's difficult to find, and not cheap at about $350. While I think it will fit on the earlier Leica's without TTL, it does not fit on a M6 due to internal film chamber restrictions. Stranger, the finder does not fit my M6 either. Yet, they both fit the CLE just fine -- but of course without TTL metering since the deeply recessed lens blocks the metering cell. This setup is not rangefinder coupled. The photog has to focus by scale guestimate, but with the 21's huge depth of field, that is not difficult.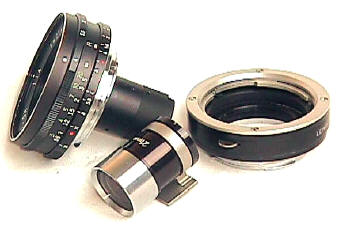 Minolta also made an earlier, even hard to find 21/4.5
---
Revised: November 25, 2003 . Copyright © 1998-2002 Stephen Gandy. All rights reserved. This means you may NOT copy and re-use the text or the pictures in ANY other internet or printed publication of ANY kind. Information in this document is subject to change without notice. Other products and companies referred to herein are trademarks or registered trademarks of their respective companies or mark holders.