Home Camera Articles FOR SALE Orders I Buy / Wants Repairs Books Adapters
Minolta 7sII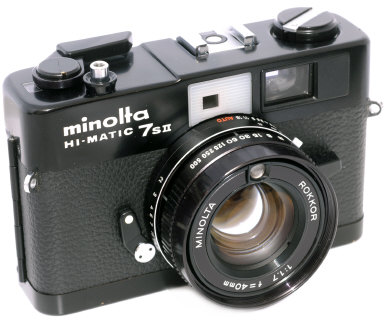 Compact, well finished 35RF with fast lens, AE and manual exposure. Some Minolta fans believe the 7sII has the same lens as the Minolta produced 40/2 Leica CL, a claim which I found extremely hard to believe considering the price difference. The black paint 7SII is extremely hard to find and very well finished.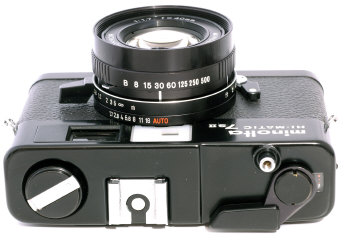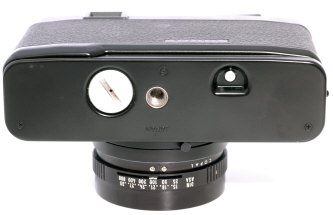 The Plus Side
Beautifully finished, better than most cameras of its genre
Compact 35 Rangefinder with 40/1.7 lens, focusing to 36"
Nice viewfinder/rangefinder with AE selected F/stops in finder
Shutter priority AE with manual over-ride (non-metered), with NO lock beyond its limits
The AE chosen f/stops are shown in the finder
Very Quiet leaf shutter.
The focusing lever is large, easy to grasp and quick to operate
AE exposure lock, just depress the shutter release slightly
Manual over-ride, alas with no metering.
Large, convenient easy to use controls
Flash sync at all speeds, 1/8 to 1/500 plus B.
CDS cell inside 49 mm ring, making filter compensation automatic
ASA range 25-800
Lens caps serves as ON/OFF switch to save battery current -- no separate switch.
To set the shutter on B, push in the chrome catch on the left side of the lens
Threaded cable shutter release
Weight 17 oz, measurements 4 9/16" long x 3" high x 2 5/16" deep 115mm x 77mm x 60mm
The 7sII camera case is well done of quality leather, higher quality than most of its competitors.
As a side note, the Minolta 7sII and Konica S3 are so similar in size and features, I can't help but wonder if they had the same designer or even came out of the same factory.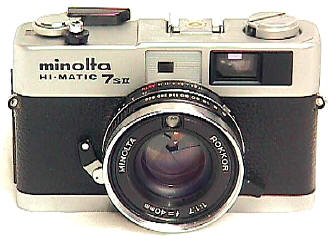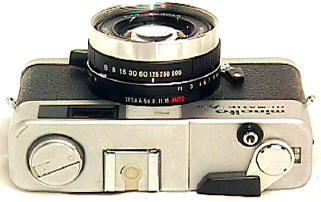 Chrome 7sII's far outnumber the black, perhaps by as much as 100 to 1.
The Negative
Not an easy to find camera, at least in the US.
Designed for MERCURY 1.35v Eveready EPX-675 or equivalent
Hot Shoe only -- no PC outlet
NO Guide Number flash control, unlike many of its competitors.
NO metering in manual, just like most of its competitors.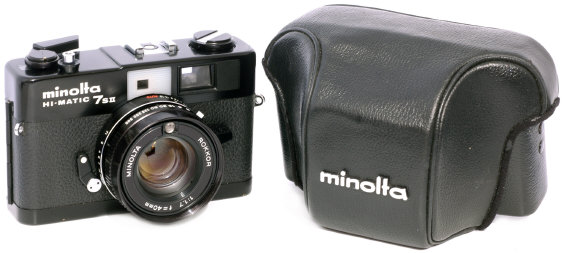 The Minolta 7sII cases are well made and seem to last the years, in contrast to the cases for contemporary Canon and Olympus compact rangefinders which seem to self destruct.
---
The Minolta 7sII is small, nicely made, and offers both AE and manual exposure. Yet it is an average design of its type with no features to set it apart from its competition. While Yashica, Olympus and Canon sought to compete in this class by adding new features, Minolta instead was satisfied with a well finished camera of average specifications.
---
Revised: February 24, 2005 . Copyright © 1998-2005 Stephen Gandy. All rights reserved. This means you may NOT copy and re-use the text or the pictures in ANY other internet or printed publication of ANY kind. Information in this document is subject to change without notice. Other products and companies referred to herein are trademarks or registered trademarks of their respective companies or mark holders.