Home Camera Articles FOR SALE Orders I Buy / Wants Repairs Books Adapters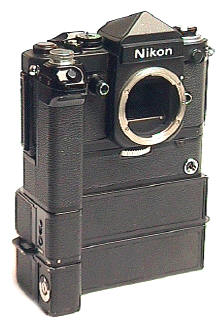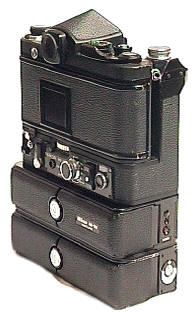 Nikon F2 High Speed 10 FPS
Introduced at the 1978 Photokina, the F2 High Speed was the last Nikon High Speed for almost twenty years, until the F3 High Speed of 1996. Accordingly, it was much sought after by both users and collectors. Start with a F2 Titanium body, install a pellicle mirror, modify a MD-2 motor by adding an extra MB-1 battery pack.
F2 High Speed features include:
Speeds up to 10 frames per second possible -- exposing a 36 roll in 3.6 seconds !!
Multi-coated Fixed Pellicle mirror with 65% transmission. This means 65% of the light goes through the mirror to the film plane, while 35% of the light is reflected upward to the finder for focusing and viewing.
The F2 High Speed is based on a F2 Titanium body, with a Titanium top, bottom and back covers painted with black epoxy paint
Though sold only with a prism finder, any F2 finder is usable on the F2 High Speed. Photomics need exposure compensation for the 35% of the light going upward to the finder.
The F2 High Speed has no automatic diaphragm operation. In other words, exposures are always at shooting aperture. This is necessary to allow the fastest operating speeds, since the lens diaphragm would not work at 10 fps.
Depth of Field preview works in the OPPOSITE direction. Pushing it inward OPENS up the lens for brighter viewing and focusing! The DOF preview button, which of course is really the BVF (Bright Viewing and Focusing) preview button on the F2 High speed, is about twice the size of a standard F2 DOF preview to allow more convenient use.
No mirror lock up -- it's not needed with a fixed pellicle mirror !
No self timer or extended slow speeds.
MD-100 motor is exclusive to the F2 High Speed. It's similar to the MD-2, with an extra set of batteries attached. With fully recharged Nicad batteries, it offers 5 continuous speeds from 10 fps to 3 fps. AA batteries will give slightly reduced speeds.
The MD-100 was sold with a special MH-100 quick charger, a charger with four Nicad battery charging capability for 70-80% charges in approximately 3 hrs on 100-240V 50/60 Hz AC. Of course, the MD-100 can also be used with the standard charger, and AA battery inserts. Motorized rewind takes approximately 7 seconds, manual rewind optional.
The MD-100 motors and F2 High Speed bodies are matched. Serial #'s of the body and MD-100 are painted inside the back door
The two modified MB-1 battery packs are permanently mounted on the MD-100 motor, providing 30 volts.
The MD-100 accepts all Nikon remote triggering and timing devices compatible with standard MD-2/3/11/12 motor drives.
The battery pack still has the MD-2 style S (Single), C (Continuous), and L (Lock) settings.
There are two models of F2 High Speed: The Model I F2 High Speed has T&B setting on the shutter dial, a fixed Type B focusing screen, and the serial number in one line on the top plate. Starting serial # is 7850001. The Model II like this one has no T & B setting on the shutter dial, an interchangeable focusing screen, and has two lines of engraving for the top plate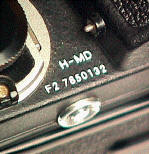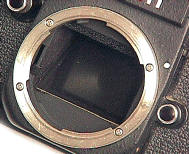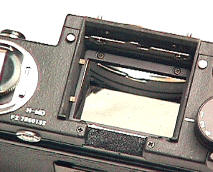 ANY SLR pellicle mirror requires extra care. It is especially susceptible to dust and scratches. If it needs cleaning, do yourself a BIG favor, take it to a repairman. With the mirror in the image path, the lens resolution is also slightly reduced, though many users have reported no noticeable difference.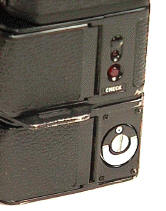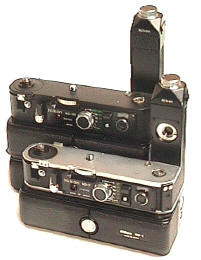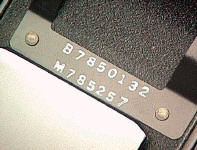 Note the motor strap lugs on the MD-100, which the MD-2 does not have. The MD-100 has black painted Titanium covers like the High Speed, and is noticeably larger and heavier than the MD-2. To the far right are the matched body and motor numbers painted inside the back door.
With fully charged Nicad batteries, the MD-100 can be used as follows:
| | | | | | |
| --- | --- | --- | --- | --- | --- |
| Setting | H | M3 | M2 | M1 | L |
| Shutter Speed | 1/250-1/1000 | 1/125-1/1000 | 1/60-1/1000 | 1/60-1/1000 | 1/30-1/1000 |
| Aprox FPS | 10 | 7.5 | 6 | 3.5 | 3 |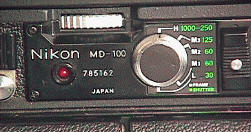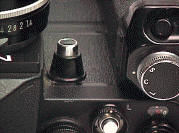 The motor speeds indicate the lowest shutter speeds usable in green. Note the extra large and convenient former DOF preview, now the BVF (Bright Viewing and Focusing) preview button on the F2 High Speed.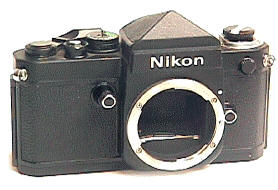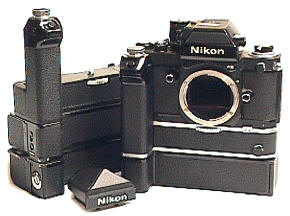 The MD-100 can be detached, turning the High Speed into a lightweight manual advance camera. Likewise, the F2 High Speed can use any of the Photomic Metering heads, and will also mount other F2 motors. Shown is a F2AS High Speed MD-2 combination. Too bad the F4 and F5 don't have removable motors.
Could a talented repair technician make an inexpensive High Speed by modifying a standard F2 by adding a Pellicle mirror, and modifying a MD-2 motor by adding an extra set of batteries ?? Probably.
Today Nikon F2 High Speeds are a real rarity, a prize to any Nikon collection.
---
Revised: July 10, 2009 . Copyright © 1998-2009 Stephen Gandy. All rights reserved. This means you may NOT copy and re-use the text or the pictures in ANY other internet or printed publication of ANY kind. Information in this document is subject to change without notice. Other products and companies referred to herein are trademarks or registered trademarks of their respective companies or mark holders.