Home Camera Articles FOR SALE Orders I Buy / Wants Repairs Books Adapters
Nikon F3P Press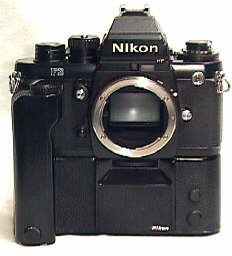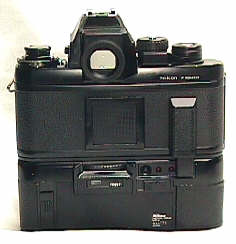 The F3P was a limited production professional camera introduced in 1983, designed to accommodate top Japanese press photog's ideas of needed features. Features included:
Hot Shoe atop prism, but TTL flash only on regular rewind hot shoe
Titanium prism cover
Higher shutter release for quick handling
Rubber seal around the edge of the prism
No Self Timer
No eyepiece shutter
No multiple exposure lever
No second lock for opening the camera back
Larger frame counter
AE exposure mode always active from 0 frame
Issued with rewind stop back MF-6B
Issued with B focusing screen
Sold only to pro photogs with credentials
Serial Number starts P 900xxxx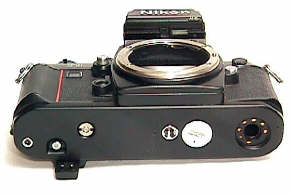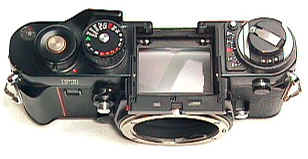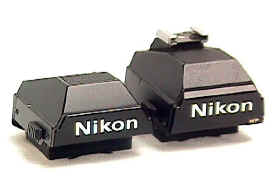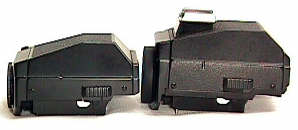 Comparison shot of F3P finder with original F3 prism finder.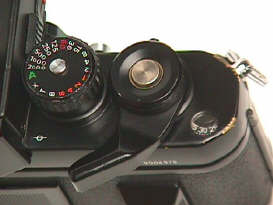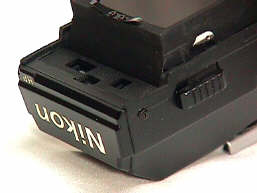 Note the large, solid, shutter release without cable release threading. The shutter release is normally covered by a rubber cover, but it sometimes wears off with use, like this one. The F3P has a different, mechanical shutter lock from the standard F3. There is a projecting pin on the ring surrounding the shutter release (barely visible in photo). Push it in and rotate it to the right to lock the camera shutter release. Push it in and rotate it to the red dot position to release the lock. Notice the rubber seals around the edge of the F3P finder.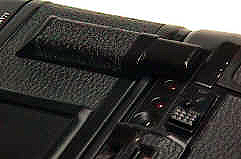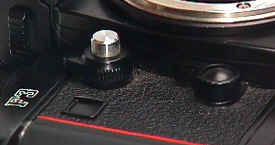 Close-up of MF6B back and blocked out self timer LED.
---
Revised: November 25, 2003 . Copyright © 1998-2002 Stephen Gandy. All rights reserved. This means you may NOT copy and re-use the text or the pictures in ANY other internet or printed publication of ANY kind. Information in this document is subject to change without notice. Other products and companies referred to herein are trademarks or registered trademarks of their respective companies or mark holders.