Home Camera Articles FOR SALE Orders I Buy / Wants Repairs Books Adapters
Nikon FA Gold
Camera Gran Prix 1984
24K Gold
"Pure gold plating is easily scratched. To remove dust, use blower brush. If marred by sweat or fingerprints, first remove dust with a blower brush, then gently wipe plate with the special cloth provided. Never use other cloth, including silicon cloth, as it may scratch the plates."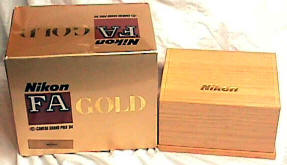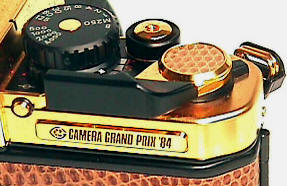 Nikon was justifiably very proud of their FA, the first camera to use computerized multi-segment metering. I am fairly sure the Gold FA is only the second Gold Nikon, after the Gold FM. It was the first Gold Nikon offered for sale to the public, commemorating winning the European camera of the Year award for 1984. Still, I am not sure how that award relates to the "Camera Gran Prix 84." Production estimated at 2000. The 20 gold plated parts are 24K gold plated. The body covering is red lizard skin. The easily scratched gold finish was protected with a specially provided cleaning cloth, complete with special Nikon gold cleaners.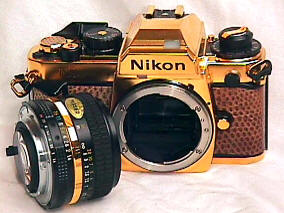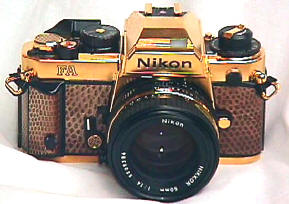 Note the Gold mounting ringed 50/1.4.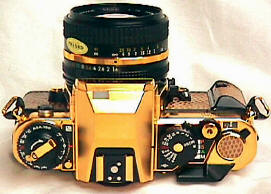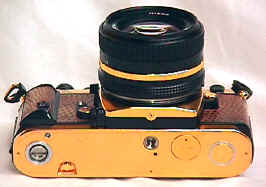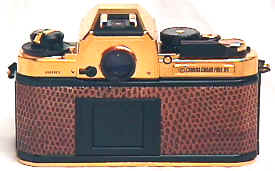 'When stained with fingerprints and sweat, lizard leather gradually loses its luster. to maintain the original luster, wipe all leather parts with the cloth provided after using the camera."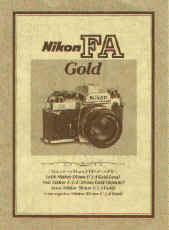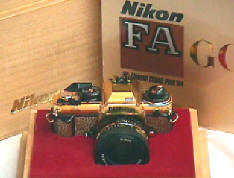 "Avoid storing the camera in excessive moist or dry places; extreme environmental conditions might affect the lizard leather."

---

Make no mistake about it, this is a beautiful camera, even if most owners will never take a picture with it.
---
Revised: November 25, 2003 . Copyright © 1998-2002 Stephen Gandy. All rights reserved. This means you may NOT copy and re-use the text or the pictures in ANY other internet or printed publication of ANY kind. Information in this document is subject to change without notice. Other products and companies referred to herein are trademarks or registered trademarks of their respective companies or mark holders.