Home Camera Articles FOR SALE Orders I Buy / Wants Repairs Books Adapters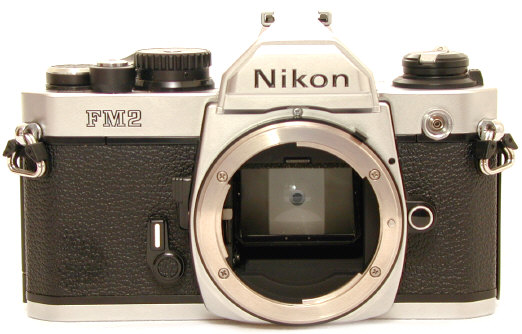 Nikon FM-2 Half Frame
These were said to be a special order for the Norwegian Police. There may have been a few production extras, since I'm told this one was sold new by a Norwegian camera shop. I don't have the production figures, though it has been estimated at several hundred. It is one of the rarest Nikons.
NO exterior half frame markings, can easily be confused with a standard FM-2
Edges of finder blacked out, showing a center vertical focusing area on a standard focusing screen
Special one piece film gate, not a standard film gate modified
Meter and aperture display identical with standard FM-2
Earlier FM-2 version with 1/200th sync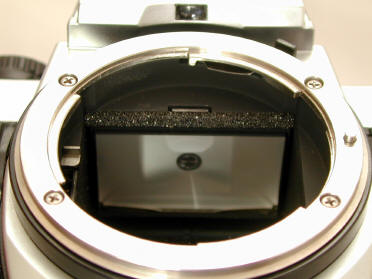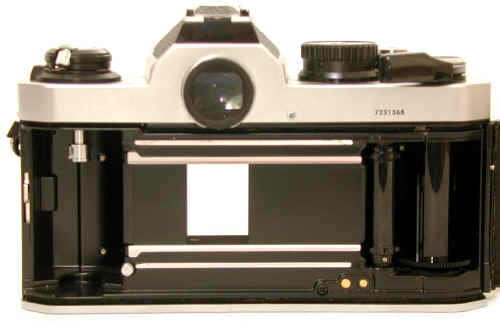 Strangely enough, these limited production FM-2's displaced the Olympus Pen F/FT as the largest half frame system, since these Nikon half frames will take most Nikkor lenses and many Nikon accessories.
---
Home Camera Articles FOR SALE Orders I Buy / Wants Repairs Books Adapters
Revised: November 25, 2003 . Copyright © 2000 Stephen Gandy. All rights reserved. This means you may NOT copy and re-use the text or the pictures in ANY other internet or printed publication of ANY kind. Information in this document is subject to change without notice. Other products and companies referred to herein are trademarks or registered trademarks of their respective companies or mark holders.