Home Camera Articles FOR SALE Orders I Buy / Wants Repairs Books Adapters

Nikkor Cameras: Rare Nikons for the German Market
Due to a lawsuit alleging trademark violations of the name "Zeiss-Ikon," Nikon cameras were not imported into Germany during the early and mid 1960's. Nippon Kagaku's temporary solution was to turn Nikon cameras into "Nikkor" cameras. This new naming extended even to small accessories and instructions books. A number of variations have been brought to my attention by Uli Koch.
"NIKKOR" F Bodies (Black and Chrome) with Nippon Kogaku top plate.
"NIKKOR" F Bodies Red Dot (Black and Chrome) with Nippon Kogaku top plate.
"Nikkor" F Bodies (Black and Chrome) with "Nikkor" top plate
"NIKKOR J" camera -- a renamed Nikkorex F. This is a very rare camera, and the first time I have heard of it. This camera is shown on the top right of the camera group.
"Nikkor" Photomic versions have been noted in the original Photomic (switch), Photomic T, Photomic TN and early Photomic FTN.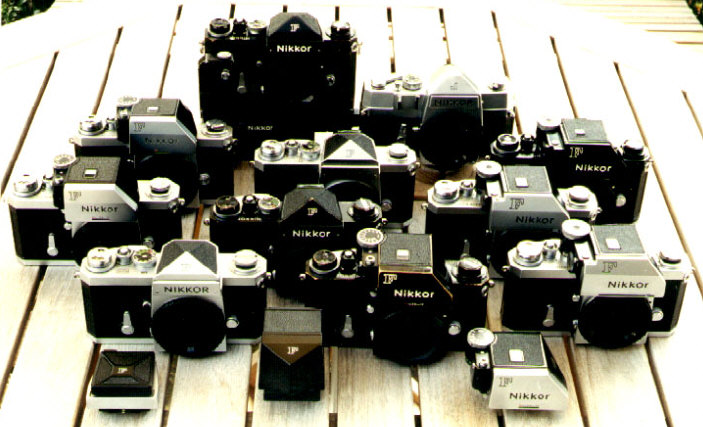 A group of very rare "Nikkors," including three "Nikkor" F's with prism finder, six "Nikkor" Photomics, and one "NIKKOR" F and "NIKKOR J"( aka Nikkorex F).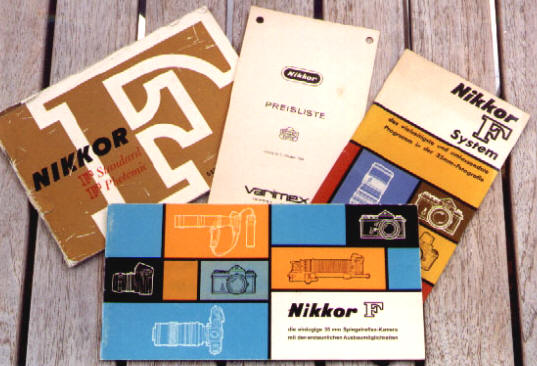 Literature on the "Nikkor F" System, in German.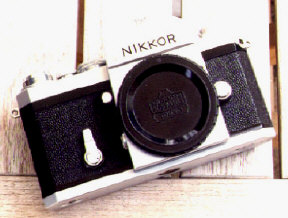 The NIKKOR F variation in all capital letters.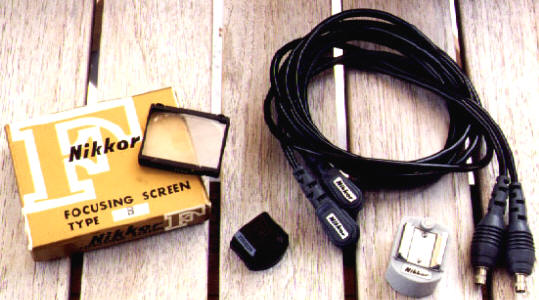 "Nikon" was not allowed, even on the smaller accessories!
Photos and information courtesy of my friend and fellow Nikon Historical Society member, Uli Koch.
---
Revised: November 26, 2003 . Copyright © 1998-2002 Stephen Gandy. All rights reserved. This means you may NOT copy and re-use the text or the pictures in ANY other internet or printed publication of ANY kind. Information in this document is subject to change without notice. Other products and companies referred to herein are trademarks or registered trademarks of their respective companies or mark holders.