Underneath the "Top Rangefinder" 4x5 Speed or Crown Graphic's UGLY leather is beautiful mahogany. Likewise the front door is actually nice metal underneath it all. So the trick is to take off their clothes to reveal the beautiful person.....eh camera underneath.
The camera was completely disassembled, the wooden parts stripped, the metal parts sandblasted. To make the camera more compact for field work, the rangefinder mechanism was removed.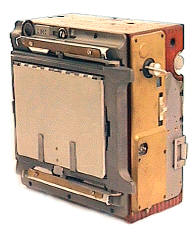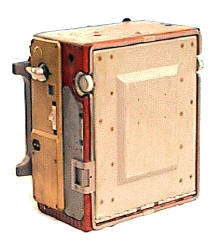 BTW this camera will focus 65mm lenses on a flat board for a lot cheaper than a Linhof Tech wide angle focusing device! I like the conversion a lot more aesthetic and distinctive than the original version. But then, I like Edsels too.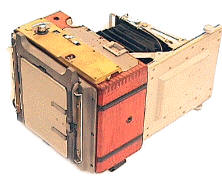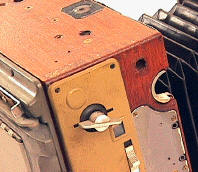 ---
Revised: November 26, 2003 . Copyright © 1998-2002 Stephen Gandy. All rights reserved. This means you may NOT copy and re-use the text or the pictures in ANY other internet or printed publication of ANY kind. Information in this document is subject to change without notice. Other products and companies referred to herein are trademarks or registered trademarks of their respective companies or mark holders.