Home Camera Articles FOR SALE Orders I Buy / Wants Repairs Books Adapters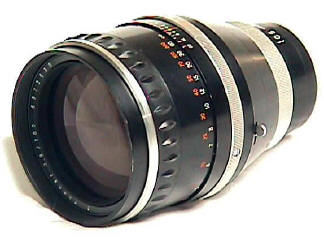 180/2.8 Zeiss Sonnar Post War for Exakta, Pentacon 6
This very well made lens is the post war SLR version of the legendary Zeiss Olympia 180/2.8 lenses. Originally designed for Hitler's 1936 Berlin Olympics, the Zeiss 180/2.8 is famous for sharpness and color rendition. This particular lens is a post war coated version, with pre-set aperture in Pentacon 6 mount for 2 1/4. Filter size 85mm. This example is #6973630. Later versions have a rubber focusing grip with "MC" markings for multi-coating. Earlier versions have an all black metal barrel.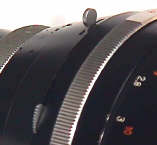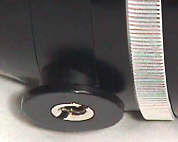 The smaller lever on the left stops down to check depth of field. The larger lever on the right locks the rotating tripod socket.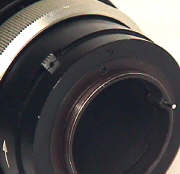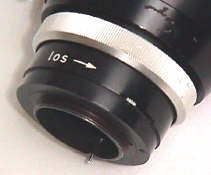 Show is the 42mm Pentax screw mount adapter, attached over the Pentacon 6 mount. The lever near the rear of the lens opens up the diaphragm and sets the spring action. The activating plunger releases it, stopping the lens down to the pre-selected aperture. Other versions may have different cosmetics.
---
Revised: November 26, 2003 . Copyright © 1998-2002 Stephen Gandy. All rights reserved. This means you may NOT copy and re-use the text or the pictures in ANY other internet or printed publication of ANY kind. Information in this document is subject to change without notice. Other products and companies referred to herein are trademarks or registered trademarks of their respective companies or mark holders.