Home Camera Articles FOR SALE Orders I Buy / Wants Repairs Books Adapters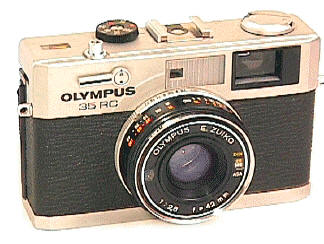 Olympus 35 RC
Smallest 35 Rangefinder ever with AE Exposure and Manual Override? 1970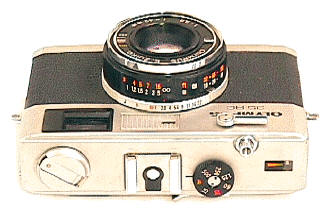 If you have read a number of my reviews, you might think that I like only the rare, exotic, expensive cameras. Well sometimes, but sometimes not. In the US at least, the Olympus RC is common on the used camera market, and cheap. Yet is has an outstanding combination of features that merit the Olympus 35 RC a place in the fabled Compact 35 Rangefinder Hall of Fame. The RC is packed with so many features, it reads like a photographer's wish list, easily winning the "Most features in the Smallest Size" for this camera class. If you like confound and confuse, have your RC repainted black with "Leica" engraved on the top. The fun you have with it thereafter will be priceless.

The RC is a very compact camera, measuring only 4 1/2" long, 2 15/16" high, 2" deep including the lens. Mounted is a 42/2.8 Zuiko, focusing down to 3 feet, with a 43.5 mm filter size. Weight is a petite 15 oz, amazingly light for an all metal camera. Shutter speeds run from 1/15th to 1/500th plus B, on the top mounted shutter speed dial. The RC offers Shutter Priority AE, with manual over-ride. Overall, the RC gives the impression of being a well finished, precision camera, and one of my compact favorites.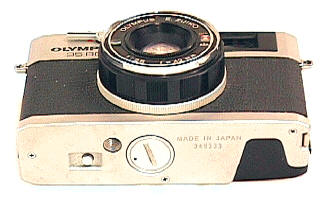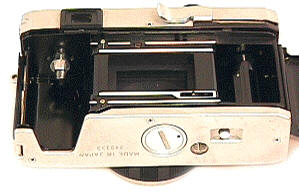 RC accessories were limited to the EV case (which has usually self-destructed), Olympus 43.5 filters, a clamp on hood, lens cap, the Olympus PS 200 flash, a close-up lens, and a four legged spider copy stand. The last three items are so rare I have never seen them.
The Plus Side
The RC is probably the smallest 35mm Rangefinder with AE exposure and manual over-ride
Both Shutter Speed and F/stops are visible in the Viewfinder, very unusual for compact 35's. Not even the $2000 Leica M6 can match this.
AE exposure lock, by pressing down slightly on the shutter release to lock exposure, and then re-composing. This is one feature seldom found in today's 35mm Point and Shoot's.
Rangefinder and Viewfinder are bright when it's cleaned, easily seen by eye glass wearers. These 70's cameras were comparatively modestly priced and not well sealed against dirt. After 30 years, the finders usually fog or haze up. Sometimes a little, sometimes a lot. Do not use one of these on a regular basis without making sure the finder is as clean it gets. Case in point, I thought I had a relatively clean Olympus RC finder. I had it cleaned anyway when I was doing a shutter lubrication. It made ALL the difference, turning an OK finder into a bright very usable finder. .6 magnification.
Red Zone in finder indicates over/under exposure in finder. Adjust f/stops or shutter speeds accordingly.
The five element 40/2.8 Zuiko is outstanding at middle and small apertures. Camera 35 tested the lens to resolve 80+ mm center resolution, from f/5.6 to f/16. I first learned of the compact Olympus' excellent lenses when I heard glamour photographer Peter Gowland singing their praises at a photo seminar. filter size 43.5mm screw in.
The RC has Guide Number Automatic Flash exposure! What's that you ask? A great way to get accurate flash shots. Before flash units electronically set their exposures, photogs had to manually set the f/stops to the flash every time they refocused per the inverse square law. Nope, not going to get into it, if you are not familiar with it, look into a good intro photo text book. Anyway, you set the f/stop ring to the flash symbol, and set the camera to the GN number of your flash (GN 45 to 90 in feet, 14 to 28 in meters), and then just flash away. As you focus, the f/stop will automatically with the focused distance to give you the correct exposure. This system is often is more accurate than electronic flash control since it can not be fooled by dark or light subject deviating from the standard gray. IF you are a Nikon or Topcon SLR fan, you might remember some lenses using this GN system.
CDS cell mounted in filter ring, thus filters will automatically be compensated for, 43 degree metering angle.
Metering Range EV 7 - 18, f/2.8 @ 1/15th to f/22 @ 1/500th with ISO 100 film. On AE the shutter will lock if the light level is below or above the metering range.
ASA range of 25-800. Set ASA by turning ring around front element of lens, matching window with your film.
OFF switch saves battery strength, and doubles as a shutter lock. This is a nice feature not seen in the RC's more expensive big brother, the RD -- or the $2000 Leica M6 for that matter.
Battery Test: the IB simply says to set the camera on the red "A" for automatic, point the camera towards a bright object, remove the lens cap, and snap. If the shutter releases, the battery is OK.
Both hot shoe and PC connection for flash
Ratcheted film advance, very unusual for compact 35's
Large easy to grasp advance lever and rewind lever
Very Quiet Shutter
Top mounted, easy to use shutter speed dial. Most compact 35's have the shutter dial around the lens where it is harder to use.
Bottom plate cut out for easier film loading/unloading. A nice little touch few other compact 35's have.
Self timer, not earth shattering, but noteworthy in a camera this small.
The Negative
The RC was designed for the bad boy of batteries, the mercury 625 cell. You can replace it with its slightly different voltage replacement, alkaline battery, and then adjust your exposure slightly by changing your ASA setting. Or you can have your camera repairman make a permanent adjustment for you. Yet, these batteries are still sold in many other countries.
Like most other compact 35 RF's, no metering capability in manual exposure mode.
The advance lever inhabits a large, open slot. Be careful, as it attracts dirt and foreign objects to the interior of your RC.
Shutter lock in insufficient or excess light on AE. I don't like such locks, there is no telling what kind of shots you will miss at the wrong time.
The 500th top speed is a bit suspect with the RC's simple two bladed shutter. 1/350th is probably closer to it.
Low speeds stop at 1/15th, plus B.
Like most compact 35 RFs, the VF/RF are likely to get foggy and flare with age. A professional cleaning is the solution.
So far as I know, no standard production RC ever left the factory with a black enamel finish.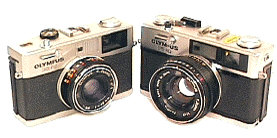 Olympus RC and RD: 2 oz and 1 1/3 f/stops apart.
---
To appreciate the Olympus 35 RC, just compare its features with the comparably sized Rollei 35's!! The RC has feature after feature that the Rollei doesn't, notably rangefinder focusing, AE exposure, shutter speeds and f/stops visible in the viewfinder, and conveniently placed traditional controls. The little Olympus 35 RC is one great little camera, and a best used camera buy. In the US, used Rollei 35's often sell for 3 to 4 times more than used Olympus 35 RC's.

The RC's hard to find presentation case.
---
Revised: November 26, 2003 . Copyright © 1998-2002 Stephen Gandy. All rights reserved. This means you may NOT copy and re-use the text or the pictures in ANY other internet or printed publication of ANY kind. Information in this document is subject to change without notice. Other products and companies referred to herein are trademarks or registered trademarks of their respective companies or mark holders.