Home Camera Articles FOR SALE Orders I Buy / Wants Repairs Books Adapters

Petri's Masterpiece: the Color 35 Family
Simply put, the 1968 Petri Color 35 is a design masterpiece. Elsewhere I complain about the Rollei 35's odd, hard to work design. The Petri Color 35 came two years later and is the camera that the Rollei 35 should have been. Where the Rollei 35 is odd and hard to work, the Petri Color 35 shines in originality and ease of use. Of course all of this is VERY odd, since saying a Petri had a much better design than a Rollei is something like saying Yugo had a much better design than Ferrari. I don't have a clue how the Color 35 design came to Petri, but I bet it's a fascinating story. According to the Collector's Guide of Japanese Cameras, the Petri Color 35 has the distinction being the first Japanese camera to have the distance scale and exposure scale in the viewfinder. Most Color 35's are chrome. The harder to find black enamel finish is more desirable.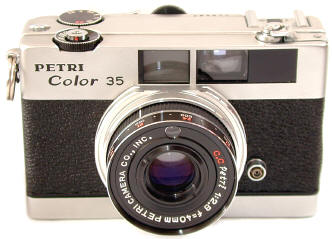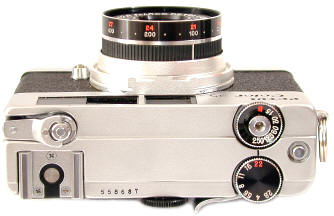 The chrome version with black lettering is the most numerous Petri 35 in the US. Even though a small camera, the controls are large and easy to use, especially the film rewind lever. The chrome button to the right of the shutter and aperture dials is the battery check.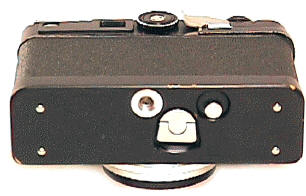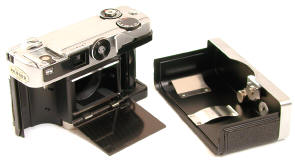 Elegant Scale focusing full frame 35mm camera with match meter needle exposure
Very small, compact all metal body
Mechanical Shutter, works without batteries, 1/15th to 1/250th plus B
Unlike the Rollei 35, all controls are conveniently located where you would expect
Collapsible 40/2.8 Petri CC lens, 4 elements, 40.5 mm filter size
Distance scale and meter needle IN the large and easy to see finder
A unique design which cleverly places ten controls on camera's top edges
Clever design with top mounted dials for focusing, aperture, and shutter speeds is fun to use
Focusing, f/stops, shutter speed, lever advance, shutter release ALL easily operated from eye level
Large and easy to use film advance lever and film rewind lever. The film advance lever is even in the right place, on the top right -- not the top left like the backward Rollei 35. Better yet, it's a short 130 degree advance.
Top mounted hot shoe. I never thought I would made a big deal about something as ordinary as this, until I tried the Rollei 35's bottom mounted hot shoe
PC flash connection as well as hot shoe
ONE, yes one, strap lug: the small Color 35 was intended to hang from your neck or wrist strap.
Match Needle CDS metering system, EV 7 to 17 at ASA 100
CDS meter in filter ring, takes filter corrections into account
Meter ASA settings 25-800, set by rotating ASA dial around lens barrel, strangely enough it rotates 360 degrees
The Meter is designed for the Mercury 1.3 v Mallory RM675 or equivalent, but in practice the 1.5 v alkaline or silver 76 batteries have worked fine for me.
Battery Switch: the meter is only on when the film is advanced, shutting off with each exposure
Battery Check: set the shutter speed on B, the aperture on 22, advance the film, push the small battery check button located near the shutter and aperture dials. If the meter needle is in the circle or above the circle, the battery is good, if below the circle replace the battery.
Camera back has tiny "feet" on each corner, to elevate camera base and keep it from scratching -- gee, that's a nice touch Leica, Nikon, or Canon could benefit from
Threaded shutter cable release
Tripod socket
Removable back for very easy loading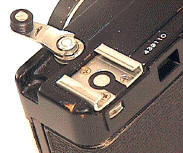 Top Plate Design Award: 3 easy to grip dials control shutter speeds, f/stops and focus, focusing dial also collapses or extends lens, large easy to use film advance lever and film rewind lever, hot shoe, film counter on back edge near hot shoe, shutter release threaded for cable release. The small window on the back edge of the top plate, below the accessory shoe, is the film counter.

---

Petri Color 35 D

In my experience the "D" or Color 35 Deluxe is the rarest version in the US, even rarer than the black. It has a higher 1/300th shutter speed, and is prominently marked on the finder. I am unsure if black 35 D's were produced, I have never seen or heard of such an animal.

Black Focus Dial on back center of camera focuses lens, as well as collapsing lens back into the camera body. Camera will not release shutter with collapsed lens. Shown here are two of the rarer Color 35's, the red lettered "Color" and the 1/300th speed "D."

---

Petri Color 35 E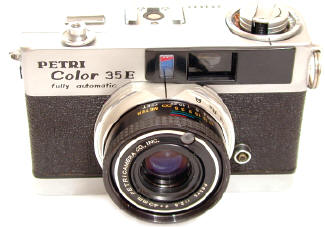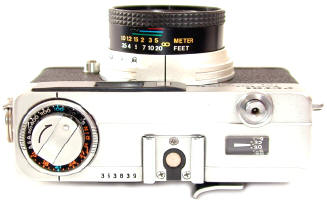 The Petri Color 35 was followed up in 1970 with the Color 35 E. Built on the same body, the 35E was unfortunately a much more conventional and more forgettable design. The 35 E added programmed only exposure and a Guide Number flash system, while taking away user selection of f/stops, shutter speeds, and exposure control. Instead of the Color 35's more precise geared system of retracting and extending the collapsible lens, the 35E used a simpler and less expensive friction pull / push design. Apparently having an elegant design like the Color 35 was too much for Petri: they had to screw it up and go back to their normal Petri standard with the "improved" 35E. Early 35E's had one strap lug, later ones had two strap lugs to escape back to normalcy in camera design --- argh. Thankfully the shutter is locked until the lens is extended into shooting position.

---

Petri micro compact

In 1979 the "micro compact" appeared, a cheapened all black Color 35E with basically the same features. The metal lens base on all earlier versions was replaced with cost saving plastic.

---

Petri Beats Leica M in the compact department! OK, so the race was rigged.

Was the elegant Petri Color 35 Petri's best ever design? Well, I guess that depends upon who you talk to, but in my eyes, it wins hands down. If you like "different" cameras with noteworthy features, this little Petri may become a favorite of yours too.
| | | |
| --- | --- | --- |
| | Petri Color 35 | Rollei 35 |
| Advance lever | Top Right | Top Left |
| Shutter Speeds | Dial on top, easy to operate at eye level | Dial on front, can not operate at eye level |
| F/Stops | Dial on top, easy to operate at eye level | Dial on front, can not operate at eye level |
| Meter | Match Needle readout IN finder | Match Needle on top, can not operate at eye level |
| Meter Cell | CDS next to lens, automatic filter compensation, inoperative meter will remind you to remove lens cap | CDS cell on body, no automatic filter compensation |
| Battery | Easily available silver D76 | bad boy Mercury 625 |
| Meter Switch | Meter switches on with film advance, off with shutter release | no meter switch |
| Distance Scale | IN finder, easy to see at eyelevel | On lens, can not see at eye level |
| Focus Dial | On top, easy to operate at eye level | On lens, can not operate at eye level |
| Hot Shoe | On Top, easy to use | On Bottom, hard to use. You have a choice of shadows in the wrong place, or getting used to using the camera upside down with flash. |
| PC connection | Yes | NO |
| Rewind Lever | On Top, easy to operate | On Bottom, not so easy |
| Film Counter | Easy to See at back of Camera | Oddly placed on camera bottom |
| Lens | 40/2.8 Petri, no other lens choices, a sharp lens, but not as good as the Rollei Sonnar or Tessar, collapses halfway into body | 40/2.8 Sonnar, 40/3.5 Tessar, 40/3.5 Triotar in various models. Lens quality edge goes to Rollei with the Sonnar and Tessar, probably not on the Triotar. . Collapses almost completely into body. |
| Shutter | simple leaf shutter 1/15th to 1/250th, no slow speeds | 1 second to 1/500th. Rollei did a great engineering job getting a full shutter speed range in a camera this size |
| Construction Quality | Typical high quality of a well made medium priced Japanese compact 35 of the late 60's | Legendary quality that the Rollei 35 is famous for, the best mechanical fit, finish, and precision in any compact 35 |
| List Price 1972 | $89.95 | $195.50 |
| Ease of Use | Extremely well designed and easy to use, given the confines of late 1960's mechanical technology. All shooting controls -- focus, advance, shutter release, shutter speeds, and f/stops can be operated at eyelevel by right hand. Perhaps the most amazing thing is it's a Petri -- not a Rollei, not a Leica, not a Nikon. | A strong candidate for the "worst" ergonomic 35mm camera design ever. Most controls are in the wrong place, translating to a slow working camera which is hard to get used to, but gives great results due to their great Zeiss lenses. |

Petri Color 35 and Rollei 35: the ignored better designed camera, and the famous badly designed camera with the great lens.
SIZE
Petri Color 35
Rollei 35S
Weight, with battery, no film
14 oz
12 oz
Length body
4 1/16"
3 13/16th"
Height Body Casing
2 9/16"
2 10/16"
Height Body including dials etc
2 5/8"
2 3/4"
Width Lens Collapsed
1 19/32"
1 7/8"
Overall the Petri is slightly larger and 2 oz heavier, with LOTS more features
Petri Color 35 variations include:
Chrome Color 35, 1968, with nameplate lettering all in black

Chrome Color 35 with nameplate "Color" in red

Black Enamel Color 35 - probably the most desirable of the series from a collectible standpoint

Chrome Color 35 D, with top speed of 1/300th instead of 1/250th. This and the black Color 35 are the rarest of the series.

Black Enamel Color 35 D ?? not sure if this was produced or not

Chrome 35 E, 1970, a programmed AE only version of the Color 35 without manual selectable shutter speeds or f/stops, with guide number flash added, same lens. Some 35E's had one strap lug, most had two strap lugs.

Black "micro compact" 1979 -- a cheapened version of the 35E, same functions as 35E
---
Home Camera Articles FOR SALE Orders I Buy / Wants Repairs Books Adapters
Revised: November 26, 2003 . Copyright © 1998-2002 Stephen Gandy. All rights reserved. This means you may NOT copy and re-use the text or the pictures in ANY other internet or printed publication of ANY kind. Information in this document is subject to change without notice. Other products and companies referred to herein are trademarks or registered trademarks of their respective companies or mark holders.