Home Camera Articles FOR SALE Orders I Buy / Wants Repairs Books Adapters
Leica M RapidWinder Genealogy
The UR RapidWinder begot the 9 Prototypes, and the 9 Prototypes begot the production RapidWinders, and Tom saw that it was good..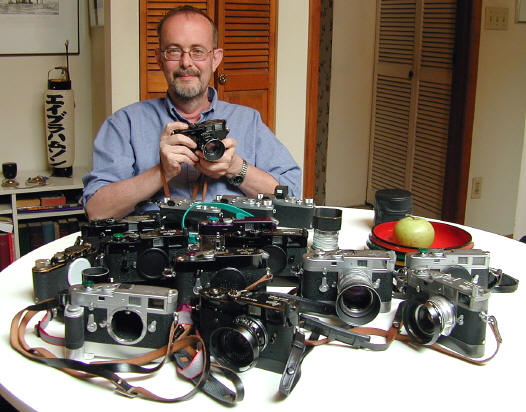 Tom Abrahamsson's background includes stints as a professional photojournalist and a professional industrial designer. His Leica M RapidWinder is a marriage of his professions ... if you leave out extraneous jobs such as Ferrari GTO car trader and King Cobra transporter (the snake, not the car). The production of the UR RapidWinder was no easy task, because Tom had absolutely no experience as a machinist. He started from ground zero. Standard RapidWinders fit the M4-2, M4-P, M6, and M6 TTL, but M2 RapidWinders have also been produced. All RapidWinder pics on this page courtesy of Vancouver's famous Tulikki Museum of Industrial Design.

RapidWinder Dates

1984 idea for UR RapidWinder, without any belief they would be produced commercially

1987 1st UR RapidWinder, followed by P02 to P09 Prototypes

1987-1989 164 production brass shell RapidWinders produced, numbered A001 to A164

1989 new milled one piece aerospace winder body introduced, individual RapidWinder numbering discontinued

??? Chain inner drive replaced by more reliable rubber drive

1996 mild steel trigger replaced by stainless steel trigger

??? Limited production M2 RapidWinder introduced

???? RapidWinder with Grip added to production lineup

Older RapidWinders sent in for maintenance are often upgraded with later features, so it is not unusual to find a RapidWinder with a mixture of different features
UR RapidWinder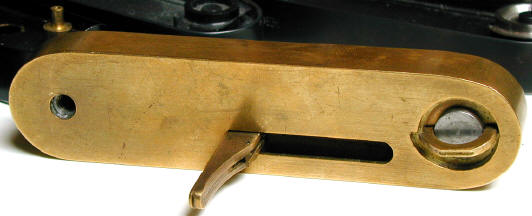 This is IT, the legendary UR RapidWinder! Tom 1st got the idea in about 1984, but this first hand made brass M6 UR RapidWinder prototype was not produced until 1987. Notice the Leica M type opening key, which was dispensed with in later versions as being too complicated and time consuming for practical production. Notice the lever wind lock is also different from production RapidWinders.

Prototype Number 7
Eight prototypes were produced, numbered P02 to P09. This is the M2 "Mickey Mantle" Prototype, good 'ol Number 7.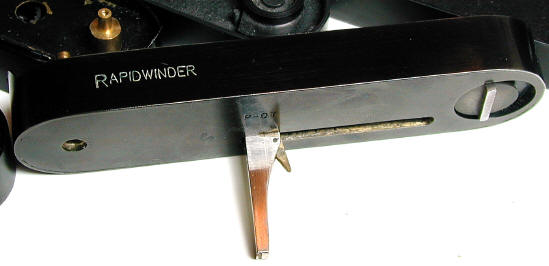 Compared to the UR RapidWinder, notice the differences in the RapidWinder lever, its lock, and the closing latch, as wall as the addition of the engravings.
Prototype Number 10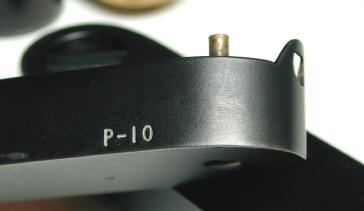 This is the last prototype, P-10 for the M2.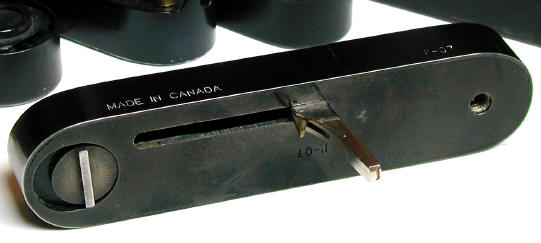 1st Production RapidWinder

This is the 1st production RapidWinders, number A-001. The outer shell and bottom are built from two pieces of brass. This construction was continued until number A164, when it was replaced with a one piece milled body.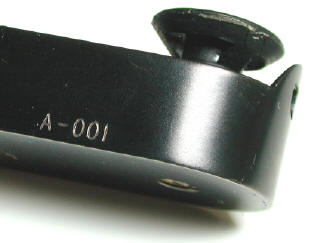 49th Production RapidWinder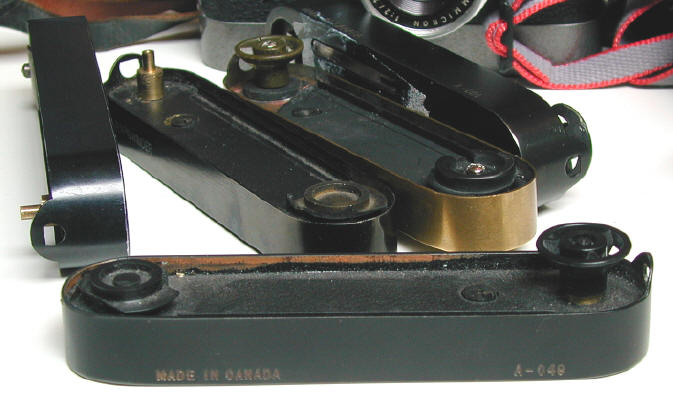 In the background, left to right, numbers P-10, P-07, UR, A-01

the other side of A-049
M2 Prototype RapidWinder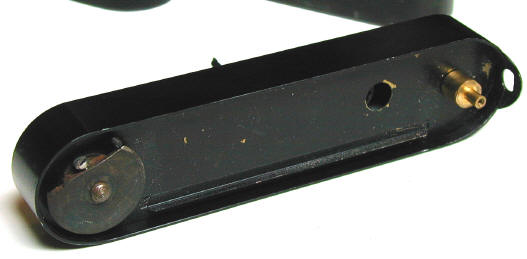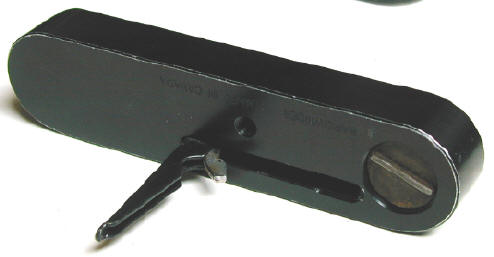 Later M2 Prototype RapidWinder with one piece milled aerospace alloy body, soft steel trigger
Prototype RapidWinder Grip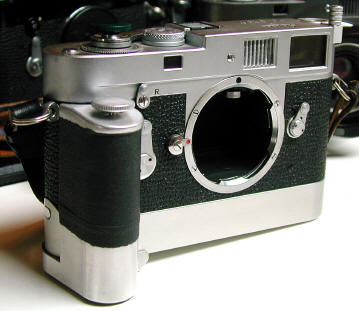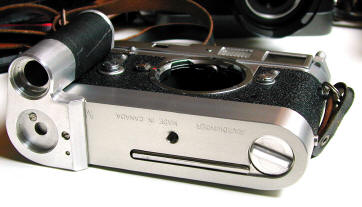 Prototype M2 RapidWinder Grip. Most M2 RapidWinders are silver like this one, but without the grip.
RapidWinder Variations

To date about 3,000 RapidWinders have been produced in total, a very small figure compared to all of the Leica M bodies. So, they are comparatively rare. Are the variations collectible ? You decide. The standard RapidWinder finishes are black matt and black glossy, but many more finishes and variations have been produced, enough to present a very challenging task to the devoted RapidWinder collector:

M6 "Titanium" finish for Titanium M6. Actually, these are nickel plated, but the nickel provides a great match for the M6 Titanium bodies. Production approximately 30
M6 Hard Anodized Brass, 20 were made by special order for a Japanese camera dealer
M6 Blue Anodized, one
M6 Black Glossy LHSA, two for LHSA M6 TTL
M6 24k Gold, one
M6 Purple/Turquoise, one for the Jerry Garcia Purple Haze Commemorative
M6 Red, three
M6 Green, three
M6 Gold paint, three
M2 RapidWinders, about 260 to date. Most are silver finish, but 40 are black, and a few special order colors
M2 Grey Hammertone, one
M2 Blue/Grey Enamel, one -- proudly residing in Stephen Gandy's camera bag on a matching Shintaro painted blue/grey M2. Oddly enough, Tom found it "too pretty to use."
Stainless Steel Drives
Very rare Super Deluxe RapidWinders have stainless steel drives. The stainless steel makes for even a smoother advance. These have never been listed for sale, and very few people even know they exist. While the standard RapidWinder drive mechanism takes about one hour for Tom to machine out of brass, the same drive out of stainless steel takes about six hours for Tom to produce -- not an easy task. Six were made on special order for National Geographic. The other two dozen or so were not sold, they were bartered. Tom refuses to sell them, and only trades them for prints by photographers he both admires and respects. How to spot a stainless steel drive RapidWinder? Take it apart, or feel that the winding mechanism is a bit rougher than the standard wind.

---

Home Camera Articles FOR SALE Orders I Buy / Wants Repairs Books Adapters

Revised: January 10, 2017. Copyright © 2002-17 Stephen Gandy. All rights reserved. This means you may NOT copy and re-use the text or the pictures in ANY other internet or printed publication of ANY kind. Information in this document is subject to change without notice. Other products and companies referred to herein are trademarks or registered trademarks of their respective companies or mark holders.