Home Camera Articles FOR SALE Orders I Buy / Wants Repairs Books Adapters
Rollei 2000 / 3003 System 35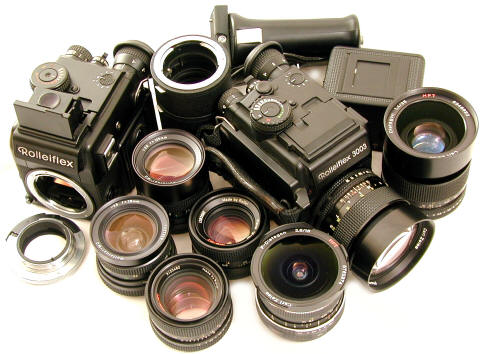 A good case can be made that the history of Rollei is the history of aiming for commercial success with truly innovative camera design. This started in 1929 with their fabulously successful twin lens 120 camera. A very knowledgeable collector and repairman assures me that the later Rollei TLRs of the 50's and 60's had the best machining of ANY production camera ever, even better than Leica and Zeiss. Again in 1966 Rollei invented the super compact 35 concept with the Rollei 35, and reaped the reward with millions of sales. After the Rollei Twin Lens was displaced by Hasselblad, Rollei twice introduced innovative designed 120 SLRs to regain the top spot, the Rollei SL66 of 1966 and the Rollei SLX of 1974. Both were magnificent pro machines, each having some advantages over Hassy, with equally superb optics. Despite their excellence, both failed in the marketplace to gain Pro's hearts and pocketbooks.
Confident with their incredible Rollei 35 success, Rollei once again went to a fresh piece of paper to design the top 35mm camera system: the Rollei SL 2000 F. Introduced in in 1981, the Rollei 2000 had what no other 35 cameras had at the time: Magnificent Zeiss Lenses, interchangeable film backs, motorized film advance, and built in waist level AND eye level finders, not to mention AE aperture priority exposure. In concept, the Rollei 2000 was kind of like a motorized Hassy for 35. The 3003 followed in 1985, a slightly modified 2000 with the top speed increased to 1/2000th and an added shutter release on the top of the camera for verticals. The 3001 was a cheapened 3003, without the waist level finder. The rarest of the series may be the "Safari 3003" kit, with an off gray finish. Also rare is the Rollei Metric 3003, designed for measuring of photographed scenes, for info visit the RolleiMetric site. Not generally appreciated is that the 2000 / 3003 series belong into a very elite group of SYSTEM 35 cameras which have 1) interchangeable lenses 2) interchangeable finders 3) interchangeable focusing screens 4) interchangeable bulk backs 5) and for a bonus, interchangeable film backs.
In the US at least, the 2000 / 3003 Rollei series was not well marketed. It was not helped in the marketplace by a very high price tags. The 250 back sold for a mere $4000 in 1985 dollars. As a result, the 2000 / 3003 cameras never sold in great numbers. Today any of them are hard to find. Not well remembered today, most camera collectors get kind of a blank stare on their face when the Rollei 2000 or 3003 are mentioned.
This outfit includes:
Rollei 3003 Body

Rollei 2000 Body

Zeiss 16/2.8 HFT Distagon, Germany, Built in UV, Yellow, Orange, Blue rotating Filters, Contarex derived design

35/1.4 HFT Planar, Germany, Contarex derived design with triangular aperture, missing about a 1/4" strip of rubber gripping material

28/2.8 MC Rolleinar, Japan

50/1.8 and 50/1.4 Rollei HFT Planars, Singapore

85/1.5 HFT Planar, Germany, Contarex derived design with triangular aperture,

105/2.8 Rolleinar MC, Japan

3 35mm Magazines

3 Battery Packs, two AA and one Nicad. charger for Nicad missing

Rollei Pistol Grip

Four Rollei Extension Tubes

Tamron Adaptamatic II adapter, to use Tamron lenses with the outfit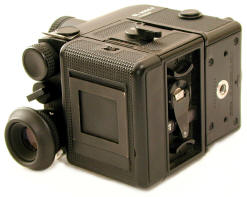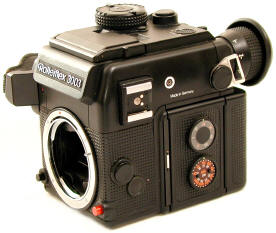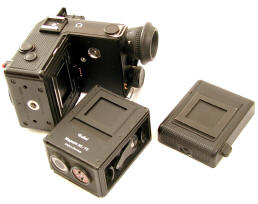 Unique design with 3 fps motorized bodies, interchangeable magazines, focusing screens, built in waist level and eyelevel finders.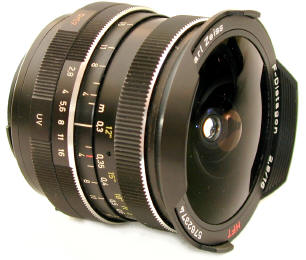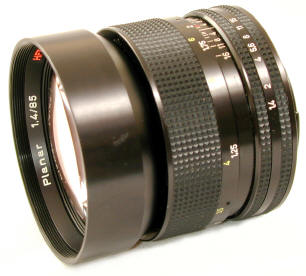 Zeiss 16/2.8 Distagon and 85/1.4 Planar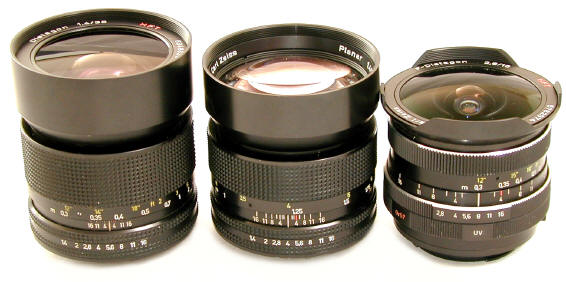 Three Zeiss, eh...Zeisses, eh... Zeissie, whatever: 85/1.4 Planar, 35/1.4 Distagon, 16/2.8 Distagon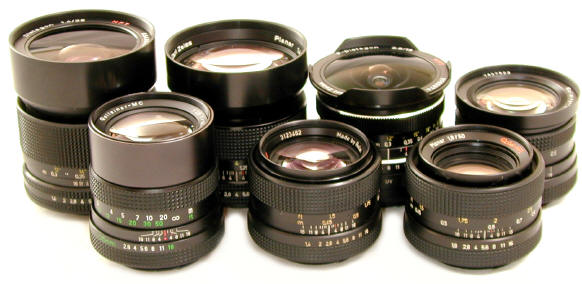 Left to right, back row: 85/1.4 Zeiss Planar, 35/1.4 Zeiss Distagon, 16/2.8 Zeiss Distagon, 28/2.8 Rolleinar. Front Row left to right: 105/2.8 Rolleinar, Rollei 50/1.4 Planar, Rollei 50/1.8 Planar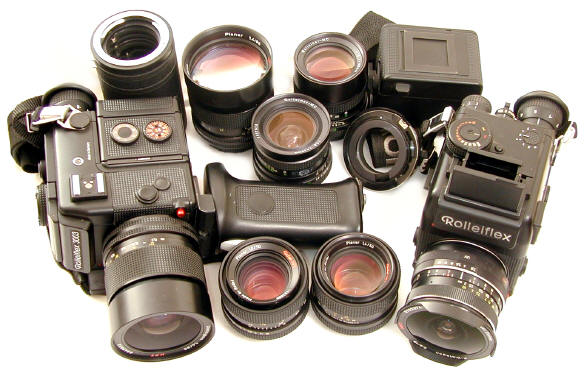 The 2000 / 3003 Rollei system was HUGE, covering lenses from 15mm to 1000mm. Unusual for 35 accessories included a Polaroid Back, Interchangeable film magazines, 250 exposure back, IR remote release, and electronic interval timer. Perhaps most unusual was the digital floppy disk back which was offered to the military, but not sold to the public.
Rollei offered a VERY useful Pentax 42mm to Rollei bayonet adapter. It allowed full auto diaphragm operation of the 42mm lenses, offering Rollei owners the use of the far less expensive and very sharp Pentax Takumars.
Zeiss lovers can make an excellent argument that the Zeiss lenses for the 2000 / 3000 were the best available for 35 in the 1980's. The lens lineup included a very impressive Zeiss array: 15/3.5 Distagon, 16/2.8 Distagon, 18/4 Distagon, 25/2.8 Distagon, 35/1.4 Distagon, 35/2.8 Distagon, 50/1.8 Planar, 50/1.4 Planar, 60/2.8 Makro-Planar, 85/1.4 Planar, 135/2.8 Sonnar, 200/4 Tele-Tessar, 500/4.5 Mirotar, 1000/5.6 Mirotar, 1000/8 Tele-Tessar. Close-ups were further handled by the Zeiss Luminars: 16/2.5, 25/3.5, 40/4.5, 63/4.5. All lenses but the 1000/8 and Luminars used the HFT multi-coating, touted by Rollei as the best multi-coating process. Schneider also offered the 35/4 PC Curtagon for shifts, and at least one normal 50mm Xenon.
Rollei also offered a less expensive lens lineup, the Rollei Rolleinars: 14/3.5, 21/4, 28/2.8, 35/2.8, 50/3.5 Macro, 85/2.8. 105/2.5 Macro, 105/2.8, 135/2.8, 200/3.5, 400/5.6, 500/8 Mirror, 28-105/3.2-4.5 Macro Zoom, 35-105/3.5-4.5 Macro Zoom, 50-250/4-5.6 Macro Zoom, 80-200/2.8 Zoom, 80-200/4 Zoom, and 2x converter.
Rollei's first 35 SLRs was the traditionally designed, and Pentax Spotmatic influenced, SL 35 of 1970, SL35M of 1976, SL35 ME of 1976, and SL35E of 1978. All of these gained a reputation of not so great reliability. Same bayonet mount as the later 2000 / 3003, but the earlier lenses have only the aperture pin, not the F/stop pin. As a result, the earlier lenses can not communicate the f/stop display for the later cameras, and I'm told are usable only on manual operation.
Today the Rollei 2000 / 3003 system remains one of the few System 35 cameras, with some of the best lenses ever made for 35, and one of the most innovative 35 designs ever.
---
Home Camera Articles FOR SALE Orders I Buy / Wants Repairs Books Adapters
Revised: November 26, 2003 . Copyright © 1998-2002 Stephen Gandy. All rights reserved. This means you may NOT copy and re-use the text or the pictures in ANY other internet or printed publication of ANY kind. Information in this document is subject to change without notice. Other products and companies referred to herein are trademarks or registered trademarks of their respective companies or mark holders.