Home Camera Articles FOR SALE Orders I Buy / Wants Repairs Books Adapters

Beautiful Pre-War Japanese View Camera
I've been told this is a pre-war Japanese view camera, but I am not expert on it. I'm just in awe of its design and workmanship. If you have better information on it, please let me know. Film size was originally 4 5/8 by 6 1/4, but the film holders were modified to take standard 4x5 sheet film.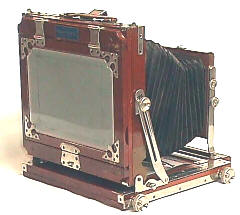 Movements include back tilts (forward), front tilts (forward or backwards) and front rise.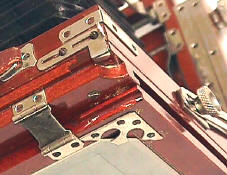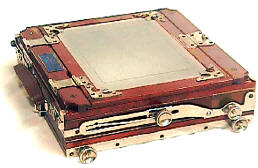 This guy not only folds flat for easy traveling, but it does it with style. Hand built craftsmanship is a very nice thing to see in this age of plastic. Of course the funny thing is that 40 years from now old timers will wistfully be talking about the 90's -- when the plastic was of such astonishingly high quality. One man ceiling is another man's floor.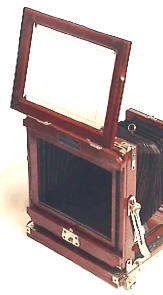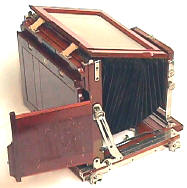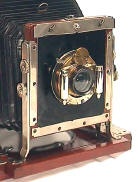 The lens board measures 3 11/16 by 4 1/16". Mounted is the ever popular Bausch & Lomb Rapid Rectilinear #6 Bullseye, speeds from 1/100th to 1 second plus B. Apertures marked by hand from f/8 to f/64, but no indicated focal length. It's a safe bet this turn of the century lens performs a notch below the latest from Schneider or Rodenstock.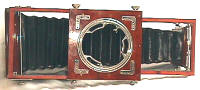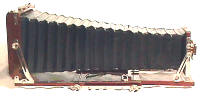 With its triple extension base, full extension is 20 1/2"!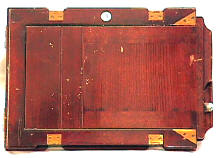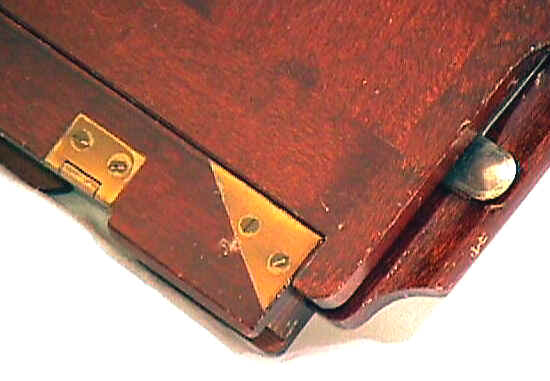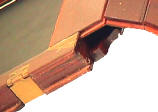 As you might imagine from the many illustrations, I am in love with it's brass wooden film holders. They really don't make them like they used to. Three double sided holders are included. The camera back will only take these holders, not a standard one. I like the brass fittings, but I especially like the HINGED WOOD film slide!!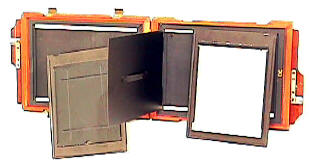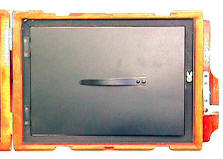 By turning back the four brass clips side of the film holder, it opens up like a book for film loading or unloading -- using a center mounted hinge. OK, I confess....I'm amazed by it.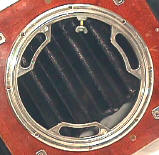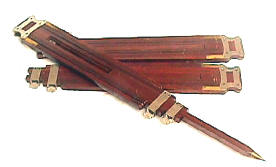 Vampire stakes? No, that's the tripod legs. Though, I have to admit it's a mystery to me how they fit onto the camera base. Included is a red velvet lined tin antique carrying case, which might be original.
Load it with film, and go make them forget Ansel what's his name.
---
Home Camera Articles FOR SALE Orders I Buy / Wants Repairs Books Adapters
Revised: November 26, 2003 . Copyright © 1998-2002 Stephen Gandy. All rights reserved. This means you may NOT copy and re-use the text or the pictures in ANY other internet or printed publication of ANY kind. Information in this document is subject to change without notice. Other products and companies referred to herein are trademarks or registered trademarks of their respective companies or mark holders.